The year 2023 finds homeowners interested in renovating their homes to reflect the latest design trends. In terms of aesthetics, the curtains in a living room can make a significant difference. There are a lot of new and interesting developments in the field of living room curtains, including daring colours and designs, natural fabrics, and smart technology.
This article will discuss the most up-to-date curtain styles for living rooms in 2023 and offer advice and ideas for implementing them in your own home. There's bound to be a fad that appeals to you, whether you're going for a homey, warm vibe or a sleek, cutting-edge one.
Bold Colors and Patterns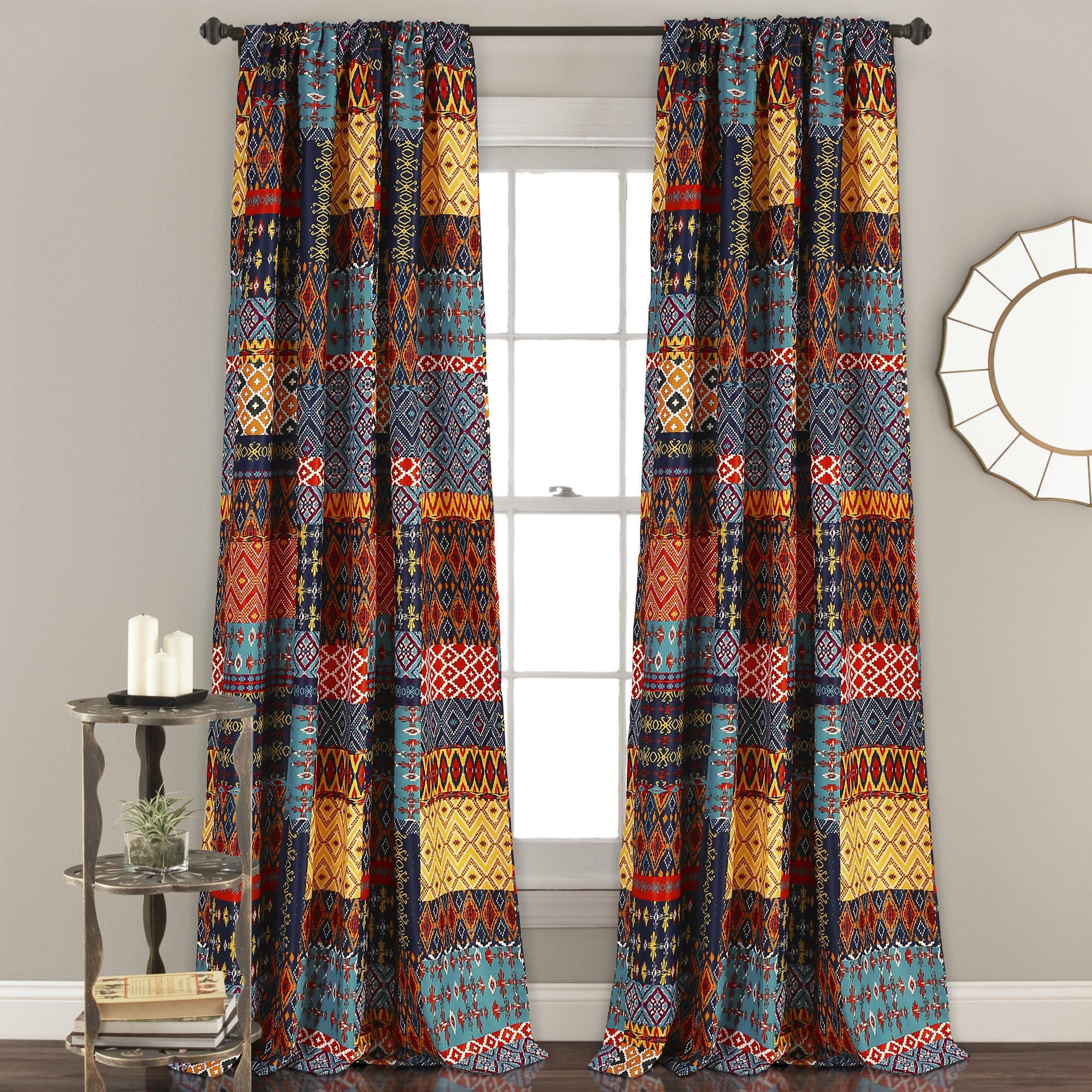 Bright or bold living room curtains offer vitality and colour. Choose a colour that complements the room's colour palette. To spice up neutral walls, choose a brighter hue. To balance a room with vivid or colourful walls, select neutral drapes.
Patterned and printed living room curtains can provide flair and charm. Assess the scale and how it will fit with other patterns in the room. If you have lots of patterned furniture, select a more subdued curtain pattern. A striking pattern can draw attention to a simple area.
Creating an unified effect requires matching curtains to the room's colour scheme and furnishings. Choose curtains that match room textures and materials. If the room is old or modern, buy curtains that match.
Also See: A Comprehensive Guide to Living Room Remodeling
Natural Fabrics
Linen, cotton, and silk living room curtains give elegance and practicality. These materials are durable, breathable, and soft, making them excellent for ordinary curtains that filter light and provide seclusion.
Curtains with texture and natural fabrics give aesthetic interest to your living area. Linen curtains give a room a casual, relaxed air with their rough, wrinkled look. Cotton curtains are smoother and come in many colours and patterns. Silk curtains are elegant and come in matte or lustrous finishes.
Natural curtain textiles are eco-friendly. Biodegradable and renewable, these fabrics are greener than synthetic ones. They also use less energy and chemicals than synthetic fabrics.
Natural curtains are healthy and eco-friendly. Chemicals from synthetic materials pollute indoor air. Natural fabrics, on the other hand, are usually chemical-free and better for your home.
Layered Curtains
Layered curtains in the living room provide depth. Layered curtains give seclusion, adjust light and temperature, and decorate windows.
You can stack sheer curtains with thicker drapes. Sheer curtains soften your windows and let natural light in. Heavier curtains insulate, obscure light, and make windows look more substantial.
Layered curtains can mix fabrics and patterns in imaginative ways. Choose drapes with similar colours but different textures or patterns. Pair a solid-colored drape with a sheer curtain with a modest pattern or texture, like a light linen or cotton gauze.
Mixing clashing colours and patterns is another possibility. If you use textiles with vivid prints and bright colours, this might give a bohemian look. Use a few complementary colours and change pattern scale and texture to prevent overwhelming your space.
Start with neutral colours if you're hesitant about blending fabrics and patterns in layered curtains. Layer white, beige, or grey drapes for a gentle effect. Accent cushions, blankets, and other decor can provide colour and pattern.
Bold Hardware and Accessories
Statement hardware and accessories can raise your living room drapes and add personality. Curtain hardware and accessories may make a statement with vivid metallic finishes, odd shapes, and designs.
Choose gold, silver, or bronze curtain hardware. If you have neutral curtains, these finishes can add charm and sophistication. Consider geometric or sculptural curtain rods and finials.
Consider your living room's design and colour scheme while choosing curtain hardware and accessories. Use basic, clean-lined hardware for a modern, minimalist living space. Ornate or odd hardware works well in traditional or quirky spaces.
Color-coordinate hardware and accessories with curtains and living room. To match blue curtains, pick silver or chrome hardware. To contrast, pick gold hardware.
Curtain rods, finials, and other accessories can enhance your living room drapes. Tiebacks, tassels, and fringe can decorate drapes. To keep your curtains tidy when open, use stylish hooks or holdbacks.
Smart Curtains
Smart curtains are a trendy and energy-efficient method to improve your living area. Remote controls, voice control, and smartphone apps let you control these curtains remotely.
Smart curtains offer convenience. You can open and close your curtains without leaving your seat using a button or voice command. This is useful for large or hard-to-reach windows. Some smart curtains also contain sensors that alter the curtains based on light, temperature, and humidity.
Smart curtains save energy. Automating your curtains can assist adjust the temperature in your living room and lower your energy expenditures. You can open your curtains during the day to let in light and close them at night to retain heat. Some smart curtains have built-in timers that open and close at specified times of day, saving energy and reducing your carbon footprint.
Smart curtains also give your living room a trendy, technical edge. These curtains offer elegance and purpose to your decor with sleek designs and smart functions.
Textured Curtains
Textured curtains offer dimension to your living room. Velvet, chenille, and boucle lend warmth and texture to a room. Velvet or chenille drapes may add texture to your living space. These beautiful materials can elevate your space. For a cozier look, try boucle or tweed.
Consider layering fabrics or using different fabrics for separate panels to change textures and textiles in your curtains. You might choose a sheer fabric for the outer panels of your curtains to let in light and a thicker, more textured fabric for the inside panels to provide depth and complexity. A velvet curtain with chenille trim is another option.
It's vital to match fabrics and textures of your curtains to your living room's colour scheme. To achieve a coherent look, pick textiles with similar colours or patterns, or use complementary colours for contrast and intrigue.
Floral Prints
Floral living room drapes are ageless. Floral curtains offer beauty, femininity, and playfulness to your home. Consider print size while choosing a flowery curtain pattern. Big flower patterns are spectacular, while little ones are delicate. For a whimsical or elegant aesthetic, consider curtains with a mix of large and little flower motifs.
Incorporating flower designs into your living room decor requires consideration of your curtain colour choice. For a modest, discreet aesthetic, consider flower designs in neutral colours like white or beige. For a dramatic, vibrant look, choose floral patterns in red, yellow, or blue. Whether your living space is neutral or bright, choose a colour palette that matches it.
Floral prints lend elegance, femininity, and playfulness to living room drapes. By picking the proper size, colour scheme, and flower pattern, you can create a look that compliments your living area and adds everlasting beauty.
Sheer Curtains
Sheer drapes can soften your living room design. Sheer curtains add versatility and lightness to any room. Sheer curtains let light into your living area, making it cheerful and inviting. Sheer curtains offer solitude without blocking the view. Sheer drapes can also soften your living room dcor and make it more relaxing.
Choose diverse colours and patterns while decorating with sheer curtains in your living room. To add colour to your living room, use sheer curtains in a bright colour like red or blue or a neutral tone like white or beige. For a whimsical touch, use sheer drapes with stripes or polka dots.
Customized Curtains
Personalized curtains add a distinctive touch to your living room design. Working with a professional curtain maker or interior designer lets you choose from many styles, materials, and patterns to create curtains that suit your tastes and needs.
Customized curtains let you choose durable, high-quality fabrics. Use the proper fabrics and materials to make sure your curtains look fantastic and last. Custom curtains complement your living room design. Choose drapes that fit your windows to create a clean, elegant look in your living area.
To personalise your living area with bespoke curtains, consider different styles, fabrics, and patterns. For a lively and colourful look, select curtains with strong designs and vivid colours. For a more refined look, choose curtains with subtle patterns and neutral colours. To match your decor, try pleated, tab-top, or grommet curtains.
Frequently Ask Questions