Acacia wood is widely used as a decorative element because of its longevity, inherent attractiveness, and adaptability. It's a strong wood prized for its beautiful grain patterns, earthy tones, and durability. Furniture, ornamental accents, kitchen and dining accessories, and outdoor decor are just some of the many frequent uses for acacia wood.
Its natural antibacterial characteristics also make it a suitable material for culinary tools like cutting boards. With regular care, acacia wood can last for decades with little effort on the part of the owner. The use of acacia wood in interior design is a safe bet because of its beauty and durability.
Characteristics of Acacia Wood
The acacia tree, native to Australia and Africa, produces a tough and adaptable hardwood known as acacia wood. The wood has a lovely texture and colour, and it is naturally resistant to water and insects.
1. Durability and longevity
Because of its strength and longevity, acacia wood is frequently used for decks, fences, and other outdoor buildings. The wood is very dense and substantial, therefore it is not easily dented or scratched. It can withstand extremes in humidity and temperature without warping or cracking, making it a good option for any location.
As an added bonus, acacia wood doesn't easily rot or decay, so it's perfect for outdoor use. Furniture and buildings made from acacia wood can last for generations if treated properly.
2. Naturally repellent against moisture and insects
With its inherent resistance to moisture and insects, acacia wood is a great material for outdoor settings. Water is repelled by the wood's natural oil, which also helps keep the wood from rotting. Given its inherent resistance to moisture, acacia wood is a fantastic material for humid environments like kitchens and baths.
Insects, such as termites and carpenter ants, have a hard time chewing into acacia wood. Because of this, it is frequently used for outdoor furniture and buildings particularly in climates with high insect populations.
3. Versatility in texture and color
The species and portion of the tree from which the acacia wood is collected determine the wood's unique texture and colour, both of which are highly sought after. The wood's hue ranges from light to dark brown with occasional red or gold streaks, and its grain can be straight or wavy.
There is a wide variety of ways to finish acacia wood, each of which brings out the material's inherent charm. It looks great whether stained, painted, or left in its original state. Wood can be sanded or distressed to achieve a variety of textures and patterns.
Decorate Your Home with Acacia Wood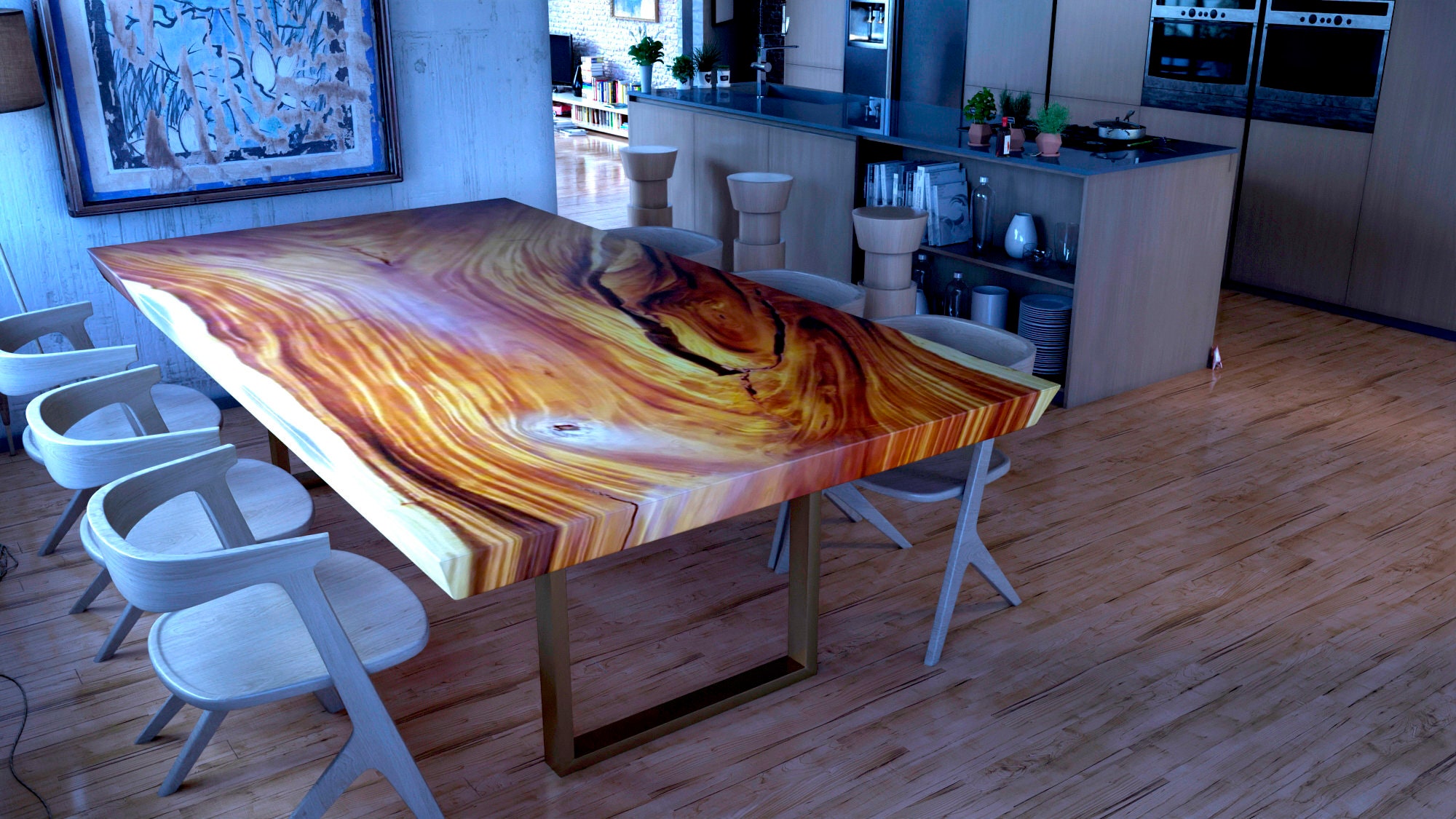 A. Furniture
Furniture built from acacia wood
Dining tables and chairs
Coffee tables and end tables
Bed frames and headboards
Bookcases and shelves
Cabinets and sideboards
Benches and stools
Acacia wood furniture benefits
Durability: Acacia wood is highly durable and resistant to wear, making it an excellent material for high-traffic furniture.
Natural beauty: The unique grain pattern and deep, warm tones of acacia wood make it a great choice for furnishing a home with style.
Sustainability: Because of their rapid growth rate and high yield, acacia trees are a sustainable option for the furniture industry.
Versatility: Many aesthetic possibilities are presented by the versatility of acacia wood, which may be polished in a variety of ways, from natural oil to painted or stained coatings.
Examples of acacia wood furniture in home decor
The dining area features a rustic acacia wood table with matching benches and contemporary aluminium chairs.
Coffee table made of live-edge acacia wood, supported by metal legs; stylish and modern.
The bed's simple silhouette and solid acacia wood construction make it an ideal centerpiece for any warm and inviting bedroom.
A tall, movable acacia wood bookcase with plenty of room for your book collection and decorative accents.
Bar stools made from unfinished acacia wood add a rustic touch to a sleek kitchen island.
B. Decorative Accents
Cutting boards: Cutting boards made of acacia wood are highly sought after because of its longevity and attractive grain. You can use them in the kitchen and at the table.
Serving trays: Serving trays made of acacia wood are also very popular due to its beauty and resilience. They look great on the table or as a decorative piece in any setting.
Wall decor: Wall art, mirrors, and shelving are just some of the many uses for acacia wood in the realm of interior design. The wood's natural beauty provides a room with a sense of warmth and depth.
Coasters: Coasters made of acacia wood are an attractive and functional solution to the problem of drink rings on furniture and floors. They can be used in their raw state or sealed for protection.
Candle holders: Candles in holders made from acacia wood are a beautiful way to illuminate your home and create a cosy atmosphere. They can be used in their raw form or polished with a stain or paint to complement a wide variety of design schemes.
C. Kitchen and Dining
1. Dining tables and chairs
The strength and beauty of natural acacia wood make it a popular material for dining room furniture. Acacia wood, with its distinctive grain patterns and warm tones, may enrich the atmosphere of any dining room.
2. Kitchen utensils and accessories
Because of its inherent resistance to microbial growth, acacia wood is an excellent material for cooking implements and accessories. Durable and naturally beautiful, acacia wood is a popular material for kitchenware including spoons, spatulas, and cutting boards.
3. Food serving platters and bowls
You may serve your guests in style with platters and bowls made of acacia wood. Acacia wood's natural beauty complements any tablescape, while the material's longevity ensures it will remain for years to come.
D. Outdoor Decor
1. Garden benches
Garden seats made from acacia wood are a common sight in many outdoor spaces due to the wood's longevity and aesthetic appeal. They are durable enough to endure the elements and offer a pleasant place to rest in any outdoor setting.
2. Patio furniture
Patios and decks are perfect places to place outdoor furniture made from acacia wood. Acacia wood is both beautiful and sturdy, so you can use it outside without worrying about it rotting away.
3. Outdoor kitchen accessories
Due to its longevity and inherent antibacterial characteristics, acacia wood is often used in outdoor kitchens for cutting boards, serving trays, and cutlery. They're weatherproof, so you can use them to cook and serve meals outside in style.
Maintenance and Care of Acacia Wood
1. Cleaning tips
Acacia wood should be dusted and cleaned with a moist cloth on a regular basis.
Cleaning products that are too abrasive or too harsh should be avoided, since they can scratch the wood's natural finish.
For spot cleaning, try a solution of mild soap and water, and then dry the wood completely afterward.
Baking soda and water can be mixed to make a paste that can be applied to stubborn stains to help remove them. After letting the paste sit for a few minutes, remove it with a wet rag.
2. Maintenance guidelines
Protect the wood's natural finish by applying a thin layer of mineral oil or beeswax every few months.
Acacia wood should not be subjected to high levels of moisture or heat because it can warp or break.
Use a wood polish to revive the wood's luster if it loses its sheen over time.
3. Common mistakes to avoid
Water will cause acacia wood to expand and warp, so avoid doing that.
Long-term exposure to sunlight can bleach or dry out acacia wood, so avoid doing either.
Cleaning products that are too abrasive or too harsh on the wood's natural polish can dull its appearance.