I know, the living room is the most important room for you. It's where you kick back at the end of the day with some TV time, some board games, and some company. Given its prominence, it's no surprise that many people want to update their living rooms. Nearly half of current homeowners are considering some sort of home improvement project, with many planning to update their living areas.
Still, remodeling a living room might be a challenging project. You'll need a good strategy, keen observation skills, and an artistic flair for this. here, I will walk you through the steps of remodeling your living room and provide you advice on how to turn your vision into a reality.
I'll assist you in every step of the process, from establishing a spending limit and settling on a design aesthetic to picking out the perfect furnishings and accessories. Your living room remodeling project can go off without a hitch if you take these steps.
Importance of a New Living Room
Remodeling the living room can make it more practical and suitable to the demands of the family. Additionally, this might make for a more cozy and welcoming area for the whole family and any visitors. If the homeowner ever decides to sell their home, updating the living room is a great way to boost the asking price and attract more potential buyers. The living room is a great place to start when it comes to establishing the home's overall design ethos, and a redesign may do wonders to give it a modern and polished new look. Living room remodeling that increase the room's energy efficiency can have a positive impact on utility costs and environmental protection.
Planning the Remodel
Setting a Budget
The first step in any living room remodeling project should be to establish a realistic budget. Having a plan in place like this can help you allocate funds more efficiently and keep the project on track. The price of labour, supplies, furnishings, and accessories should all be factored into your overall design budget. You should also have a savings cushion in case of emergencies. A reasonable rule of thumb is to set aside 10-20% of your whole budget for emergency situations.
Area Calculations
The success of your living room remodeling relies on your ability to take precise measurements. It will be easier to visualize the room's layout and visualize how the furniture will fit in it. Take careful measurements of the room's dimensions, including the height, breadth, and depth, as well as the location of any windows, doors, or other structural elements. The dimensions will help you draw out a floor plan and picture how the space will look when it's finished.
Choosing the Form and Purpose
There will be a lot of thought put into the layout of your living room based on the aesthetic and practical needs of the space. Think about the look you like and the functions you'll need the space for before you start the renovation. Which do you like better: a modern, classic, or a bit of both? Do you seek a formal living room in which to host guests or a more relaxed family area in which to spend time together? By considering these factors, you can design a living space that not only looks amazing but also serves your needs.
Cost of Remodeling a Living Room
The cost of remodeling a living room can differ substantially depending on a number of aspects including the size of the room, the materials that are chosen, and the degree to which the modifications are carried out. I listed below some ballpark figures for the costs associated with renovating various components of a living room:
Flooring: Depending on the type of flooring material that is utilized, the cost of flooring can range anywhere from $2 to $20 per square foot (e.g. carpet, hardwood, tile, etc.).
Painting: A living room that is painted on the walls and ceiling can run anywhere from $300 to $1500, depending on the size of the space and the quality of the paint that is used.
Furniture: It depends on you what kind of furniture you prefer. So depending on the material used and the design of the individual pieces, the price of brand-new furniture can range anywhere from a few hundred dollars to several thousand dollars.
Electrical and lighting: Depending on the degree of the work that needs to be done, an upgrade to the electrical and lighting in a living room can cost anywhere from $500 to $3,000 or more.
Wall Treatments: Wall treatments such as wainscoting, molding, or wallpaper might cost anywhere from $500 to $3,000 to install or upgrade, depending on the scope of the project.
Built-ins: The cost of installing custom cabinetry, storage, or a fireplace might range anywhere from $3,000 to $10,000 or even more.
Windows: The cost of installing new windows or renovating existing ones can range anywhere from $500 to $5,000 or even more, depending on the type of windows and their overall size.
Finding the Correct Pieces of Furniture and Decorations
Furniture Size and Design are Crucial
Size and style matter when buying living room furniture. Measure the space, traffic movement, and barriers like doors and windows. Next, decide on the room's atmosphere. Choose furniture that matches your taste and the room's decor. Consider the furniture's utility, including comfort, frequency of usage, and maintenance.
Decorating the Living Room
Decor can give a living room personality. Add a gallery wall, a statement piece of art, or family photos. Throw cushions and rugs offer colour and texture. Plants and flowers bring nature within, while vases, candle holders, and bowls add aesthetic interest. Decor should accentuate the room's style and furniture.
Lighting and Accessories Improve the Look
Lighting and accessories may transform your living room. A well-placed floor, table, or pendant lighting may create a cosy ambiance. Wall sconces or track lighting create drama. Choose room-matching accessories. Mirrors, clocks, and bookcases are fantastic living room accessories. Mix & match to create your own style.
Avoid These Mistakes While Remodeling Living Room
Ignoring the Traffic Flow
Ignoring the flow of traffic in a living room during the remodeling process is one of the most frequent mistakes made. Make sure the furniture is organized in a way that makes it easy for people to walk freely around the space, and try to avoid putting anything in the way of entrances or pathways with the furniture that you place.
Overstuffing the House with Furniture
When a living room is overstuffed with too much furniture, it might give the impression that the room is cramped and small. Choose instead to make a statement with only a few key pieces of furniture and focus on finding pieces that are both fashionable and functional.
A Poor Choice of Lights
Many people choose wrong lighting for their living room while remodeling. The lighting in a living room can have a significant influence on both the appearance and the atmosphere of the space. If you want to create a warm and inviting ambiance, you should try to avoid utilizing a single overhead light and instead go for a combination of ambient, task, and accent lighting instead.
Ignoring the Scale of the Room
Another typical error is purchasing furniture and accent pieces that are disproportionately large or small in relation to the dimensions of the room. Check that the dimensions of the furniture are appropriate for the room, and make sure that the decorative components enhance the room's overall appearance and atmosphere.
Ignoring the Colour Scheme
When selecting paint colours for a living room makeover, it is important to take into account the space's overarching style and select a colour scheme that complements the room's existing furniture and accessories. It is best to steer clear of picking colours that clash or that are too bold, as doing so might make the room appear cramped.
Neglecting Storage
Any redesign of a living area should prioritise the addition of storage space. Check to see if there is sufficient storage space for objects such as books, magazines, and other things, and think about purchasing a storage solution such as shelves, cupboards, or an ottoman with storage space.
Skimping on Quality
It can be tempting to go with the less expensive alternative when redecorating a living room; but, doing so will likely result in furniture and decorations of a lower quality. Make an investment in high-quality items that are built to last and that will improve the look and feel of the space for many years to come. These are the kinds of things you should buy.
Some Unique Living Room Remodel Ideas for 2023
Add Built-in Storage
You might want to think about including some built-in storage into the redesign of your living area. Cabinetry or shelving that is made to order can help maximize space while also providing an appearance that is clean and uncluttered.
Also See: 17 Unique Bathroom Storage Ideas for 2023
Group a Collection of Art, Photos, or Other Items
A collection of artwork, photographs, or other objects can be used to create a gallery wall by hanging all of the items together on a single wall. This has the potential to provide aesthetic flair and make the area feel more like your own.
Living Room Ceiling with Bold Color
Paint or wallpaper the ceiling in a striking colour or pattern to make a statement about your personal style. This has the potential to lend an air of drama and produce a focal point that is aesthetically engaging.
Also See: 14 Best Blue Kitchen Cabinets Ideas of 2023
Indoor-Outdoor Living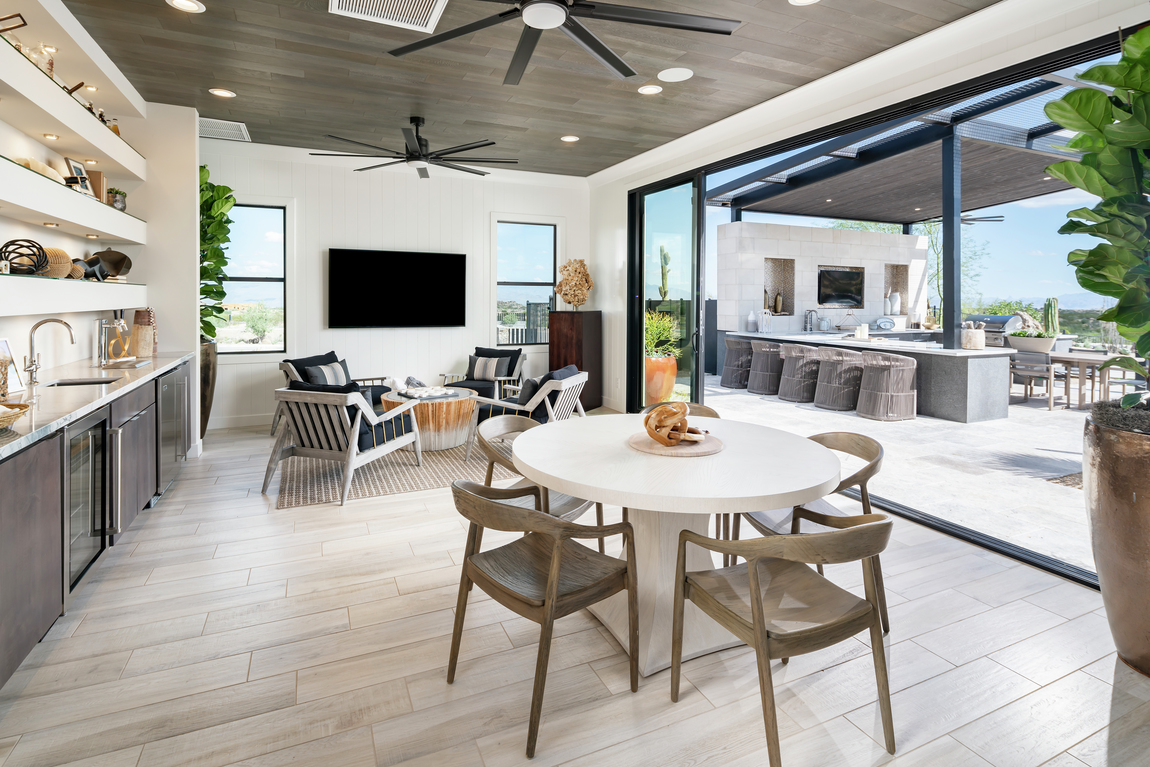 Incorporate sliding or bi-fold doors, a sizable patio, or even a screened porch into your home design to make the transition from interior to outside life feel natural and effortless. This can help to create an atmosphere that is conducive to hosting gatherings while also bringing the outside inside.
Also See: Breathe New Life into Your Home: 20 Simple Space Refresh Ideas
Consider Using Bold Flooring
If you want to create a statement in your living room, you should think about selecting daring flooring options such as patterned tiles, large-scale planks, or even vividly coloured carpet.
Invest in Statement Lighting Fixtures
Make a statement with your lighting by purchasing eye-catching pieces like a huge chandelier, pendant lights, or even a floor lamp with a unique shape and pattern. This can help to create a warm and inviting ambiance as well as set the tone for the event.
Also See: 23 Creative Ways to Utilize Your Living Room Corner
Install Floor-to-Ceiling Bookshelves
By building bookshelves that reach from floor to ceiling, you can make a wall out of books. This has the potential to impart the area with texture, colour, and a distinctively individual stamp.
Also See: 17 Best & Popular Ideas for Room Divider of 2023
Mix and Match Different Styles of Furniture
Combine pieces from a variety of furniture types to create a one-of-a-kind and eclectic look. This might be of assistance in the creation of a room that is rich in personality and that reflects your own unique taste.
Also See: 15 Coffee Table with Storage: Keep Your Living Room Clutter-Free in Style
Frequently Ask Questions