Patios, balconies, and gardens can all use a splash of color and personality, and coral is the perfect hue to achieve that. It's a neutral shade that works well with anything from sleek modern to breezy coastal.
Coral is a great way to breathe new life into your outdoor area while also adding a bit of warmth and individuality to your décor. In this article, we'll go over some different ways you may use coral in your outdoor decor, such as with furniture, accents, and lighting.
Our guide will also include information on how to keep coral-colored decorations in outdoor areas looking beautiful for years to come. Read on for some ideas on how to use coral as part of your outdoor space, whether that's a patio, balcony, or garden.
Using Coral Color in Patio Designs
Because of its sunny disposition and its association with the tropics, coral is frequently used as an accent colour in patio designs. The incorporation of coral into patio design schemes can elevate the look and feel of the outside area.
Coral is a highly adaptable hue that works well in a wide range of contexts and complements a wide range of other colours, textures, and patterns. A variety of coral-based patio ideas are discussed here.
1. Furniture and Accessories in Coral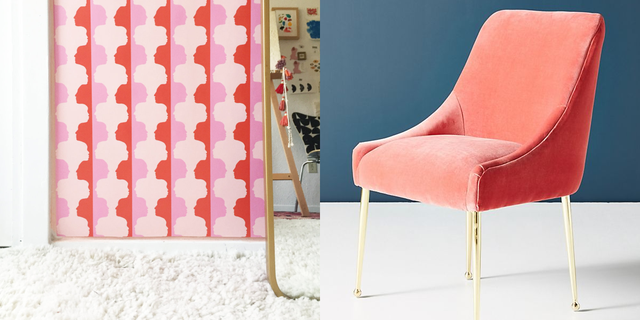 Furniture and accents in coral tones can be used to inject some much-needed colour into a neutral backyard. A coral table, bench, or chair set might be the showpiece of your patio. Sofas, accent chairs, and even a patio umbrella in the same vibrant coral hue can be employed in a variety of settings. Also, outdoor seating can be given a modern, on-trend vibe by adding coral-colored cushions.
Also See: 15 Best Dark Green Paint Colors
2. Coral Accents in Outdoor Rugs and Pillows
An amazing option to incorporate coral into your patio decor is using outdoor rugs and pillows. An outdoor rug in a coral shade can serve as a focal point and serve as a point of focus.
In addition, outdoor pillows in a coral shade can be employed to tie together the design of the patio's furnishings and accents. Consider the material's longevity and weather resistance while shopping for outdoor rugs and pillows.
3. Coral Potted Plants and Flowers
Natural and revitalising, a patio's aesthetic can be enhanced by the addition of coral potted plants and flowers. Potted plants made of coral, such the coral cactus or coral bells, can provide a stunning aesthetic contrast to leafy plants.
Flowers with a coral tone, such roses, hibiscus, or dahlias, planted in outdoor pots, can also provide a splash of colour to the patio layout.
4. Coral-Color Outdoor Lighting
If you want to create a striking and welcoming atmosphere in your outdoor area, try using lighting in a coral colour scheme. Lighting up your outside space with coral-colored lanterns, string lights, or outdoor lamps can do just that.
Use outdoor lighting in coral to draw attention to specific pieces of furniture, planters, or works of art.
Adding Coral Color on Balconies
If you want to make your balcony more attractive, try painting it a brilliant coral. Whether it's through the use of coral-colored outdoor curtains, small balcony design ideas, or the incorporation of coral-colored accents on furniture and cushions, the colour coral can be easily included into even the smallest of balconies. This essay will provide an in-depth analysis of these concepts.
1. Small Balcony Design Ideas
When dealing with a limited amount of square footage on a balcony, it's crucial to make the most of the area available in order to accommodate guests in comfort. Using foldable furniture like seats and tables, mounting planters on the wall to make a vertical garden, and installing lighting like string lights or lanterns are all great ways to make the most of a small balcony. Coral may be a beautiful addition to a small balcony, but it needs to be used carefully so as not to make the area look tacky.
2. Using Coral Accents on Furniture and Cushions
You may make a stunning visual effect by accessorising your balcony seats, benches, and tables with coral. Coral-colored cushions and toss pillows are another option for sprucing up balcony furniture.
If you want to use coral as an accent colour on your balcony's furnishings, make sure you pair it with some neutrals or colours that complement it.
3. Hanging Planters with Coral Flowers
Coral flowers, such begonias, petunias, or impatiens, in hanging pots can brighten and enhance the aesthetic appeal of a balcony. To make a vertical garden, just hang planters from the balcony railing or place them on the wall.
The size of the balcony, how much direct sunshine it receives, and the watering requirements of the plants you want to grow should all be taken into account when choosing hanging planters.
4. Coral-Color Outdoor Curtains
To add a touch of class and solitude to the balcony, try hanging some coral-colored outside curtains. Hanging outdoor curtains from the balcony railing or attaching them to the wall can make the area feel more private and secluded.
It is also possible to use coral-colored outdoor curtains to generate shade on the balcony during the hot summer months.
Using Coral in Garden Design
The use of coral, a vivid and attention-grabbing colour, to landscape designs may give them a hint of warmth and a tropical vibe. Coral can be used into garden design in a number of ways, including the use of coral-colored flowers and plants, coral garden ornaments and accents, coral-colored outdoor furniture, and coral garden walls and fences. This essay will provide an in-depth analysis of these concepts.
1. Coral-Color Flowers and Plants
Use of coral-colored flowers and plants is a simple method to incorporate coral into landscape design. Add a splash of colour and a touch of the tropics to your landscape with coral-hued blooms including roses, hibiscus, and dahlias.
Plants with coral tones, including coral cacti and coral bells, stand out well against lush vegetation. It's vital to think about how much light and water coral-colored flowers and plants will need before making your final selection.
2. Coral Garden Ornaments and Accents
Decorating gardens with ornaments and accents made of coral can give them a sophisticated and refined air. Coral-colored statues, fountains, or birdbaths can serve as a striking focal point in any garden.
As an extra splash of colour, outdoor seating areas might benefit from the use of coral-colored outdoor rugs or cushions. You can achieve a harmonious and well-balanced garden design by incorporating coral-colored ornaments and accents with other, neutral or complementary hues.
3. Coral-Color Outdoor Furniture
If you want to make your garden more welcoming, try using some coral-colored patio furniture. Making a bold visual statement, coral-colored outdoor seating, benches, and tables.
Outdoor seating can be brightened up and made more comfortable with the addition of coral-colored cushions and throw pillows. It's crucial to think about the durability and weather resistance of the materials when purchasing coral-colored outdoor furniture.
4. Coral Garden Walls and Fences
A coral-colored fence or wall can set the stage for a stunning landscape. Bricks, tiles, or paint with a coral hue can be used to construct walls and fences with a similar hue. The use of garden trellises or pergolas in a coral colour can also lend an air of luxury to outdoor spaces.
When utilizing coral for garden walls or fences, it's best to pair it with neutral or complimentary hues for a well-rounded design.
Pairing Coral with Other Colors
Several different colours can be combined with coral to produce a striking and well-balanced colour scheme due to the hue's warmth and vibrancy. Some suggestions for combining coral with other hues are provided below.
1. Coral Color and Blue
If you're going for a coastal or beachy look, coral and blue are a great colour combination to use. Coral looks beautiful with relaxing light blues like sky blue or aqua. When paired with coral, deeper blues like navy and cobalt make a striking contrast.
2. Coral and Green
Coral and green together form a lush and tropical colour palette, ideal for outdoor and garden-themed decor. Coral looks lovely with sage green and mint green, which both have a calming effect. Contrasting coral with a deeper green colour, like emerald or forest, can make for a striking and elegant look.
3. Coral and Gray
The combination of coral and grey makes for a sophisticated colour palette that works well with minimalist and industrial decor. Coral looks beautiful with softer, more refined greys like dove and silver. Colors like coral stand out dramatically against darker greys like charcoal and slate.
4. Coral and White
When used together, coral and white form a crisp, modern colour scheme well suited to minimalist and contemporary aesthetics. When paired with a white background, the vibrant hues of coral really pop. This colour scheme is ideal for injecting life into otherwise monochromatic rooms.
Maintenance and Care of Coral Accents in Outdoor Spaces
Adding pops of coral to your outdoor decor is a great way to bring warmth and life to your space. But, regular care and upkeep is required to ensure that these accents continue to look their best. Care and maintenance instructions for outdoor coral accents are as follows:
1. Cleaning Coral-Color Furniture and Accessories
When it comes to maintaining the finest possible appearance of coral-colored furnishings and accents, regular cleaning is a must. Over time, outdoor furnishings can become discoloured and damaged from the accumulation of dirt and debris.
Coral-colored furnishings and accents are delicate, so it's best to clean them with a mild soap and water solution and a soft brush or cloth. It's best to stay away from anything too abrasive or chemically strong in case the coral finish is scratched.
2. Protecting Coral Plants and Flowers
Care and protection are essential for the survival of coral plants and flowers in outdoor settings. Plants and flowers in coral reefs can flourish with consistent care, including watering and fertilising.
In addition, keeping the coral out of the direct sunshine and under some sort of cover can extend its life and keep it looking vibrant. Coral plants and flowers need to be shielded from the elements, so a cover or shelter should be used.
3. Maintaining Coral-Color Outdoor Lighting
Beautiful atmospheres can be created with the help of outdoor lights. Maintaining the functionality and aesthetic appeal of coral-colored outdoor lighting calls for consistent attention. Be sure to inspect the wiring and light bulbs on a consistent basis for symptoms of damage or wear and tear.
Don't wait to replace worn or broken components. Also, dust and debris that accumulates on the light fixtures over time might cause discoloration, so it's important to clean them frequently.
4. Storing Coral-Color Outdoor Items During Inclement Weather
Outside furniture and decorations, notably those with a coral colour scheme, are susceptible to the deteriorating effects of the elements. During stormy weather, it's best to keep these things inside or under cover.
If you can't put your stuff away, at least try to keep them dry and safe from the elements with protective covers. Water and UV light are two of the main causes of fading and discoloration, and these covers can help protect your belongings from both.