It should not come as a surprise that the focal point of attention in the living room is the mantelpiece because it is the perfect location for showcasing treasured things and establishing the mood for a warm and inviting ambiance in the space.
A stunningly decorated mantle may have a big impact on the aesthetic appeal of a room, and this is true regardless of whether or not the room in question even includes a fireplace.
Recent polls have revealed that nearly 80% of homeowners believe the mantel to be an important component of home design, and that more than 60% of those asked regularly adorn their mantels.
When there are numerous options and courses of action from which to select, it can be challenging to determine how to get started. To assist you in getting started with your mantel decorating, we have compiled a list of 13 distinct and interesting mantel decorating ideas.
1. Create a Picture Gallery
By hanging or propping up a collection of frames on your mantel, you can transform it into a miniature gallery. You are free to hang anything from paintings to photographs in frames of varying sizes and contours that you have put together yourself.
2. Adding greenery to your mantel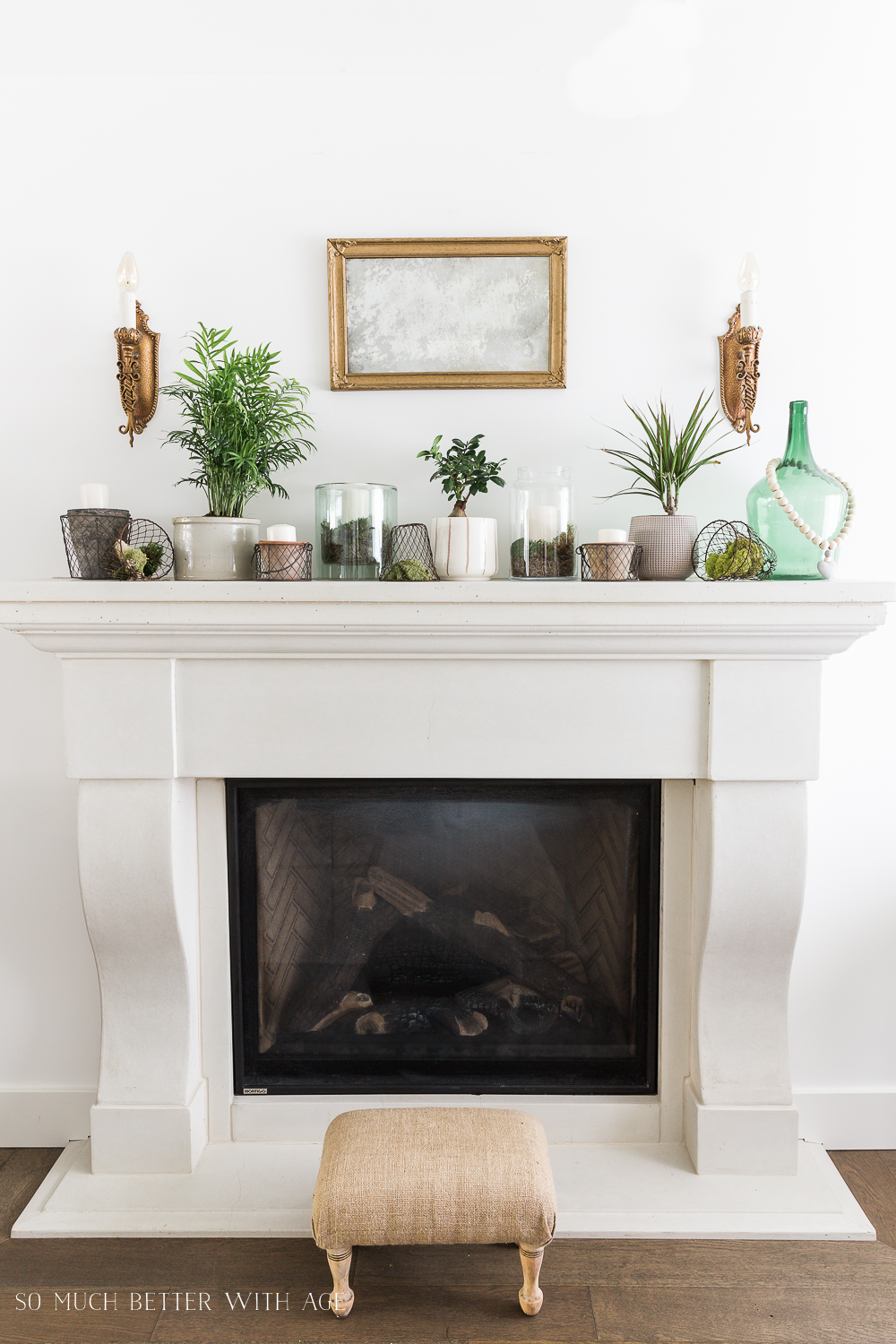 By placing some potted plants on the mantel, you can give the impression that the space is more natural and less cluttered. It is possible to use either real plants such as succulents or herbs, or artificial plants such as flowers and leaves. Include some candles among the greenery if you want to produce an atmosphere that is both cosy and welcoming.
3. Show off Your Favorite Objects or Collections
Put your most valued possessions and collections on display by using the mantel as a showcase. A display like this might contain anything from a collection of rare books to a curated assortment of rocks and shells, and everything in between. This is the best option for you to take if you want to achieve a style that is earthier or more bohemian.
4. Add String Lights or Lanterns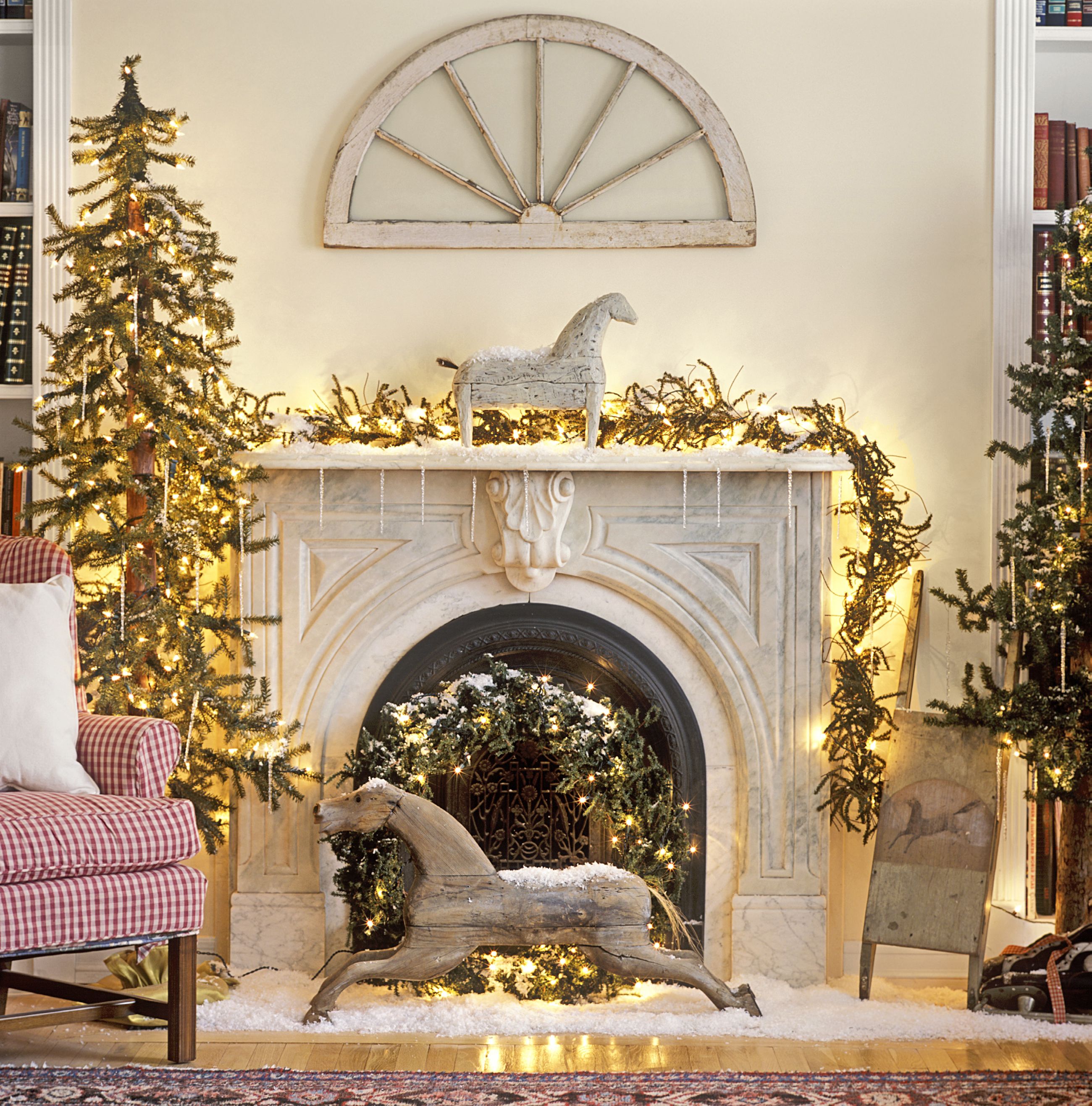 Creating a warm and inviting ambiance in your home by decorating your mantel with string lights or lanterns is easy to do. It is possible to bring attention to a sculpture or other work of art by wrapping the lights around plants or using them in other creative ways. A more dramatic effect can be achieved by using fairy lights or garlands that are hung with warm LED lights.
5. Place a Large Mirror
If you place a large mirror above your mantel, it will reflect light and give the impression that there is more space than there actually is. Other symmetrical pieces, such as candlesticks or vases, can be combined with the mirror to create a beautiful display.
6. Decorate Your Mantel with Candles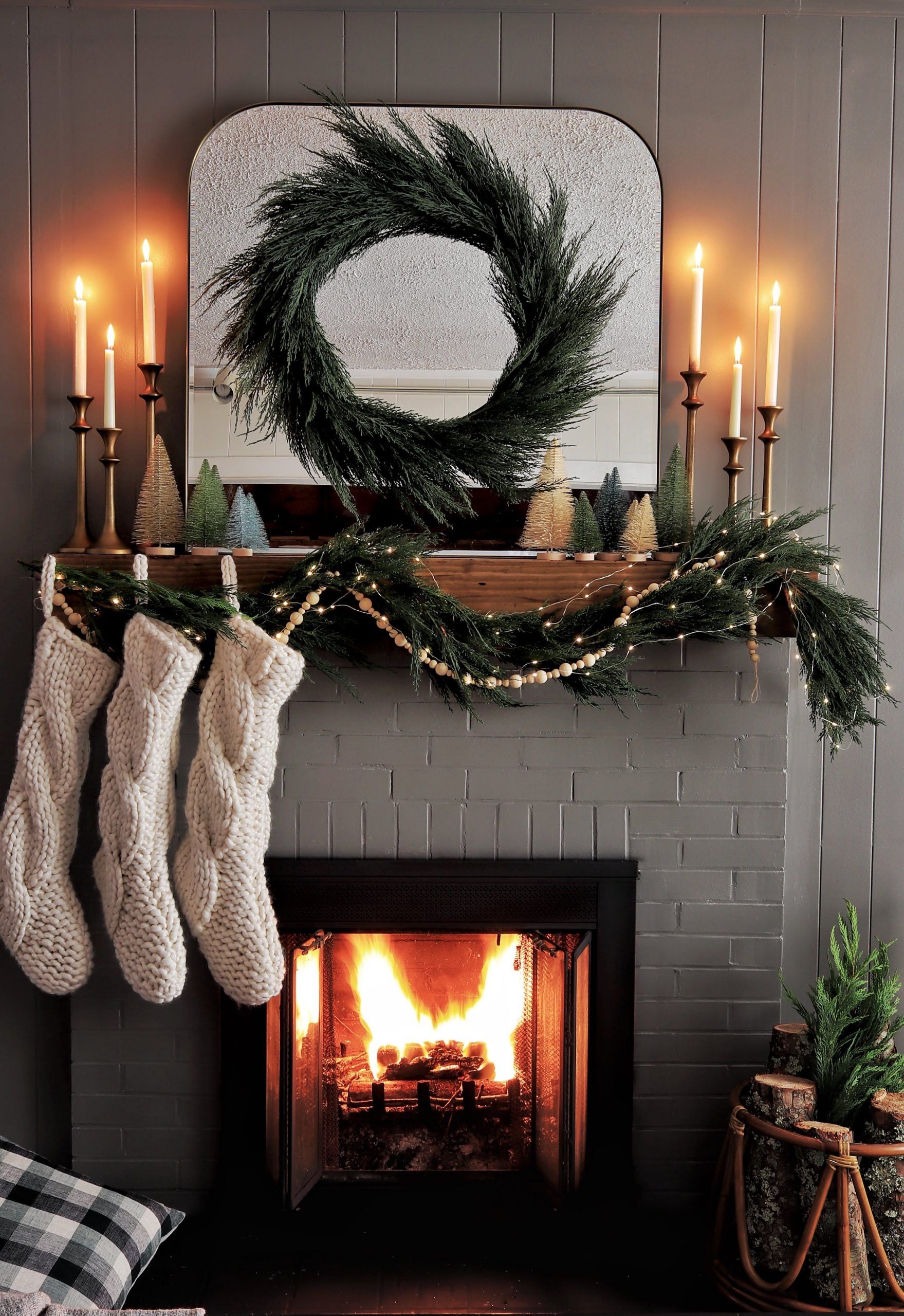 You can adorn your mantel with a couple of candles and not much else if you want to. Candles are available in a broad variety of forms, sizes, and colours, and they can be used to create a particular atmosphere, provide some aesthetic interest, and even assist in falling asleep. Candlestick holders or candelabras are also advised for use in this setting.
7. Make a Statement on Your Mantel with Wall Art
Large wall art that makes a statement might serve admirably as the centrepiece of your fireplace mantel. Choose an item that works well with the colour scheme that is already present in the room. It is possible to make a one-of-a-kind presentation with multiple pieces of wall art, such as paintings, posters, and tapestries, to name just a few examples.
8. Increase the Value of Your Mantel with Books
What better way to let people know that you have a passion for reading than to showcase some of your most treasured books on the mantel? You can organise them according to colour, size, or genre by using bookends to hold them in position and keep them from falling over. This is a wonderful idea to implement in your home if there is a designated area for you to read.
9. Use Rustic Elements on Your Mantel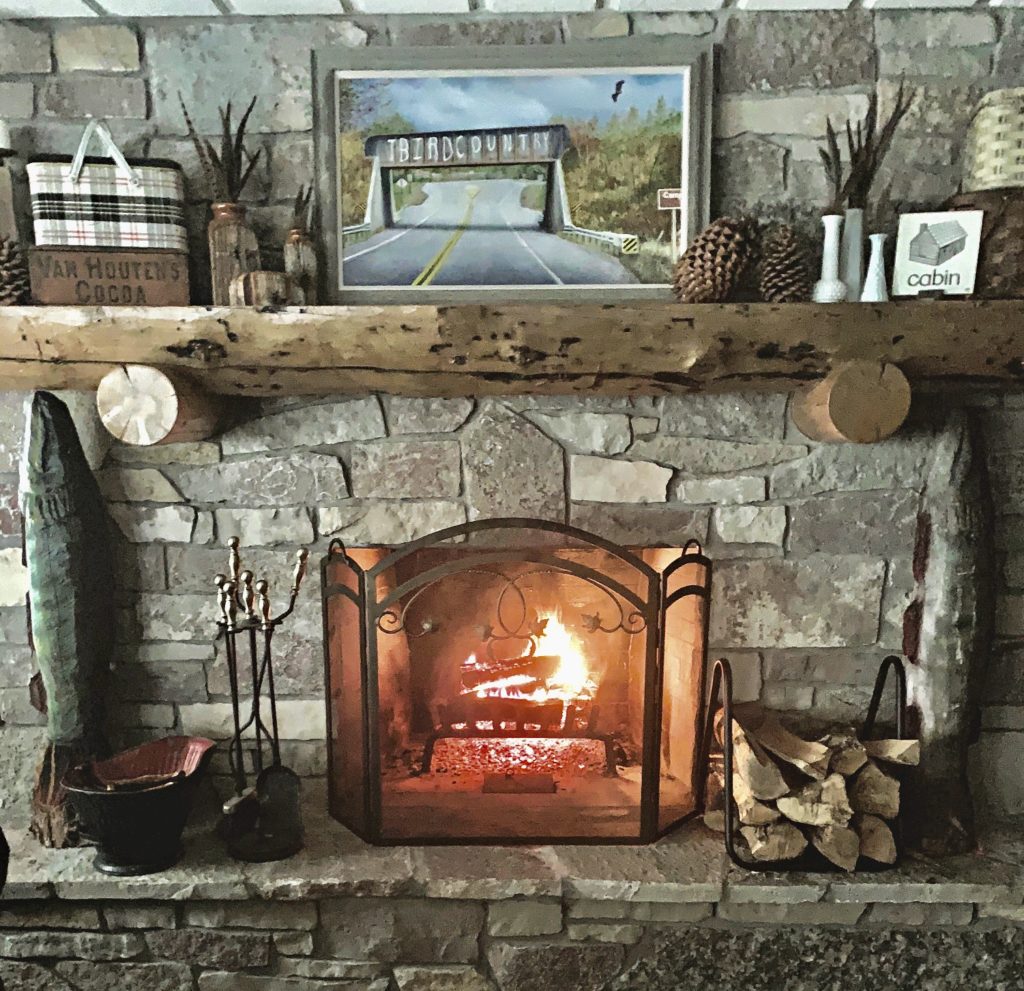 To create the atmosphere of a rustic lodge in your home, decorate the mantel with some logs and antlers. Beams made of wood, woven baskets, and other natural materials can give a room more dimension and personality. By illuminating the rustic accents with lanterns or candles, you may produce an atmosphere that is relaxing.
10. Brighten Up Your Mantel with Flowers
The addition of a colourful floral arrangement to the mantle of a home is an easy way to give it a more welcoming feel. Put some flowers, either real or fake, that are in keeping with the colour scheme of the room into a vase or pitcher. You can use either real or fake flowers. Dried flowers and branches are wonderful options to consider when you want to achieve a more natural and rustic appearance.
11. Install Wall shelves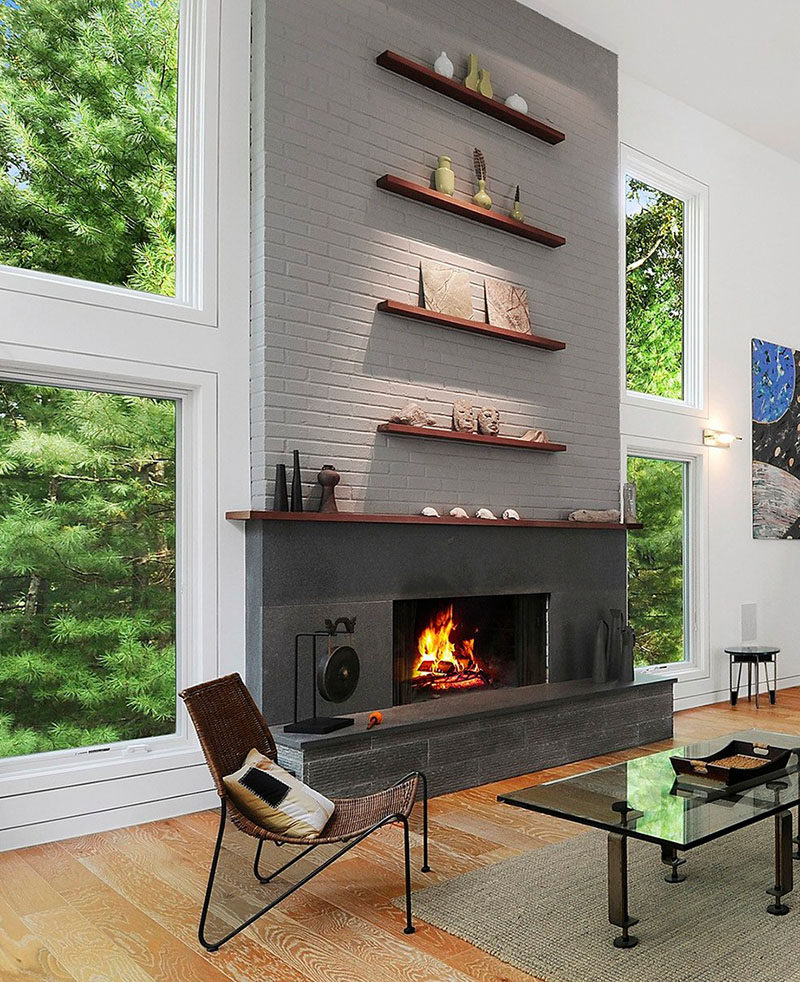 Installing some wall shelves above the mantel will provide you with additional space for displaying or storing your items. You can adorn the shelves with potted plants, books, and several other decorative elements.
12. Hang a Wall Tapestry
When you hang a wall tapestry above your mantle, it can have a dramatic effect on the room's overall aesthetic. Choose a tapestry that not only fits nicely with the aesthetic of your home but also reflects your personal taste in art.
13. Hang a wreath
Hanging a wreath over the mantel is a great way to get into the Christmas spirit. When it comes to the holidays, you can't go wrong with a wreath made of fresh greenery, and when it comes to spring, you can't go wrong with a wreath made of flowers.