New York City has beautiful architecture and interiors. Interior designers in the city have designed stylish apartments and high-end offices. Finding a New York City interior designer can be challenging with so many skilled candidates.
We compiled a list of award-winning interior designers in the city to help you choose the best. These designers are known for their inventiveness, attention to detail, and excellent results in home and commercial design.
This collection of award-winning designers in New York City will inspire you and give you a glimpse into the world of interior design. Relax and browse the city's most creative designers.
1. Kelly Behun
Kelly Behun Studio is a New York City-based interior design firm that focuses on creating beautiful and functional spaces via the careful selection of furniture and decorative pieces. The Studio, founded by Kelly Behun, takes a personal, client-focused approach to creating one-of-a-kind spaces.

Customers may expect a one-of-a-kind service experience built on teamwork and customization. Kelly, who has been called "an interior designer with the eye of a gallerist," is known for incorporating a wide variety of styles and price points into her work. Instead of being tied to a certain artistic movement or historical period, aesthetic value is determined mostly by how something looks and feels.

Kelly's extensive network in the art world enables her to find fresh approaches to helping clients display artwork in their homes. Her resume features work for prominent figures in media, politics, industry, and the arts.
2. Victoria Hagan
Architectural Magazine hailed Victoria Hagan, an award-winning designer, as "the environmental equivalent of Katharine Hepburn" for her distinctively American aesthetic. Victoria's business, which she has been running for the past 25 years, has won praise for its innovative combination of architectural and interior design. The 26-person New York City studio offers comprehensive design services in her signature style for a wide variety of locations across the country.

Shortly after her debut in 1985, Victoria was hailed by the New York Times as "the most cerebral, the one bound to be noteworthy," and she has continued to be an influential designer ever since. She is frequently featured in publications like Architectural Digest, The New York Times, New York Magazine, Elle Décor, Vogue, Veranda, W, Town & Country, Harper's Bazaar, and Home Beautiful. Her defiance of the "woman decorator" archetype was recently praised by Vogue. The AD100 and other major design prizes were bestowed to Victoria. She was inducted into the Interior Design Hall of Fame.
3. Sheila Bridges
In 1993, Sheila Bridges moved to Harlem, New York, and established Sheila Bridges Design, Inc. to become a part of the vibrant community that is home to many notable African American artists, writers, singers, activists, and more.

Sheila Bridges was hailed as "America's Best Interior Designer" by both Times and CNN. Bridges' critical eye and taste for timeless, adaptable design have earned her widespread renown. She is sought after to construct thoughtfully inspired and narrative-rich places due to her commitment to ageless design and exceptional craftsmanship.

From the 8,300 square foot Harlem headquarters for former President Bill Clinton and his team to many more prestigious clients, Bridges has built it all. The interiors of both Columbia University and Princeton University were designed by Sheila Bridges Design, Inc., integrating her signature style.
4. Steven Gambrel
The renowned interior design firm S.R. Gambrel, Inc. is run by Steven Gambrel. Steven established S.R. Gambrel, Inc. in 1996 after earning a degree in architecture from the University of Virginia. Whether it's a sleek uptown duplex, a large country estate, or a relaxing beach retreat, Steven constructs timeless, beautiful homes that only become better with time for his clients.

The local styles of each commission excite him. Structures and features that are well-proportioned are important to Steven, and he pairs these with a carefully curated collection of antique and custom-made furniture.

Significant projects have been undertaken by S.R. Gambrel, Inc. in New York City, the Hamptons, Chicago, Philadelphia, and London. Two restaurants in the West Village and Sag Harbor's massive Watchcase Factory were both decorated and built by the firm. Steven has a wide range of devoted customers in New York City, Aspen, Vail, Miami, Virginia, London, Zurich, Hong Kong, and abroad.

The Urban Electric Company and the Lacquer Company have teamed up to provide S.R. Gambrel with the opportunity to create one-of-a-kind lighting and accent pieces. In 2011, he and Waterworks founded the company Grove Brickworks. Dering Hall, a website dedicated to referencing handcrafted furniture, was launched in 2014 by Steven Gambrel and two other individuals.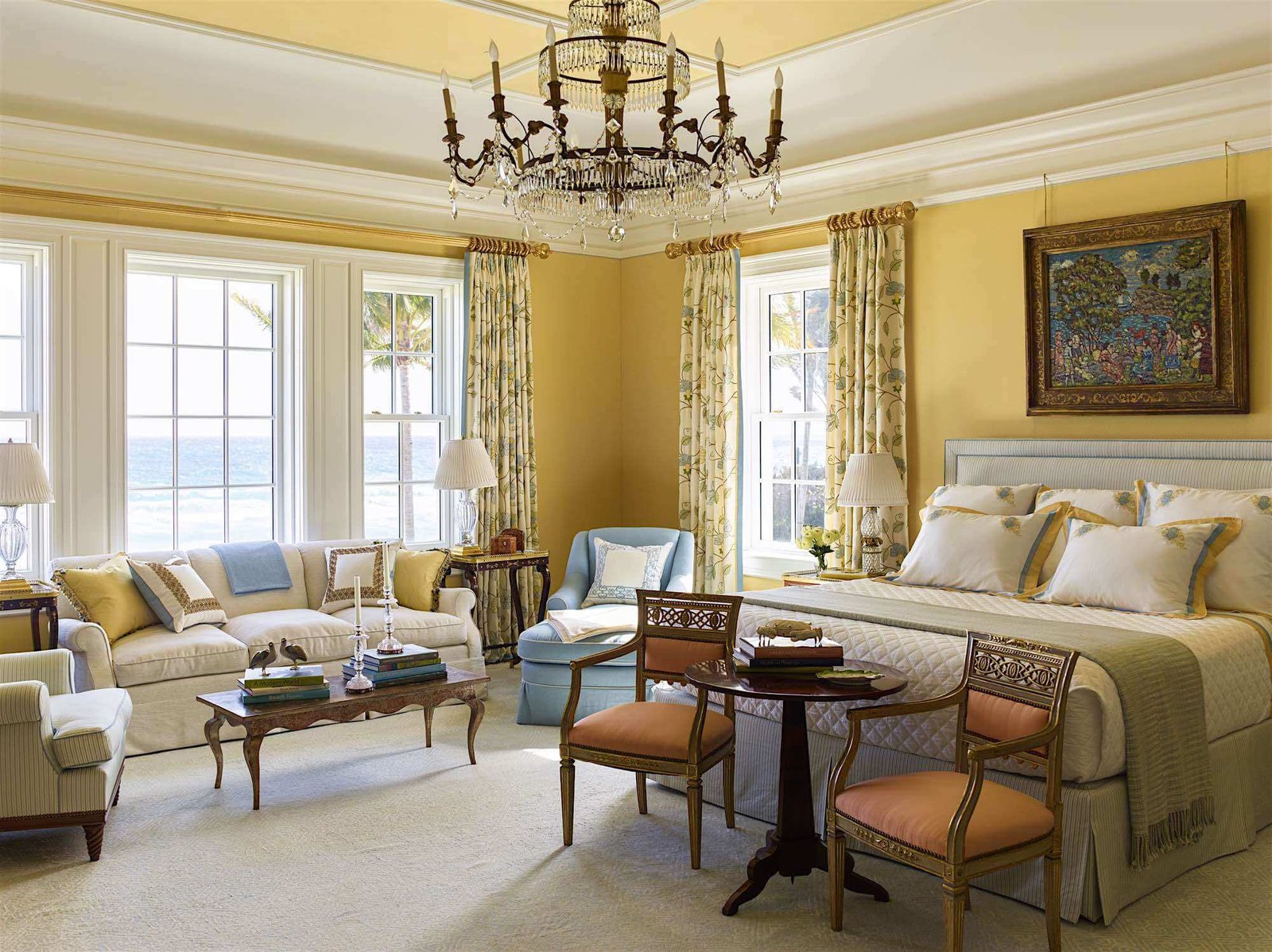 5. Cullman & Kravis
Since 1984, CULLMAN & KRAVIS ASSOCIATES has provided superior design and service. We work with clients to meet their aesthetic and practical goals within their budgets. C&K's primary priority is elegance and functionality, but our greatest delight is that every home we design represents the owner's personality, making no two projects the same.

Our latest work redefines classic interiors. Our "modern traditional" designs have been updated, clarified, and enhanced using new materials and palettes. This new perspective is modern while honoring our company's 30-year legacy. We use antiques of many periods and provenance, modern artworks, unique furniture, and excellent textiles to create complex, layered interiors that are pleasant and never formal.

These projects include Allan Greenberg, Tom Kirchhoff, Tom Kligerman, John B. Murray, Gordon Pierce, Oscar Shamamian, Jeff Smith, and Peter Zimmerman. Cullman & Kravis, Inc. in New York City is working on projects in Manhattan, the Hamptons, Connecticut, Massachusetts, New Jersey, Ohio, Florida, Texas, Colorado, and Hawaii.
6. Robert Couturier
His name has become synonymous with continental and international style, and he is consistently featured on Architectural Digest's yearly list of the world's greatest decorators and architects.

Nonetheless, Couturier puts his own unique and humorous spin to his traditional training at Paris's Ecole Camondo, and his design heroes continue to be an eclectic bunch (Renzo Mongiardino, Charles LeBrun, Serge Roche, Robsjohn Gibbings, Robert Mallet-Stevens, Jean Michel Frank…).

Couturier insists that the decor must be suitable for the building, the clients, and the location. He doesn't think of his interiors as sets, but as places where real people may move and do real things. These function amazingly well, by the way.
7. Nate Berkus
Nate, who has been in the interior design business for over 25 years, has taken his expertise and philosophy that your home should reflect your story and applied it to television and several stylish and affordable home collection. The new Beautyrest sleep collection, roller shades from The Shade Shop, furniture from Living Spaces, and fabric from Kravet are all the products of his collaborations with home furnishing brands.

In New York City, Nate sells his antique furniture and decorative items on 1stDibs, Chairish, and Showplace. The mDesign and NATE HOME collection of bedding, bath, and storage products were introduced in the winter of 2023. Nate created the Sunset Bar on Beyond and is the travel ambassador for the upscale cruise line.

He served as executive producer on 2011's Oscar-winning film, The Help. Nate has appeared on numerous television shows, including the daily syndicated The Nate Berkus Show, American Dream Builders (NBC), and Nate and Jeremiah By Design in 2014. (TLC). The Nate & Jeremiah Home Project, hosted by brothers Nate and Jeremiah Brent, is currently airing its second season on HGTV.