You have entered the realm of imaginative timekeeping! Wall clocks have come a long way from their utilitarian beginnings to become gorgeous works of art that can completely transform the look of your house. Etsy is the place to go if you want to buy a one-of-a-kind wall clock that combines fashion with quality craftsmanship and personalization.
We've selected 14 unique wall clocks from Etsy that are guaranteed to impress and alter your perspective on time. Each of these timepieces is a work of art in its own right, the product of skilled craftspeople who put their hearts and souls into their work.
Prepare to be astounded as we take you on a tour of these extraordinary clocks, which are more than simply tools for keeping time; they're also demonstrations of creativity, originality, and skill.
Our exclusive Custom Resin Ocean Art and Olive Wood Wall Clock will be a stunning addition to any room in your home. The clock face is made of natural olive wood and features an epoxy resin design inspired by the sea.
Customize this one-of-a-kind item and give it a thoughtful present. It's a beautiful decoration for any room because of its silent ticking mechanism and high-grade materials.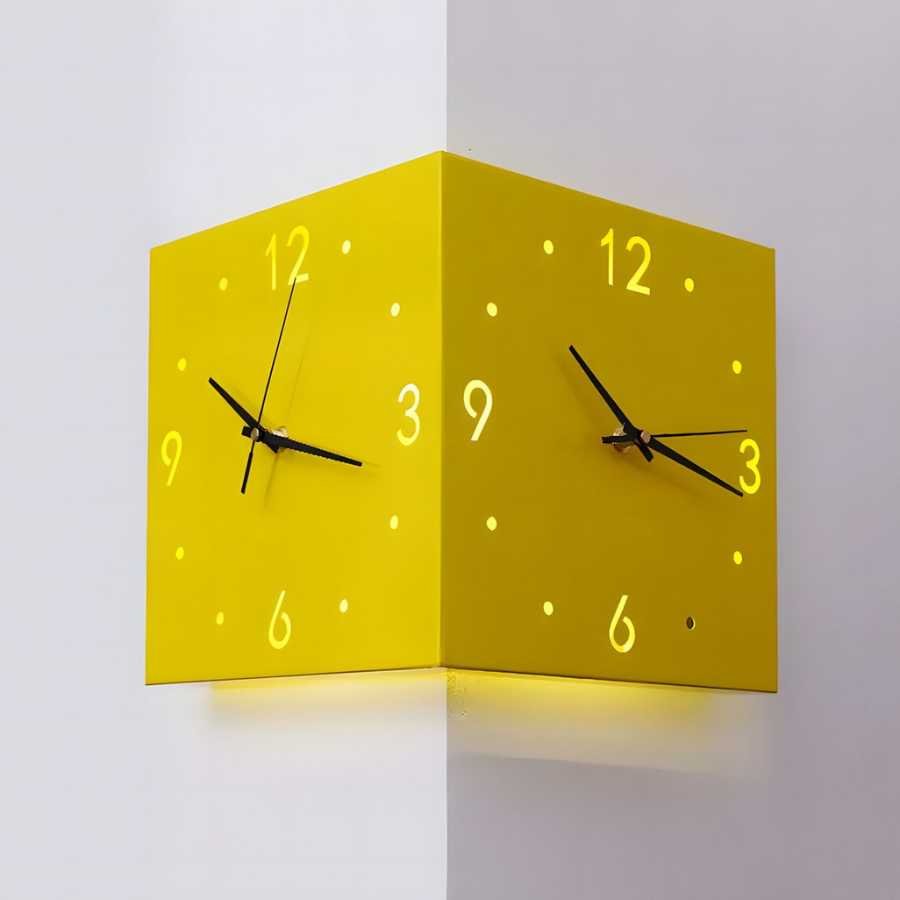 This Corner Wall Clock is both practical and aesthetically pleasing, serving as a sensor night light. Made from sturdy iron, its simple silhouette is an interesting addition to any room.
In the event of total darkness, a voice command or the light sensor will turn on the lights for 52 seconds. Take advantage of the silent hand movement, simple mounting, and reliable power of three AAA batteries. Perfect as tasteful wall art or a special holiday present.
This best-selling Royale Starburst Mid-Century Modern Wall Clock will bring a touch of class to any room. This hand-made masterpiece was created with precision in the United Kingdom and has a Chrome plated metal spoke ring with Teak rays and turquoise atomic balls.
The stealthy sweep of the second hand and operation from a single AA battery gives this watch an antique feel. The bright enameled metal face, convex glass, and sturdy construction are available in four different sizes.
This Starburst Big Wall Clock will bring a bit of retro style to your home or office. Made with durable steel and textured wood, it exudes genuine vintage appeal. Take comfort in the tranquility provided by the quartz movement.
This wall clock can be hung with ease and features a cool 3D shadow effect. It's a fashionable and one-of-a-kind furnishing that comes in a wide range of sizes and hues.
This Artepera 3D Metal Modern Wall Clock would be a great addition to any room. It's a one-of-a-kind accessory for your home because of its simple style and fine steelwork.
The clock's silent operation keeps things soothing, and the included hanger makes mounting a breeze. Express shipping is on the house, and it comes securely packaged and delivered at no cost to you.
This wooden mirror wall clock features cities from across the world and may be personalized. This beautiful pine wood clock displays the times of 12 different countries at once. A plexiglass mirror and engraved place names on wood give it a one-of-a-kind look.
It's a decorative masterpiece by artist Serdar Enol and it's excellent for homes and offices. It's wrapped beautifully in unique packaging and is quite easy to clean.
This Extra-Large Contemporary Wall Clock serves as a stunning focal point in any room. It is hand-made from 6mm beech wood and features an elegantly simple design. The high-quality, silent clock mechanism allows for tranquility.
It's an eye-catching centerpiece for your house or workplace, and it comes in three different sizes: 30, 40, and 50 inches. Everything you need for quick and simple mounting is included in the package.
Check out the beautiful Mandala MoonClock, a Moon Phase Clock that embodies the spirit of the lunar cycle. Each piece is one-of-a-kind thanks to the laser engraving on 4mm thick wood with its inherent grains.
The motion of the single hand is timed to the moon's 29.5-day cycle. It's eco-friendly and unfinished, so you can add your own unique touch with paint or ink. One AA battery (not provided) is required.
The Kensington Wall Clock is an oversized abstract fine art timepiece that combines style and function.
It is made from eco-friendly MDF wood, has a sleek gloss finish, and is lightweight and therefore simple to hang using the included mounting hardware.
Use this Large Wall Clock "Serenity," a representation of inner calm, to help you relax. Carefully crafted by hand, it features a sleek, modern look and a near-silent German UTS mechanism.
Choose from a variety of lengths and fashionable finishes including brushed gold and antique silver. The combination of steel and wood in its construction exudes class and calm. Sending to the US, Canada, and Europe is on the house.
The Spiral Metal Wall Clock adds a touch of class to any room. This one-of-a-kind wall decor is 0.6 inches from the wall and is made of high-quality steel with a textured powder coating in a variety of hues like Gold, Red, White, and Matte Black.
It's perfect for homes, offices, and special occasions like Valentine's Day thanks to the hidden hanger. K2TWallMetalArt provides an assortment of exquisite metal wall art that is sure to impress.
Introducing Kohneclock's magnificent SomRusty Wall Clock. This one-of-a-kind, handcrafted masterpiece has a genuine iron rust finish. Roman numerals are crafted from various metal components and bolts to create this elaborate pattern.
Each clock is a unique work of beauty thanks to the hand-painted backdrop. Kohneclock's customizable wall clocks are made with care and promise to be one-of-a-kind and high-quality works of art.
Check out the fascinating Maple & Gray Atomic Era Clock, a beautiful fusion of modern and midcentury styles. This 23″ starburst wall clock was inspired by George Nelson's renowned clocks and boasts a wooden back and an acrylic front with multicolored hands.
Artists working with metal and wood have created a work that is both striking and modern, a nod to the Atomic Era.
The Howard Miller White George Nelson Ball Clock is an heirloom-quality piece that will never go out of style. The twelve hardwood balls and brass rods that lead to the metal face of this antique 1950s masterpiece are classic George Nelson.
It's a one-of-a-kind creation with a diameter of 13 inches that mixes form and function to give any room a touch of mid-century sophistication.