Although doing regular laundry is a basic need, but it is also a time-consuming task. So apart from getting clean and fresh clothes you also need a comfortable place for the waiting time. Considering these things in mind, we have shortlisted these 8 best laundromat in Chicago city for you.
Also See: Find Best Laundromat Near Me | Search By Zip Code and City-Wise
1. Fresh Laundromat
If you are looking for one of the most oversized washers in Chicago, you must visit Fresh Laundromat. They have 5 different sizes of washers of 30 lb, 40lbs, 60lbs, 80lbs and 140lbs. Credit cards, debit cards, or laundry cards can be swiped at each machine. To use a free laundry card, you need to load cash at any touch screen kiosks.
Every day they give Bonus Bucks to their customers. They keep updating their particular page for Specials, Events and Giveaways. So do consider visiting their website for such offers.
They provide a comfortable lounge seating place with power and USB outlets at every padded chair. Apart from serving free coffee, every Friday, they do free pastries. With a big parking lot, free WiFi and a dedicated play zone for kids. This place is one of the best for your laundry.
Website: https://www.freshinchicago.com
Address: 3141 W Cermak Rd, Chicago, IL 60623 (Get Location)
Phone: 773-475-6967
Working Hours: Mon – Fri (6 am – 10 pm), Sat – Sun (5 am – 10 pm)
Facility: Large Washer, Cash/Credit/Debit, Lounge Seating, Charging Outlets, Free WiFi, Kid's Play Place, Big Parking Lot, and Free Coffee
Reviews
The place is nice and clean. The big curly hair guy is very friendly and funny, You need to have a stage and let him put on a show, you would have a crowd. We be back and will tell my friends
My friend washed her clothes there and this is one of the cleanest laundromat in Chicago that I have ever seen. The service was good, too. The cost for was and dry is a little more that what I have seen, but totally not a deal breaker.
Very clean ,with new washers and dryers. A very nice atmosphere, staff is friendly and helpful and is ALWAYS CLEANING. You need a card to wash and dry it's free and you just load it using money or your debit card. Must wear mask!
2. Mr. Bubbles Laundromat Chicago
This laundromat is known for its state-of-the-art washers and dryers and how they treat people and value their clothes. They take pride in the friendly and polite behaviour of every staff and attendant, including the owner. You can even sanitize the machine before using it there.
If you consider a dry clean drop-off service, they will ensure that your belonging will be better in looks and fresher in smells. They even offer pickup and delivery free of cost for customer's convenience.
For offers, If you add $20.00 or more, you can always get some bonuses. So for a clean, well-lit laundromat experience where you can do your work quickly and efficiently, consider visiting Mr. Bubbles Laundromat in Chicago city.
Website: https://mr-bubbles-laundromat.business.site
Address: 1015 W 87th St, Chicago, IL 60620 (Get Location)
Phone: 773-675-4442
Working Hours: 24 Hours
Facility: Free Dry, Free WiFi, and Free Coffee & Tea
Reviews
Such a great place they have the best service and the best workers and the owner is amazing definitely go and check them out they're definitely the best laundromat in all of Chicago
This is a very nice laundromat. The desk clerk was very helpful and the other people in the laundromat were friendly and helpful as well. I'm not in the laundromat very often and this was a great experience. Thank you.
This is my second time coming here and had a pleasant experience. The washers give plenty of water and washes your clothes well and the dryers are hot. The best part is no more quarters they have a wash card to operate the machines. There's plenty of machines for washing and drying and tablets to fold your clothes. I would definitely recommend this place!
3. Su Nueva Chicago Laundromat
One of the best Chicago premiere laundromat chains is open for your service 24 hours in 5 locations. Their laundries are considered one of the most upgraded and cleanest in Chicago. They offer free pickup, and bring-back service around any of the 5 locations between 8:00 am-4:30 pm any day of the week. They even provide free dry with a wash, and there's a need to bring coins as they provide free cards.
They have an Ozone power wash system installed that provides cleaner, softer, and more clean laundry and is better for the environment. Apart from Self-service and drop-off services to individual customers, they provide residential and commercial laundry services also.
They strive to make your waiting time enjoyable with free WiFi, free coffee and other basic amenities.
Website: https://www.sunueva.com
Address: 4314 W Marquette Rd, Chicago, IL 60629 (Get Location)
Phone: 773-884-2181
Working Hours: Mon – Fri (5 am – 10 pm), Sat – Sun (4 am – 10 pm)
Services: Residential and Commercial Laundry
Reviews
I love it here but I don't like when I buy soap and ask for a receipt they Refuse not to give me one because they "keep them"
Best place to go and wash. Everyone here friendly . Its very clean. They always around to help you when you need it. Very roomy to fold your clothes.
The staff was so friendly and professional. The laundromat was very clean. The staff was cleaning on and off while I was there. I don't live close by. But, I will be returning. Also, I liked that they had a change machine that gave you bills.
4. SoapBox Laundry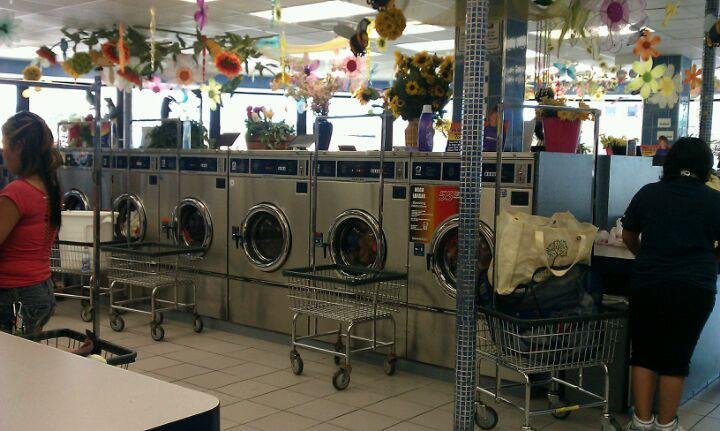 With just $1.75 per pound, they give laundry services and free pickup and delivery on the same day or next. All you need is to schedule your time using their free app, and you will receive freshly clean and folded laundry delivered at your door in free reusable wrong.
All items will be washed with brand detergents, and drying, folding will be done along with it. Through online ordering, you get much washing and drying options like Hand-wash, air-dry, low heat, stain treat, and many more.
For self-service laundry, you are getting abundant machines at a low cost, and you'll also get to watch TV, play video games along with other comforts in a pleasant environment. They also offer dry cleaning services, and for all of your laundry needs, they accept coins and credit, their loyalty cards.
Website: Not Available
Address: 3214 N Pulaski Rd, Chicago, IL 60641 (Get Location)
Phone: 773-202-8350
Working Hours: 24 Hours
Reviews
Great service! I had a suit dry cleaned here. Brought some silk shirts with some spots that needed some extra cleaning and they did a great job washing it. It was all cleaned and folded well. Highly recommended!
Great place for in and out wash or drop off your clothes do something elsewhere comeback later for pickup also very inviting pleasant environment open 24hours seven days a week
They lose the occasional sock but launder and fold service is awesome. Haven't done laundry in years and this place is the reason why. I still take dress shirts and suits to a dry cleaner. But everything else gets washed by the lovely staff at soap box. Pricing is decent and you pay for convenience.
5. Bel-Long Coin Laundry
This is a 24 hour open, clean and fair-priced laundry shop with friendly attendants who are always there for any help. They have a lot of washers and dryers with different price ranges. They don't accept coins, and you have to purchase cards at machines next to the attendant area.
Generally, the place is a little crowded with parents and children during the weekends, but during the weekdays and particularly during the daytime, it's way less crowded.
You can find every laundry needs for your self-service laundry like laundry bags, detergents and bleach. They also offer to Drop off services. For your other requirements, there is a next-door convenience store.
Website: Not Available
Address: 5403 W Belmont Ave, Chicago, IL 60641 (Get Location)
Phone: 773-736-6225
Working Hours: 24 Hours
Reviews
Clean friendly place with lots of security cameras and on site employees at all times. Plenty machines in a variety of sizes. I've only had issues with one machine not draining the liquid softener and the manager gave me a box of dryer sheets and offered to let me rewash them in a different machine for free.
Very clean, staff cleans machines after every use and it's cash or card only so no need for quarters. Also they have a jumbo washer that easily fits 3 loads super efficient!
Big Pro: Being open 24 Hrs and having alot of well maintained machines. Great place to go too anytime of the day or night. Dryers work very well, I brought all my king size blankets to be washed and dried and they worked very well.
6. Superwash Coin Laundry Chicago
A clean and relatively cheaper than the neighbouring laundromats, you don't need to purchase a card as they accept quarters and credit cards. The dryers and washers at Superwash are large enough to take enough loads of enormous amounts of clothes, and these are 50lbs dryers and 80lbs washers made of stainless steel. There are small washers also that do the job super fast.
This clean and bright laundry is open 24 hours so that you can visit it at odd hours, and for customer convenience, they always have on-duty attendants.
To make the waiting time enjoyable, they have flat-screen TVs, free WiFi for entertainment and work. You can find a connected food mart convenience store. There is plenty of space for parking also.
Website: Not Available
Address: 3415 W Diversey Ave, Chicago, IL 60647 (Get Location)
Phone: 773-384-0482
Working Hours: 24 Hours
Reviews
$3 is a bit much for the smaller washers, though everything seemed to work well. Everything is spaced out nice and there are plenty of seats right next to the washers and dryers.
Great place to do laundry. And to all you people complain about lack of mask wearing WELCOME TO AMERICA. Your going to like it here.
Clean and efficient place to do your laundry. Machines vary in price, start as low ad $1.50 for a wash. They have mail box services, and are attached to a mini Mart! They have chairs everywhere so you can actually sit near your laundry machine! RECOMMENDED!
7. Bubbleland on Western Chicago
They have good quality washer and dryer machines for vast and small loads alike. Here you are getting free drying of your clothes, and you can conveniently use a credit card and cash for washing your clothes in a more effortless and hassle-free manner.
Using their van, they can give pickup and drop-off service to both you and your clothes. This arrangement is excellent for the elderly and disabled. This 24-hour open facility is clean, organized and you get help for any problem with their staff. If you need a TV channel to be changed, ask them.
This Chicago based laundromat facility has a children's play area, free WiFi and coffee, vending machines, private lot parking, along street parking. They have an ATM, Illinois lottery at their premises.
Website: http://www.bubblelandlaundry.com
Address: 5101 S Western Blvd, Chicago, IL 60609 (Get Location)
Phone: 773-825-5097
Working Hours: 24 Hours
Reviews
I've been going to them for awhile now. They're pretty good. Good staff and clean environment. I moved far but I still travel to them. Only place I'll wash at when needed.
I see that the employees are very professional at Bubbleland and The atmosphere is awesome!….It is reasonable prices to wash here as well as incredible washing machines and free dry. I recommend Bubbleland to any.single person or A person with a family.to.wash their clothes here
It's convenient and my daughter loves to go there because of the little play section. It's always clean and the workers are very helpful. Everything works perfectly fine and there's plenty of washers/dryers when there's a lot of people.