Are you searching for the best laundromat or laundry location in Houston or nearby locations? Based on the quality of both Self-service and drop-off services, we have listed these 8 laundromat or laundry centers in Houston for you.
1. Express Laundry Center Washateria & Laundromat
Express Laundry Centre Washateria and Laundromat is designated as a FiveStar Laundry standard by Coin Laundry Association as it provides customer-focused, professional, progressive and problem-free services. Their completely coinless laundromats feature machines equipped with the latest technology, making the washing and drying time shorter, a maximum of 1 hour to be precise.
Their drop-off service is very convenient as you need only 2 minutes to drop off and 2 minutes to pick up with a turnaround time of 24-48 hours. And you only need to pay a small additional fee to rush your order. This process includes pre-spotting of stains, colour sorting, washing, drying, folding and packaging.
They strive to make your laundry enjoyable by providing space for working, eating, visiting, along with free WiFi, TVs, vending machines and friendly on-duty attendants for your help.
Website: http://expresslaundrytx.com
Address: 3345 FM 1960, Houston, TX 77014 (Get Location)
Phone: 832-286-1584
Working Hours: Mon – Sun (7 am – 10 pm)
Reviews
Clean, comfortable, and decent pricing for your laundry needs. There's a self service card machine to add money to wash/dry. I have a card for both of my cars and it's very convenient! The staff are helpful and don't hover over you while you're taking care of your business. Restroom is always clean as well as the seating area. Spacious too!
Clean, affordable, and spacious — Seriously the best laundromat I've ever been to in Houston. Can't speak on their dry cleaning services, however, but I imagine those are amazing too!
We had a great experience tonite. The young lady attendant was so helpful and friendly, my little niece (she's 6 years old) kept calling her "best friend."
2. Soap Suds Coin Laundry
They offer both self-serve and drop-off laundry services to visiting customers. Their friendly and knowledgeable laundry attendants always assist self-service customers and customers utilizing quality drop-off laundry service. These attendants give instructions on various laundry products to self-service customers while handling, treating and laundering clothes.
The laundry attendants are highly trained and experienced in treating stains, odours, colour protection while preserving fabric conditions in clothes and beddings. They guarantee 100% customer satisfaction by recleaning your item at no additional cost. You can avail of their free pickup and delivery service upon fulfilling certain conditions at only $1.60lb.
This laundry strives to make the laundry experience comfortable for its self-serving customers by providing plenty of seating space, complimentary coffee and free WiFi.
Website: Not Available
Address: 4211 N Main St, Houston, TX 77009 (Get Location)
Phone: 713-869-7627
Working Hours: Mon – Sun (7 am – 10 pm)
Reviews
Loved this place!! The summer decor was beautiful and I love that they don't cheap out on keeping the place clean and cool! Affordable and you don't have to deal with nasty mosquitoes, like the place I went to before.
Always clean the staff is friendly and helpful. They keep their machines in good working order. When a machine does break down they clearly mark that machine
Always my fave laundromat in Houston. Used to come here when our washer and dryer was broken. Now I just come to have them wash all my comforters regularly in the industrial washer. They always do a great job. They come back smelling fresh and clean and always a quick turnaround time.
3. 24 Hour Laundry
It is a 24/7 open laundromat that offers an array of laundromat services, including self Service, residential laundry drop off, and scheduled home or business laundry pickup-drop. They also provide commercial laundry services to corporates, offices, businesses, hotels and schools.
Larger laundromat washing and drying machines are available for quicker clothes loading that help customers get a self-service wash and fold in the most cost-efficient manner. You can also dry clean your delicate fabrics with their dry cleaning services. You can also schedule their pickup and delivery services online.
The 24-hour clean washateria is equipped with automated washers and dryer machines of different sizes to accommodate any size of cloths. With sufficient seats, kid's room, WiFi, vending machines, TVs, this place provides one of the best customer lounges.
Website: https://laundromathoustontx.com
Address: 7133 Chimney Rock Rd, Houston, TX 77081 (Get Location)
Phone: 713-660-9577
Working Hours: 24 Hour
Services: Laundry Pickup, Laundry Delivery, Door To Door Laundry, Hotel Laundry, Business Laundry, Commercial Laundry, Corporate Laundry, Corporate Laundromat
Reviews
I enjoy coming to this one cuz I don't have to worry about bringing cash only downside is it's warm inside other than that the employees are always nice
I love these folks. The time and effort they save me is priceless. I tip them when I can, because, well these are the women who do my Laundry. It sorta implies a relationship.
Clean – they do wash and fold for 1.25 a pound! Always lots of staff around to help – if you need a really large washer / dryer or have issues with yours this is a great place.
4. Huebsch Laundry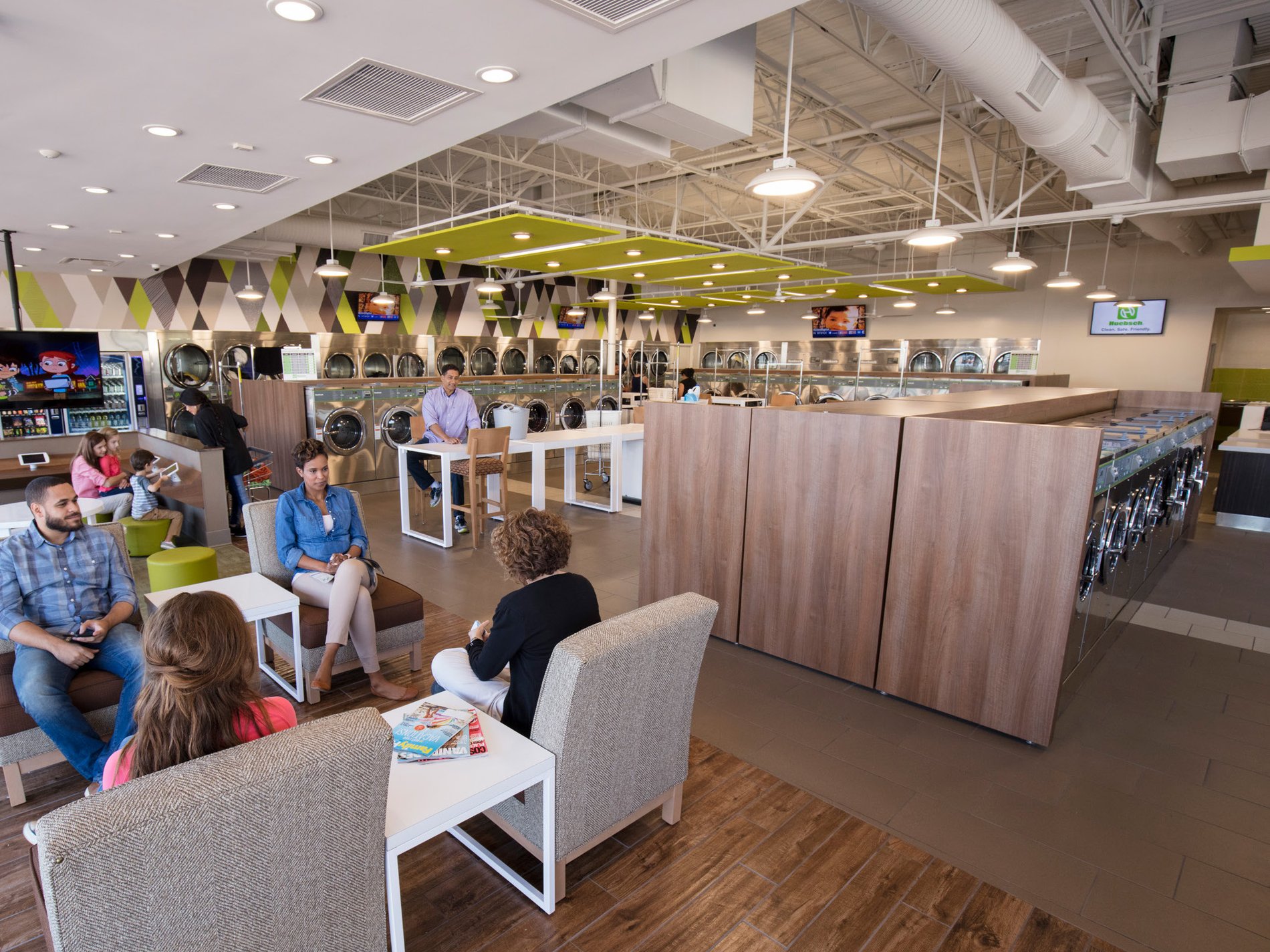 Huebsch is known as the leading commercial laundry equipment manufacturer. They manufacture commercial washers and tumble dryers that are durable using steel frames and reliable inverter drive. The long-lastingness of laundry equipment as well as high efficiency helps maximize revenue and minimize costs for laundromats.
Apart from manufacturing high-quality equipment, they offer premium quality laundry services to their customers. Known for a prompt response and proactive communication by their knowledgeable distributors and service professionals, you can get help in every area of your business, including Huebsch Financial, laundry design, genuine parts.
They are offering 0% financing for 6 months and 0% down for upgradation or replacement. There is also a limited-time offer for new stores subject to formal credit approval and credit scores.
Website: https://stores.speedqueenlaundry.com
Address: 900 S Wayside Dr, Houston, TX 77023 (Get Location)
Phone: 832-831-3656
Working Hours: 24 Hours
Facilities: One-Dry Guarantee, Large Washers, Free WiFi, Helpful Attendants, Laundry Products
Reviews
Started going here after moving into the neighborhood and at the moment; this washerteria is clean and quiet. Not having to deal with coins and cash is awesome. All you have to do is load your card with money and boom you're ready to go.
Just the perfect place to wash and dry your clothes . Snacks , TV , Wifi and public restrooms available. Very clean and plenty of space to fold and have a sit while waiting.
This amazing laundromat location in Houston to take care of your laundry. Is NUMBER 1 for. As long as I live in this area. I will keep using this one place. GOD BLESS THE STAFF. K. R. Bishop.
5. Griggs Washateria
Griggs washateria houses 51 washers of varied sizes like 20lb, 30lb, 40lb and 60lb required for different amounts and sizes of clothes, including comforters and beddings. The efficient extraction of water by these washers makes the washing possible within 25 minutes.
There are 56 dryers, among which 8 are of 50lb size, and the rest are 30lb. These efficient hot dryers do not take more than 20-24 minutes for complete drying.
Apart from self-service, Full-service washes and fold services are also available for on-the-go customers.
The washateria is fully covered with security cameras. There is ample space with adequate seating arrangements for visiting customers. With free WiFi, you can use the time between washing and drying for work or entertainment. There is also a separate restroom, vending machines, TVs available there.
Website: Not Available
Address: 4702 Griggs Rd, Houston, TX 77021 (Get Direction)
Phone: 281-845-2189
Working Hours: Mon – Sun (7 am – 9 pm)
Reviews
Awesome wash room, The normal friendly kids running around moms chasing them while folding the clothes.. Great space to wash your clothes, clear your mind,meet new people and enjoy the smell of clean clothes 5 GOLD STARS! I will continue to wash my clothes here.
Wash and Fold service is amazing! always done in a timely manner and are very good at communicating when it is ready for pick up. Very clean and very friendly! Thank you so much!
Best Washateria by Far in the area!!! Its clean,spacious and you can dry for free 3 days out of the week (I came on a Friday but idk the other days). Its very reasonable and its not loud
6. Truxillo Washateria
Truxillo Washateria is equipped with a variety of machines to fit double load to jumbo loads quite comfortably. Their commercial front-load washers provide fast high-quality cleanliness to your clothes, and the very hot dryers make your clothes dry in no time.
Their coin-operated washers and dryers are available in sizes of 20,40, and 50 pounds. You can do all types of laundry with heavy soil and delicate formulas. Their variable temperature dryers are suitable for all kinds of fabrics.
They also have amenities on their premises like parking, vending machines, WiFi, laundry supplies, change machines, safe and secure folding stations. This washateria is open 7 days per week with 24/7 security cameras installed.
Website: http://truxillowashateria.com
Address: 3007 Truxillo St, Houston, TX 77006 (Get Location)
Phone: 713-533-0355
Working Hours: Mon – Sun (6 am – 12 am)
Services:
Coin Operated
High efficiency washers in 20, 40, 50 pound sizes
Heavy soil and delicate formulas for all types of laundry
Variable temperature Dryers
2 change machines accepts $1, $5, $10 & 20's
Laundry vending supplies
Vending snacks & drinks
Folding Stations Safe & secure
24×7 high definition security cameras
Open 7 days per week
Pricing:
Washers
50lb front load washers: $5.50
40lb front load washers $4.25
20lb front load washers: $2.25
Dryers
30lb tumble dryers: $0.25/7 min
Vending
Tide washing detergent: $1.00
Bounce dryer sheets: $1.00
Reviews
Wash here regularly… Early mornings are the best time to do laundry here. Good machine, clean space and they also provide WiFi… Best Laundromat in 3rd Ward, Houston..
Small neighborhood washeteria on Truxillo St.@ Ennis St. that was been in business since 1950. They have double, triple and quadruple load front loading washer that cost $2.25, $4.25 and $5.50 respectively.
I have no problems with this washeteria. Its open late and close enough for my use.All the machines marked as in service work well. Wish they had a couple more big load washers thats my only gripe.
7. Splash Washateria & Dry Cleaner
They offer self-service, full-service laundry that includes wash and fold and commercial laundry with a pickup and delivery facility. You can also avail of dry cleaning and minor alteration services from them.
Online reviews provide excellent customer service through nice and friendly attendants and offer a clean and well-lit environment. They explain everything to customers, from operating machines to which one is best suited for heavy loads.
The washeteria space has every amenity needed for a comfortable experience. These amenities include free and fast WiFi, a play zone for kids, large restrooms, vending machines, AC and heat, cleaning products, HD TVs and a big lounge area.
Website: Not Available
Address: 5702 Chimney Rock Rd, Houston, TX 77081 (Get Location)
Phone: 832-831-5919
Working Hours: Mon – Sun (6 am – 12 am)
Reviews
I went to go wash last night and let me tell you the costumer services was excellent actually that is why i came my friend washes here and told me about your employee believe her name is Celina shes awesome always willing to drop what shes doing to help always has a smile. The washers clean and the store is great environment to wash clothes at screen tvs a plus. Love that restrooms are clean..
I was pleasantly surprised by this facility. It is very clean, the machines are in good order, and it's reasonably priced. The lady who was working was very nice and helpful. The only way it could be better is if it had card machines instead of coins.
This is a nice and clean laundromat in Houston city, the machines are new, clean and there are many different load size machines to choose from. You can easily come and wash bedding and linen items and it won't take long. The prices are reasonable and change depending on the load.
8. Speed Queen Laundry
This is another great laundromat location in Houston city. Speed Queen is the most reliable brand of laundry products in the market, both for homes and businesses. They manufacture washers and dryers of every kind like front load, top load, stacked.
Their washers and dryers can take care of the laundry needs for every lifestyle. They are experts in fabric care, and their laundry solution for pet owners is one of the most reliable.
The customer support provided through services, parts finding, stain removal guide is very helpful for both homes and businesses.
Speed Queen is offering replacement promotion and new store promotion with on-premises laundry finance. Till 9/30/2021, they are offering 0% APR for 6 months and $0 down.
Website: https://speedqueenlaundry.com
Address: 6604 W Bellfort Ave, Houston, TX 77035 (Get Location)
Phone: 832-834-5689
Working Hours: 24 Hours
Services: One-Dry Guarantee, Large Washers, Free WiFi, Helpful Attendants, Laundry Products
Reviews
I only come to dry my clothes but I like it because of the cleanliness and the spacious dryers and washers. Be sure to keep up with your card because they do have contests.
Been coming here for about 3 months now and have no complaints. Silvia I here most of the times that I'm here and she is amazing. She is always making sure that the place is nice and clean and she is super friendly and helpful.
Went here last night and it was the best experience I'v ever had at a laundromat in Houston. This place is really clean and the lady working was super nice!!! I love that they have big machines. I will most defiantly be returning in the future!!!