Crabgrass is a hardy and annoying species that spreads quickly and invades lawns and gardens everywhere. Crabgrass, notorious for its fast expansion and capacity to smother attractive vegetation, can quickly transform a healthy green lawn into a patchwork, untidy disaster.
Effective crabgrass killers must be used to eradicate this tenacious invader. In this post, we'll take a look at five of the most effective crabgrass killers now on the market, including how they work and the benefits they provide.
Types of Crabgrass Killers
Crabgrass may be eliminated using one of many commercially available crabgrass killers. Pre-emergent herbicides and post-emergent herbicides are two major categories that describe these chemicals. Let's take a closer look at each category:
1. Pre-emergent Herbicides
In order to prevent crabgrass from sprouting, pre-emergent herbicides are used. They create a barrier on the soil's surface that kills any crabgrass seeds that could otherwise germinate.
By interfering with crabgrass's development from the start, these herbicides make short work of the problem. Crabgrass may be effectively controlled using the following pre-emergent herbicides:
Prodiamine: Pre-emergent herbicides often include prodiamine as an active component. For up to four months, it keeps crabgrass seeds from sprouting and provides continuous management.
Dithiopyr: Pre-emergent herbicides often include dithiopyr, another active component. It helps prevent crabgrass and other weeds from emerging throughout the whole growing season.
Pendimethalin: Pendimethalin is a pre-emergent herbicide that works by forming a barrier on the soil's surface, preventing crabgrass from growing. It finds widespread use in both domestic and industrial contexts.
2. Post-emergent Herbicides
After the crabgrass has risen from the ground and begun to spread, it may be eradicated using post-emergent herbicides. These herbicides may be used either as spot treatments or for larger regions that are plagued by crabgrass. Herbicides used after crabgrass has emerged include:
Quinclorac: Most post-emergent herbicides include quinclorac as an active component. It kills broadleaf weeds like crabgrass and foxtail millet with pinpoint accuracy while sparing valued grasses.
Mesotrione: Mesotrione is a post-emergent herbicide that kills crabgrass and other weeds by preventing them from producing oxygen via photosynthesis. It has dual functionality as a pre-and post-emergence herbicide, earning it a reputation for adaptability.
Fenoxaprop-p-ethyl: Another post-emergent herbicide that works well on crabgrass is fenoxaprop-p-ethyl. It prevents the plant from growing and eventually kills it.
3. Combination Products
Some crabgrass killers provide an all-inclusive method of control by combining pre-emergent and post-emergent herbicides. These items are useful for avoiding the spread of crabgrass as well as treating current infestations.
The Best Crabgrass Killers
1. Scotts Halts Crabgrass & Grassy Weed Preventer
Professional landscapers and do-it-yourselfers alike rely on Scotts Halts Crabgrass & Grassy Weed Preventer. This pre-emergent herbicide prevents crabgrass from sprouting by forming a barrier on the soil's surface.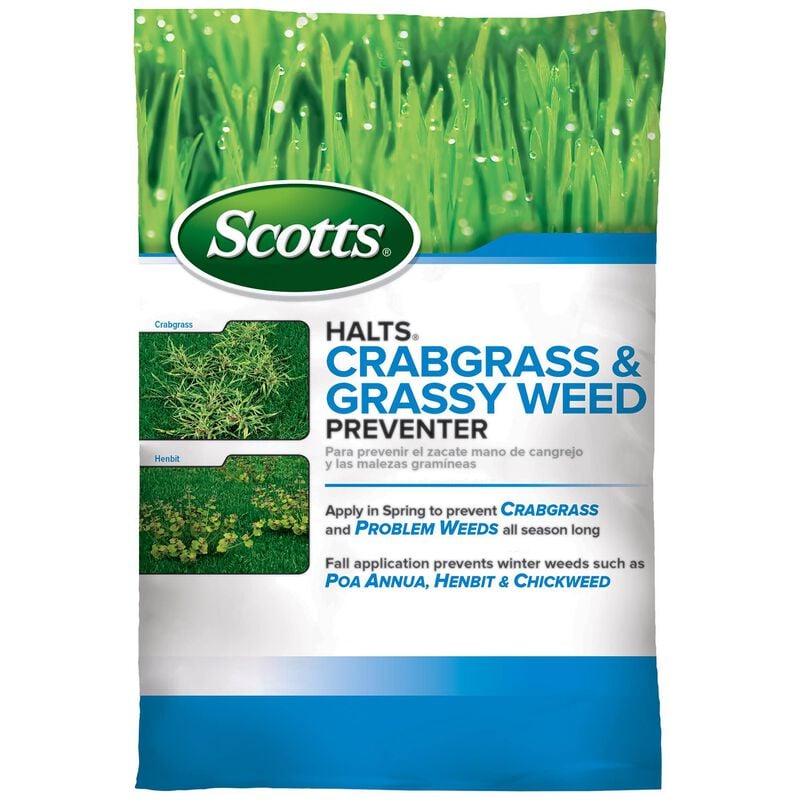 Prodiamine, the main component, may stop crabgrass from growing for up to four months. Crabgrass and Grassy Weed Are Stopped By Scotts The granules of the preventer may be applied by hand or using a spreader, and it can be used on both cool-season and warm-season grasses.
2. Ortho Weed B Gon plus Crabgrass Control
Crabgrass may also be effectively combated with Ortho Weed B Gon with Crabgrass Control. This herbicide is effective against both broadleaf weeds and crabgrass because it contains two powerful chemicals.
Existing weeds are eradicated and further growth is inhibited. For your convenience, Ortho Weed B Gon is offered in both a concentrate and a ready-to-use form.
Follow the directions precisely, however, since there are formulations of this product that shouldn't be used on specific kinds of grass.
3. BioAdvanced Season Long Weed Control For Lawns
Many people who want to get rid of crabgrass for a longer period of time turn to BioAdvanced Season Long Weed Control. Protect your lawn against crabgrass and other weeds for up to six months with this pre-emergent herbicide.
Dithiopyr, its active component, works by forming a barrier in the soil that stops weed seeds from sprouting. Whether you have Bermuda grass, Kentucky bluegrass, or Zoysia grass, you may use Bio Advanced Season Long Weed Control since it is versatile and simple to apply.
4. Tenacity Turf Herbicide
Crabgrass and other broadleaf weeds are no match for the potency of Tenacity Turf Herbicide. Mesotrione, its active component, kills plants by preventing them from producing oxygen via photosynthesis.
Tenacity Turf Herbicide is well-liked for its adaptability, since it may be applied either before or after crabgrass sprouts. You may use it without worrying about damaging your bentgrass, Kentucky bluegrass, or tall fescue lawn.
5. Drive XLR8 Herbicide
Post-emergent Drive XLR8 Herbicide was developed for the purpose of eradicating crabgrass and other persistent weeds. Quinclorac, the main component, is toxic to mature crabgrass plants and slows their development to the point where they die.
Drive XLR8 Herbicide has a stellar reputation for quick results and superior control, especially in the cold. It works well on warm-season grasses like Zoysia and Bermuda.
Choosing the Right Crabgrass Killer
Several aspects should be taken into account when selecting a crabgrass killer to guarantee successful and safe weed management. Consider these factors while deciding on a crabgrass killer:
Identify the Type of Crabgrass Killer
To control the spread of crabgrass, you must first ascertain if a pre-emergent herbicide to kill dormant seeds or a post-emergent herbicide to kill established plants is required. Determine how severe the crabgrass infestation is on your lawn at the moment.
Understanding Active Ingredients
Active chemicals in crabgrass killers vary, and each one takes a somewhat different approach to eliminating weeds. Find out what substances are in the items you're thinking about buying.
Prodiamine, dithiopyr, quinclorac, mesotrione, and fenoxaprop-p-ethyl are only a few of the main active substances used to get rid of crabgrass. Each has advantages and disadvantages; choose the one that best fits your needs.
Compatibility with Grass Type
Think about the grass type in your yard and make sure the crabgrass killer you choose is appropriate for that kind of grass. Read the labels or ask a professional lawn care service if you have any questions about whether or not a particular herbicide may affect the kind of grass you have.
Application Method
Consider the application process and choose a crabgrass killer that works with your approach. Herbicides may be purchased in a variety of forms, including granules, liquid concentrates, and pre-mixed sprays. Pick a product that suits your tastes and the ease with which you can apply it.
Longevity of Control
Think about how long the crabgrass killer will keep the problem under control for you. While some solutions give just temporary relief, others may keep pests at bay for a whole season. Choose a crabgrass killer that remains effective for an extended period of time to cut down on maintenance.
Safety Considerations
Follow all of the manufacturer-recommended safety procedures and instructions. Information on safety precautions, correct handling, and limits on minors and animals should be included. Make sure the product you choose is appropriate for your setting.
Reviews and Recommendations
Read up on feedback from previous customers and get suggestions from dependable sources like gardeners and lawn care experts. Their observations on the efficacy and dependability of various crabgrass killers would be invaluable.
Budget Considerations
When picking a crabgrass killer, keep your finances in mind. Brand, shape, and quantity all have an impact on price. Think about how much space it covers and how long it stays under control to determine how much it will cost you.
Frequently Ask Questions