Not only are ZZ plants (Zamioculcas zamiifolia) hardy and low-maintenance, but they're also stunning to look at. Because of their unusual appearance and lush, dark green foliage, ZZ plants are often used as ornamental houseplants.
This post will discuss the attractiveness of ZZ plants and provide you with some great tips on how to decorate with them.
Let's explore the boundless potential of ZZ plants to add beauty to your home, from the simplest of designs to the most colorful and diverse.
Striking Focal Point
ZZ plants are popular due in part to the striking appearance of their leaves. ZZ plants are known for their glossy, waxy leaves, which provide a sense of sophistication and drama to any space. Put ZZ plants in strategic locations to take advantage of their eye-catching appearance.
The ZZ plant is a great focal point and conversation starter, whether it's a single huge specimen in a stylish pot in the corner of a room, or many smaller specimens artfully arranged on a shelf or console table.
Height and Structure
ZZ plants have a distinctive growth habit that may be used to provide structure and aesthetic appeal to your interior design. These plants have upright stems and leaflets that are placed in an alternating manner. Plant ZZs on stands or in large floor pots to make a room seem more expansive.
The ZZ plant's growth pattern emphasizes vertical lines, which may assist elongate the perception of space and produce a sense of equilibrium.
Mixing Textures and Colors
ZZ plants are adaptable roommates that look well with many different decors. Try using contrasting textures and complementary hues for a more interesting and aesthetically satisfying presentation. Use woven baskets, ceramic pots, or rough-hewn wood containers to contrast the glossy, smooth foliage of ZZ plants.
Plants with variegated leaves or plants with varying shades of green, for example, may be combined with ZZ plants to provide a splash of colour when placed against a neutral background.
Related: ZZ Plants: The Perfect Houseplant for Novice Gardeners
Hanging Planters and Vertical Gardens
Vertical gardening with ZZ plants or using them in hanging planters is another great way to make the most of limited floor or wall space in smaller homes or flats.
Create a beautiful vertical garden by suspending macrame plant hangers, floating shelves, or wall-mounted planters with ZZ plants. In addition to bringing some greenery within, this also brings a novel and eye-catching design feature.
Grouping and Layering
ZZ plants may be used to great effect when grouped with other houseplants or stacked in tiers of varied heights. ZZ plants look best when grouped with other plants of varying sizes, shapes, and textures.
To create width and depth to your plant arrangement, think about combining ZZ plants with trailing plants like pothos or cascading plants like a string of pearls. This layered look will make your home seem more lavish and full of treasures.
Minimalist Elegance
ZZ plants might be the ideal decoration for individuals who like a simple and uncluttered style. Their glossy, smooth leaves are a perfect accent to the spare elegance of modern minimalism.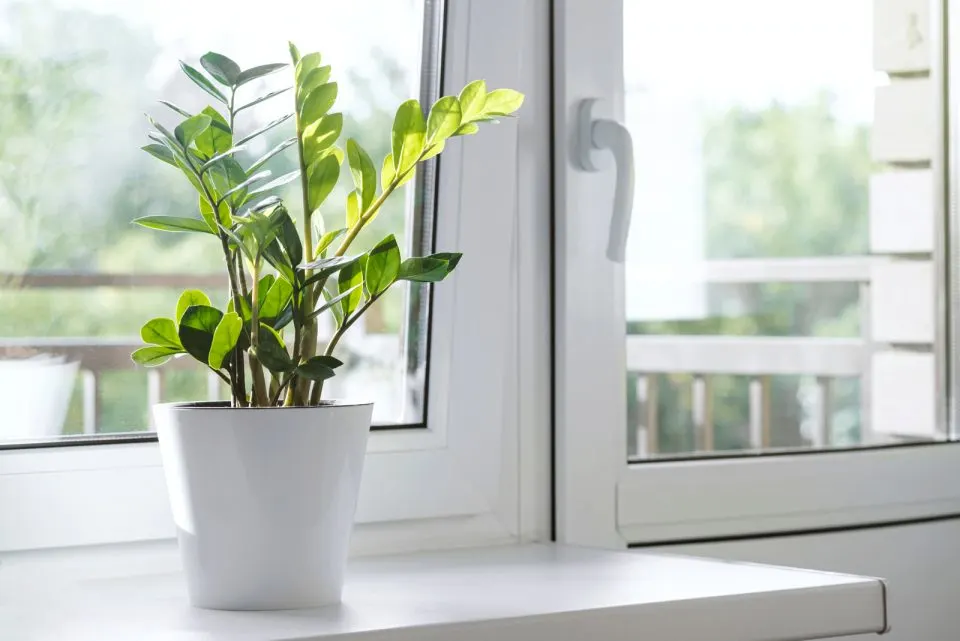 You may add a touch of natural beauty without overpowering the minimalism of the room by placing a single ZZ plant in a minimalist planter on a sleek side table or by incorporating a tiny cluster of ZZ plants in a minimalist shelf unit.
Frequently Ask Questions