The Ring Video Doorbell is exemplary of how security and convenience may be harmoniously combined in today's age of rapid technological advancement.
At just $69.99, this gadget delivers a ton of useful functions that make it a must-have for any contemporary household.
Why You Should Trust Us to Review Ring Video Doorbell
Our staff has an in-depth familiarity with the features and capabilities of the Ring Video Doorbell thanks to our extensive experience with other forms of smart home technologies. We provide an objective assessment of the effectiveness of the gadget, thanks to our years of expertise doing such assessments.
Our reviews are based on real-world usage because we dedicate ourselves to extensive research and hands-on testing. From the setup process to the end-users impressions, we cover it all so you can make an educated choice.
When thinking about the Ring Video Doorbell for home security, you can rely on us for an honest review that will give you the confidence to make a decision.
Product Images and Pricing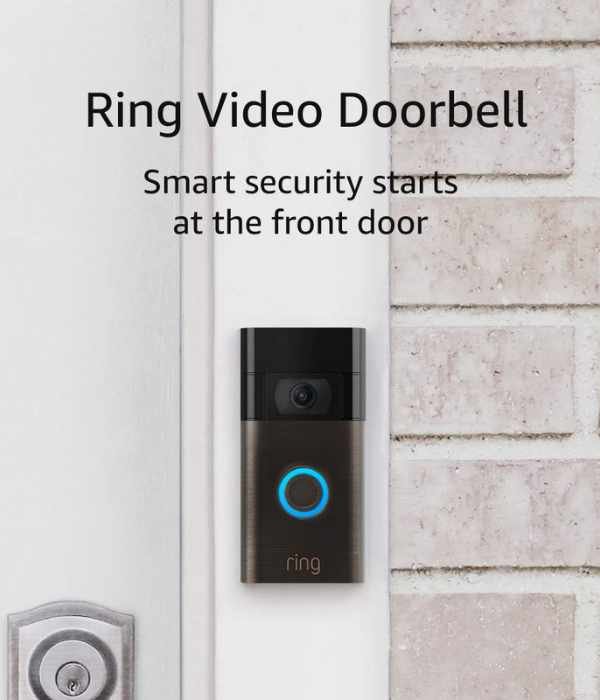 Features and Benefits
1. Crystal-clear HD Video and Enhanced Motion Detection
With the Ring Video Doorbell, you can see and speak with visitors at your door in crystal-clear 1080p HD. Motion-detecting technology has advanced significantly since the first version was released.
The device is now more sensitive and accurate, so you'll receive an alarm right away if someone approaches your house. Maintaining a safe space requires this kind of heightened reactivity.
2. Privacy Zones and Audio Privacy
In order to protect customers' privacy, Ring has implemented a new function called "privacy zones," which lets them select areas inside the camera's vision where both recording and motion detection are turned off.
This way, you can keep the camera from spying on some portions of your home even while you keep an eye on the rest of it.
Furthermore, the addition of audio privacy settings provides an extra degree of customization. You have the option of keeping conversations that take place on your doorstep private.
Ring's dedication to putting its users in charge of their own security is shown by these new features.
3. Seamless Installation and Flexible Power Options
The Ring Video Doorbell is simple to install because it comes with all the hardware you need. The gadget has its own rechargeable battery or can be wired into the home's current doorbell system. With so many options, homeowners can pick the one that works best with their existing setup.
4. Intelligent Mobile Notifications
The Ring Video Doorbell's usefulness is not limited to its hardware alone. You can get alerts on your phone, tablet, or computer whenever the doorbell is pressed or the motion sensors are triggered.
You can maintain contact with your front door even while you're not there, which is great for safety and convenience.
5. Ring Protect Plan: Elevating Security
Ring's Protect Plan, for customers looking for a more all-encompassing security solution, includes a number of useful upgrades.
Video recording, playback of recorded content for up to 180 days, and simple media sharing are all available to subscribers.
The Ring Video Doorbell can be upgraded from a simple guest interface to a full-fledged security system with the help of this monthly subscription service.
6. Integration with Alexa-Enabled Devices
Ring's compatibility with the Alexa ecosystem from Amazon is a big plus. To improve home security, customers may integrate the Ring Video Doorbell with certain Alexa-enabled devices to make announcements and enable two-way conversation.
When the doorbell detects motion, Alexa, if you have a Ring Protect Plan subscription, can make vocal announcements and show the live video stream on an Echo Show, Fire TV, or Fire Tablet.
7. Customer Satisfaction Speaks Volumes
The Ring Video Doorbell is highly regarded by its customers, who have given it a whopping 169,447 ratings from across the world. Surprisingly, 81% of evaluations give it a perfect 5-star rating, praising its usability, dependability, and the sense of security it provides to families. The high level of customer approval demonstrates the device's reliability.
Also See: Enhancing Privacy and Comfort: Soundproofing Your Home with Effective Insulation Methods
Additional Devices You Can Buy with This To Enhance Your Overall Home Security
Ring Chime or Chime Pro: The Ring Chime is a wireless plug-in speaker that connects to your Wi-Fi network and emits a sound when someone presses the doorbell. The Chime Pro also functions as a Wi-Fi extender, helping to improve the connectivity between your router and Ring devices.
Ring Indoor Cam or Outdoor Cam: If you're looking to expand your home security coverage, the Ring Indoor Cam or Outdoor Cam can be integrated into your Ring ecosystem. These cameras provide additional monitoring for different areas of your home.
Ring Alarm: The Ring Alarm is a DIY home security system that includes a base station, keypad, contact sensors, motion detectors, and more. It's designed to work seamlessly with Ring devices, offering comprehensive security coverage.
Ring Protect Plan: While not a physical device, the Ring Protect Plan is a subscription service that provides extended video recording, cloud storage, and additional features. It's worth considering if you want to take full advantage of the Ring Video Doorbell's capabilities.
Ring Smart Lighting: If you want to enhance your home's exterior lighting, you can consider adding Ring Smart Lighting products such as path lights, spotlights, or floodlights. These lights can be motion-activated and integrate with the Ring ecosystem.
Additional Mounts and Accessories: Depending on your home's layout, you might need additional mounts or accessories to optimize the placement of your Ring Video Doorbell. There are corner mounts, wedge mounts, and other accessories available.
Spare Batteries: If you opt for the battery-powered version of the Ring Video Doorbell, having spare batteries on hand can ensure uninterrupted operation. This is especially useful for longer periods without recharging.
Mounting Kits: While the Ring Video Doorbell comes with basic mounting tools, you might consider more robust mounting kits for a sturdier installation, particularly if your door frame or wall requires extra support.
Solar Chargers: If you want to further extend the battery life of your Ring Video Doorbell, you can explore solar chargers designed to keep the device powered using sunlight.
Accessories for Alexa Integration: If you're using Alexa-enabled devices for integration, you might consider additional accessories like the Amazon Echo Show for more convenient monitoring and interaction.
Pros and Cons
Cons:
High-Quality Video: The Ring Video Doorbell's 1080p HD video provides crystal-clear visuals, ensuring you can see and identify visitors clearly.
Improved Motion Detection: The device's enhanced motion detection technology promptly alerts you to any activity near your doorstep, enhancing security.
Privacy Zones: With the ability to set privacy zones, you can define areas where the camera won't record or detect motion, preserving your personal space.
Audio Privacy: The option to control audio privacy allows you to keep conversations private, adding an extra layer of discretion.
Flexible Power Options: Whether powered by a built-in rechargeable battery or existing doorbell wiring, the Ring Video Doorbell offers installation flexibility.
Mobile Notifications: Receive instant mobile notifications when the doorbell is pressed or motion is detected, even when you're not at home.
Ring Protect Plan: Subscribing to the Ring Protect Plan provides access to extended video recording, review options, and easy sharing of footage.
Integration with Alexa: Seamlessly pairs with Alexa-enabled devices for announcements, two-way talk, and live video feed display, adding convenience to home monitoring.
Positive Customer Reviews: A majority of customers have rated the product with 5 stars, reflecting high levels of satisfaction with its performance and features.
Cons:
Subscription Costs: To unlock advanced features like extended video storage and sharing, you need to subscribe to the Ring Protect Plan, which involves an additional cost.
Initial Investment: While priced reasonably at $69.99, there's still an initial cost for purchasing the device itself, which might be a factor for some budget-conscious buyers.
Dependent on Wi-Fi: The device requires a stable Wi-Fi connection to function properly, which might be an issue in areas with poor connectivity.
Privacy Concerns: As with any smart device with a camera, there could be concerns about potential privacy breaches or data security, although Ring has taken steps to address these issues.
Battery Management: If you choose the battery-powered option, you'll need to remember to recharge the device periodically, which might be an inconvenience for some users.
Limited Field of View: Depending on your home's layout, the device's field of view might not capture the entirety of your front porch or entryway.
Alexa Dependency: While integration with Alexa is a pro, it also means relying on Alexa-enabled devices for certain features, which might not be suitable for households without such devices.
Installation Challenges: While the device is designed for easy installation, some users might still find mounting and setup a bit challenging, especially if they lack experience with such technology.
Night Vision Limitations: Despite crisper night vision, there might still be limitations in extremely dark conditions, affecting visibility during nighttime.
Things to Consider While Buying This Ring Video Doorbell
There are a few considerations you should make before buying the Ring Video Doorbell to make sure it fits your requirements and tastes:
Installation: Evaluate whether you are comfortable with DIY installation or if you might need professional assistance. While the Ring Video Doorbell is designed for easy setup, factors like existing wiring and the need for tools should be considered.
Power Source: Decide between the battery-powered option or connecting to existing doorbell wiring. Consider your convenience, the availability of power sources, and your willingness to manage battery recharging.
Connectivity: A stable Wi-Fi connection is crucial for the device's functionality. Make sure your home has reliable Wi-Fi coverage near the doorbell's location to ensure smooth operation.
Field of View: Consider the layout of your front entryway and whether the device's field of view will cover the desired area. A wider field of view might be preferable for complete coverage.
Subscription Plans: If you're interested in accessing advanced features like extended video storage and sharing, be aware of the subscription costs associated with the Ring Protect Plan.
Privacy Concerns: As with any smart device with a camera, consider your comfort level with having a camera at your front door and ensure you're familiar with Ring's privacy practices.
Integration with Existing Devices: If you own Alexa-enabled devices, the integration could enhance your experience. However, if you don't have Alexa devices, assess whether the Ring Video Doorbell's standalone features still meet your needs.
Budget: While priced reasonably, remember to factor in the cost of the device itself, any additional accessories you might need, and potential subscription fees.
Customer Reviews: Take note of the overall satisfaction level among customers and read reviews to get a sense of real-world experiences with the product.
Night Vision Quality: Evaluate how important clear night vision is for your specific use case. If your area is particularly dark at night, night vision quality becomes crucial.
Compatibility with Your Phone/Device: Make sure the Ring Video Doorbell is compatible with your smartphone or other devices, so you can easily access notifications and video feeds.
Future Expansion: Consider whether you might want to expand your home security setup with additional Ring products in the future. Some users find it convenient to have a unified security ecosystem.
Durability and Weather Resistance: Ensure the device is durable and weather-resistant, especially if your area experiences extreme weather conditions.
Customer Support: Research the availability and quality of customer support services offered by Ring in case you encounter any issues with the device.