The Ovios 5-Piece Outdoor Patio Furniture Set is a great choice among outdoor furniture since it combines attractive design with high-quality construction and comfortable seating.
This carefully crafted patio conversation set has many characteristics that make it a great option for sprucing up your outside areas.
Why You Should Trust Us to Review This Ovios 5 Pieces Outdoor Patio Furniture Set
You can rely on our impartial analysis of the Ovios 5-piece Outdoor Patio Furniture Set. Our objective assessment of its style, toughness, coziness, and putting-together method is supported by extensive study and precision.
Our grasp of outdoor furniture fashions and consumer tastes informs our observations. You can trust us to provide an honest and thorough analysis, giving you the information you need to make the best choice for your outdoor area, thanks to our knowledge-driven approach and passion for helping you make informed choices.
Product Details, Images, and Pricing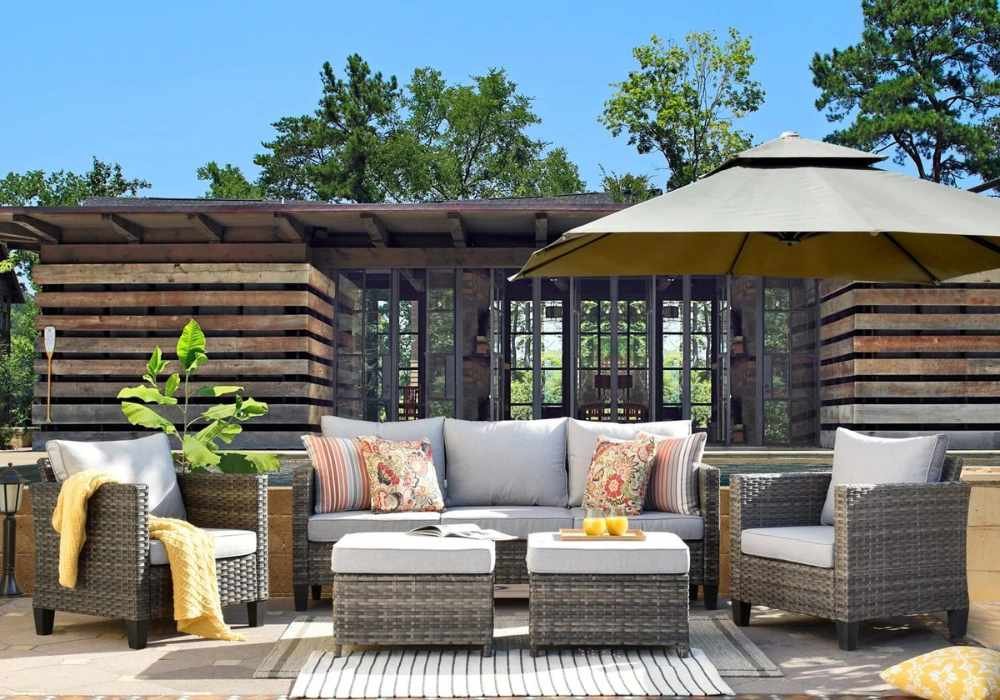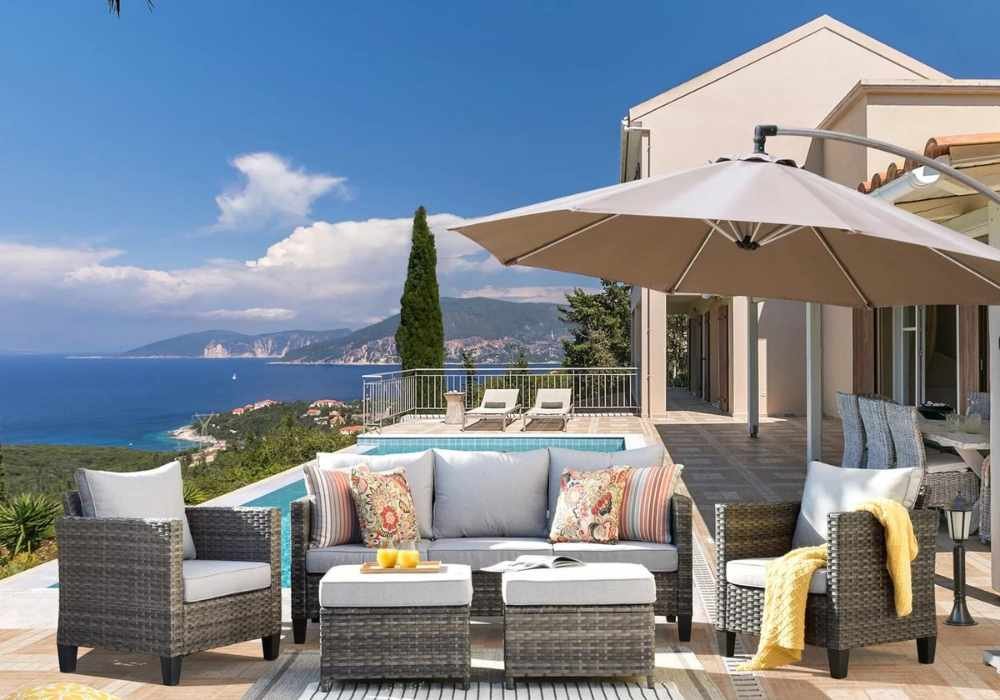 Specifications and Dimensions
Rattan: Wicker
PE Rattan Color: Gray
Cushion Colors: Denim Blue, Gray, Dark Gray, Beige, Orange Red, Black
Material: Wicker, Powder-Coated Steel, Sponge
Weight Capacity (Three-Seat Sofa): 660 lbs
Weight Capacity (Single Chair): 250 lbs
Net Weight: 198 lbs
Seat Capacity: 5
Assembly Required: Yes
Three Seat Sofa Dimensions: 76.77 x 30.11 x 28.74″
Single Chair Dimensions: 27.95 x 30.11 x 28.74″
Ottoman Dimensions: 22.04 x 23.62 x 11.41″
Included in the Package
1 × Three Seat Sofa
2 × Single Chairs
2 × Ottomans
5 × Seat Cushions
5 × Back Cushions
2 × Ottoman Cushions
2 × Pillows
Features and Benefits
1. Modern Elegance with Lasting Appeal
Patio, porch, balcony, backyard, deck, or poolside, the Ovios 5-Piece Patio Furniture Set will bring a tasteful mid-century modern aesthetic to your outdoor space with ease.
You can choose from a variety of colors and finishes, including orange red, beige, black, dark gray, denim blue, gray, and gray.
2. Durable Construction for All-Weather Use
The PE wicker used in its construction has been tested for resistance to the sun's rays for at least 1,000 hours, indicating its high quality. This means that it can be used outside in a variety of climates and seasons.
Each chair can support anything from 250 to 660 pounds thanks to the durable stainless steel frame. This meticulous craftsmanship guarantees that your expenditure on convenience and style will stand the test of time.
3. Enhanced Comfort and Support
The Ovios collection stands out due to its emphasis on providing high-quality comfort. The high backs and wide armrests of this set provide excellent support for your neck and arms while you relax.
The extra-wide chairs are designed with ergonomics in mind. It should be noted, however, that people of greater or longer stature may find the sitting to be less suitable.
4. Effortless Assembly
The Ovios 5-Piece Set is a welcome deviation from the usual, wherein assembly is a difficult undertaking. Assembling your furniture is a breeze with the help of the included 3D assembly video tutorial and detailed written instructions.
You may quickly and easily enjoy the pleasant outdoor seating experience this set provides in your garden, on your porch, in your backyard, or on your patio.
5. Customer Service Guarantee
MANUFACTURING BY SKEMA INC, the company that made this product, provides a year's worth of warranty coverage for your peace of mind. You can reach customer support at 949-773-8539 or via email at kameronmoses@outlook.com if you have any questions or issues. Their dedication to providing timely service guarantees that you will have nothing but positive ownership experiences.
Some Additional Features
The steel frame is not only durable but also contributes to the set's handwoven wicker design.
Ergonomic armrests and backrests ensure a comfortable seating experience.
High-density seat and back cushions provide an abundance of comfort during extended use.
The convenience of removable seat cushion covers with zippers makes maintenance a breeze.
The 3D assembly video simplifies the setup process.
Perfect for a range of outdoor spaces, from patios to poolside areas and gardens.
Pros and Cons
Pros:
Stylish Design: The Ovios 5-piece Outdoor Patio Furniture Set boasts a modern mid-century design that adds a touch of elegance to any outdoor space, from patios to poolside areas.
All-Weather Durability: Constructed with UV-resistant PE wicker and a sturdy stainless steel frame, this furniture set is designed to withstand various weather conditions, making it a reliable choice for year-round use.
Comfort-Centric: With its high back and expansive armrests, the set offers excellent support for the neck and arms. The ergonomically widened seats contribute to a comfortable seating experience for most users.
Easy Assembly: The provided step-by-step instruction manual and 3D assembly video guide make setting up the furniture hassle-free. This is a significant advantage, especially for those who prefer straightforward assembly processes.
Customer Support: MANUFACTURING BY SKEMA INC provides a 1-year warranty and accessible customer service through email and phone, ensuring peace of mind for buyers.
Color Variety: The availability of color options like Beige, Black, Dark Gray, Denim Blue, Gray, and Orange Red allows buyers to choose the one that best suits their personal style and outdoor decor.
Generous Weight Capacity: The furniture set is designed to accommodate a range of users, with the three-seat sofa supporting up to 660 lbs and each single chair supporting up to 250 lbs.
Easy Maintenance: Removable seat cushion covers with zippers facilitate easy cleaning, ensuring that the furniture maintains its fresh appearance over time.
Comprehensive Package: The set includes not only the essential seating elements but also seat and back cushions, ottoman cushions, and even two pillows, offering a complete outdoor lounging experience.
Cons:
Size Limitation: While the ergonomically widened seats cater to most users, those who are larger or taller might find the seating space less accommodating.
Limited Pillow Color Choice: The inclusion of two random color pillows might not align with every buyer's desired color scheme, potentially leading to a minor mismatch.
Two-Part Delivery: The furniture set is delivered in two separate boxes, which could mean that the entire set might not arrive simultaneously. This could be a drawback for those eager to set up their outdoor space quickly.
Limited Warranty: While the 1-year warranty is reassuring, some customers might prefer a longer warranty period for added confidence in the product's longevity.
Ongoing Care: While the set is designed to withstand outdoor conditions, periodic maintenance might be required to prevent wear and tear over time.
Assembly Required: Despite the user-friendly assembly instructions and video, some buyers might prefer furniture that comes fully assembled to avoid any assembly process.
Weight Capacity Variability: The varying weight capacities between the three-seat sofa and the single chairs could be a consideration for those who intend to seat heavier individuals regularly.
Color Variation: The actual color of the furniture might slightly differ from the images provided, which could potentially disappoint buyers expecting an exact color match.
Price Point: At a price of $729.99, this set might be considered relatively higher priced compared to other outdoor furniture options available in the market.
Also See: Unleashing the Charm of Your Outdoor Area: A Guide to Creating an Inviting Space
Things to Consider While Buying This Ovios 5 Pieces Outdoor Patio Furniture
There are a few things to think about before buying the Ovios 5-piece Outdoor Patio Furniture Set to make sure it suits your needs and tastes perfectly:
Space Availability: Measure the available space in your outdoor area to ensure that the dimensions of the furniture set fit comfortably. Consider both the dimensions of the entire set and the individual pieces.
Weather Resistance: Assess the weather conditions in your area. The all-weather design of this furniture set makes it suitable for various climates, but understanding the specific weather challenges your area faces can help ensure the longevity of the set.
Weight Capacity: Take note of the weight capacities for the three-seat sofa and single chairs. If you anticipate regularly seating individuals of varying weights, ensure that the weight limits align with your needs.
Comfort and Ergonomics: Consider the ergonomic design features, such as the high back, expansive armrests, and widened seats. Determine if these design elements provide the level of comfort you desire for extended lounging sessions.
Assembly: Assess your comfort level with assembly. While the set comes with assembly instructions and a video guide, consider whether you prefer furniture that arrives fully assembled or if you're comfortable with the assembly process.
Color Options: Choose a color option that complements your outdoor decor and personal style. The range of color choices provided allows you to select a shade that best fits your aesthetic preferences.
Budget: Evaluate your budget to ensure that the price of the furniture set aligns with your financial considerations. Compare the price to similar outdoor furniture sets to gauge its value.
Customer Reviews: Look for customer reviews and ratings of the product to gain insights into the experiences of other buyers. This can provide valuable information about the quality, comfort, and durability of the set.
Warranty: Review the manufacturer's warranty terms and coverage. A 1-year warranty is provided for this set, but consider whether you'd prefer a longer warranty period for added peace of mind.
Maintenance: Consider the maintenance requirements of the furniture set. While it's designed for outdoor use, periodic care might be needed to maintain its appearance and functionality.
Delivery and Packaging: Note that the set is delivered in two separate boxes, which might not arrive simultaneously. Plan accordingly if you're eager to set up the entire set at once.
Additional Accessories: Take into account the additional accessories included in the package, such as cushions and pillows. Assess whether these match your desired color scheme and if they enhance the overall aesthetic of the set.
Longevity: Consider the long-term investment value of the furniture set. Evaluate its durability, weather resistance, and how well it aligns with your outdoor lifestyle.
Return Policy: Check the return policy of the retailer, especially if you're purchasing the set online. Ensure that you understand the terms and conditions of returns in case the set doesn't meet your expectations.