It's no surprise that many happy family memories revolve around the kitchen, which is why it's sometimes called "the heart of the home." The Hamilton Beach Countertop Oven with Convection and Rotisserie is an excellent addition to any kitchen because it will improve your cooking experience and save you time.
This multipurpose kitchen gadget, regularly priced at $182 but currently on sale for just $89.00, offers full-size oven functionality in a tiny, energy-efficient design. In this article, we will explore the many reasons why this countertop oven should be in every home.
Product Images and Pricing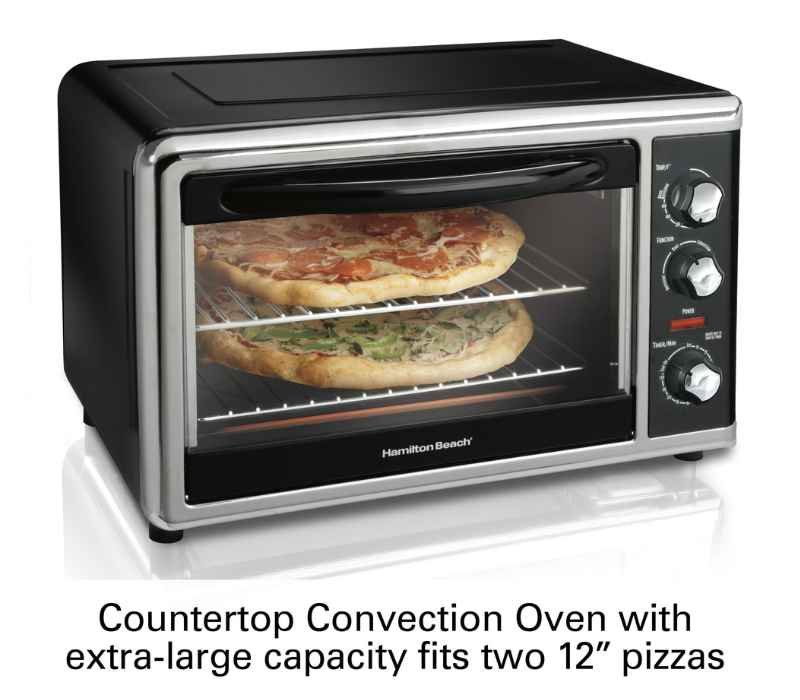 Benefits and Features
Compact yet Spacious
The Hamilton Beach Countertop Oven stands out because of its space-saving design, making it ideal for use on a countertop.
It's perfect for producing meals for large and small groups alike because to its enormous capacity and compact design (it can fit two 12-inch pizzas or two 9″ x 13″ casseroles).
The fact that this oven can cook many items at once is a game-changer that will save you time and energy.
Convection Cooking for Efficiency
However, the Hamilton Beach Countertop Oven has a convection option that allows for faster and more efficient cooking than traditional ovens.
The convection function guarantees even cooking in all of your favorite recipes, whether you're baking, broiling, or roasting. Put away your patience, because quick and tasty dinners are just around the corner.
Versatile Cooking Options
This countertop oven is more than capable of handling a broad variety of dishes thanks to its many features.
You can make cakes that are light and airy, crisp cookies to perfection, broil salmon to get a nice brown crust on top or roast a whole chicken or roast that weighs five pounds with no problem at all.
Two 12-inch pizzas may be cooked simultaneously, making it easy to satisfy a variety of appetites with a single purchase.
The Hamilton Beach Countertop Oven eliminates the need to coordinate several different oven times at once.
Easy to Clean
After a satisfying meal, the last thing you want to do is deal with a ton of filthy dishes and a jumbled oven. Thankfully, the design of this countertop oven makes cleanup a breeze.
The front-mounted crumb/drip tray swings out to provide complete access, making cleanup a breeze. Less time spent cleaning means more time spent relishing your culinary creations.
Rotisserie Functionality
The rotisserie functionality is one of the highlights of the Hamilton Beach Countertop Oven. It has a rotating rotisserie for roasting food evenly, and the meat can baste itself while it roasts.
For those who value uniformly cooked, juicy rotisserie chicken, this is a game-changer. You can forget about tough and overcooked roasts thanks to the rotisserie function.
Additional Features
The Hamilton Beach Countertop Oven has many useful functions, making it a popular option among home chefs. You'll have plenty of room and options in the kitchen with its two cooking racks and one drip tray.
Overcooking and burning are avoided thanks to the 2-hour timer, ready tone, and auto shut-off features. In addition, you may feel secure in your purchase thanks to the one-year limited warranty.
Also See: 7 Best and Unmissable Sauce Pans to Buy in 2023
Pros and Cons
Pros:
Compact Design: Its compact size allows it to fit conveniently on your kitchen counter, saving valuable kitchen space.
Spacious Interior: Despite its small footprint, it offers an extra-large capacity, making it suitable for cooking multiple dishes simultaneously.
Convection Cooking: The convection setting cooks faster and more efficiently than traditional ovens, ensuring even and consistent results.
Versatility: This countertop oven offers a wide range of cooking options, from baking and broiling to roasting and even using the rotisserie function.
Easy Cleanup: The full-width crumb/drip tray is easily accessible for quick and hassle-free cleaning, saving you time after cooking.
Rotisserie Function: The included revolving rotisserie ensures meats are cooked evenly and self-basted for succulent results.
Additional Accessories: It comes with two cooking racks and a drip tray, providing ample space and versatility for your culinary needs.
Precise Cooking Control: The 2-hour timer, ready tone, and auto shut-off features help prevent overcooking and burning.
1-Year Warranty: The product is backed by a 1-year limited warranty, offering peace of mind in your investment.
Cost-Effective: At just $89.00 (discounted from $182), it offers excellent value for a versatile countertop oven.
Cons:
Size Limitations: While spacious for a countertop oven, it may not be suitable for cooking very large items or multiple large dishes at once, like a full-size oven.
Counter Space: It does take up some counter space, so if your kitchen is extremely limited in space, this might be a consideration.
Limited Color Options: It's available in black, which might not match all kitchen decor styles.
Not Suitable for Very High Volume Cooking: If you regularly cook for a large family or host large gatherings, you might find its capacity limiting.
Rotisserie Function Adds Complexity: While the rotisserie function is a great feature, it may require some learning to use effectively if you're not familiar with rotisserie cooking.
Things to Consider While Buying This Product
To make sure the Hamilton Beach Countertop Oven with Convection and Rotisserie suits your needs and tastes, consider the following before making a purchase:
Available Space: Measure the available counter space in your kitchen to ensure that the oven will fit comfortably. Consider both its dimensions and the space needed for adequate ventilation around the unit.
Cooking Needs: Assess your cooking habits and needs. Determine if the oven's size and capacity are sufficient for your regular cooking and baking requirements. If you frequently host gatherings, you may want to consider a larger oven.
Cooking Functions: Review the cooking functions and features of the oven. Make sure it offers the cooking options you use most often, such as baking, broiling, roasting, or the rotisserie function.
Convection Cooking: If you value faster and more even cooking, consider whether the convection cooking feature aligns with your preferences.
Cleaning and Maintenance: Look into the ease of cleaning the oven. The presence of a removable crumb tray or non-stick interior can simplify cleanup.
Accessories: Check what accessories are included with the oven. Ensure it comes with the cooking racks and any other components you may need for your specific cooking plans.
User-Friendliness: Read reviews and consider the user-friendliness of the oven. Look for features like digital controls, timers, and pre-set cooking options that make it easier to operate.
Warranty: Review the warranty information provided by the manufacturer. Having a warranty can provide peace of mind in case of any defects or issues with the product.
Budget: Determine your budget and compare the price of the Hamilton Beach Countertop Oven with similar products on the market. Consider any ongoing deals or discounts that may be available.
Customer Reviews: Read customer reviews and ratings online to get insights into real-world experiences with the product. Pay attention to both positive and negative feedback.
Brand Reputation: Consider the reputation of the Hamilton Beach brand. Research the brand's history, customer service, and reliability to ensure confidence in your purchase.
Long-Term Use: Think about how long you intend to use the oven. If it's for occasional use, you may have different requirements than if you plan to use it frequently.