Our list of the top-rated smart toilets on the market in 2023 will help you transition into the luxurious bathroom of the future. It's not surprising that we're upgrading the electronics in our bathrooms as technology becomes more pervasive in our daily lives.
Smart toilets are altering the ways in which we experience convenience and cleanliness in many ways, including the use of heated seats, programmable bidet functions, and hands-free operation.
Let us take you on a tour of the best smart toilets on the market, handpicking a range of options that not only offer cutting-edge conveniences but also promise to make your everyday trip to the lavatory something to look forward to.
Why You Should Trust Us to Review These Smart Toilets
We are committed to giving unbiased and accurate information, which is why you can trust our reviews of these high-tech toilets. Every product is subjected to extensive investigation and analysis, during which we take into account features, functionality, user experiences, and industry standards.
Our mission is to equip you with thorough understanding, so that you may make sound judgments. In order to provide an objective assessment, we employ a rigorous procedure of examination and comparison.
We are dedicated to ensuring your complete satisfaction and empowering you to make an educated decision, so you can rest assured that the reviews we provide will be thorough and accurate. You may put your faith in us to help you make a wise and enjoyable purchase.
Quick Picks
#Best Overall
DMXINM Smart Toilet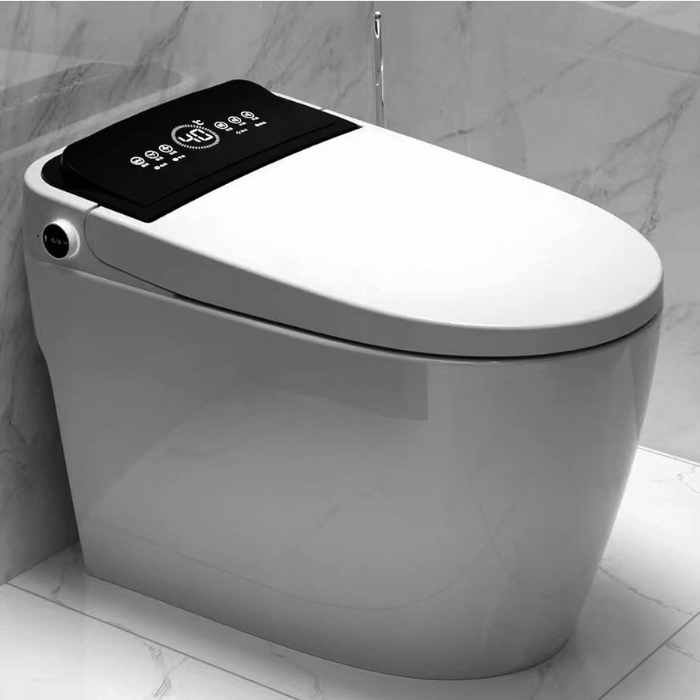 #Most Popular
Casta Diva Smart Toilet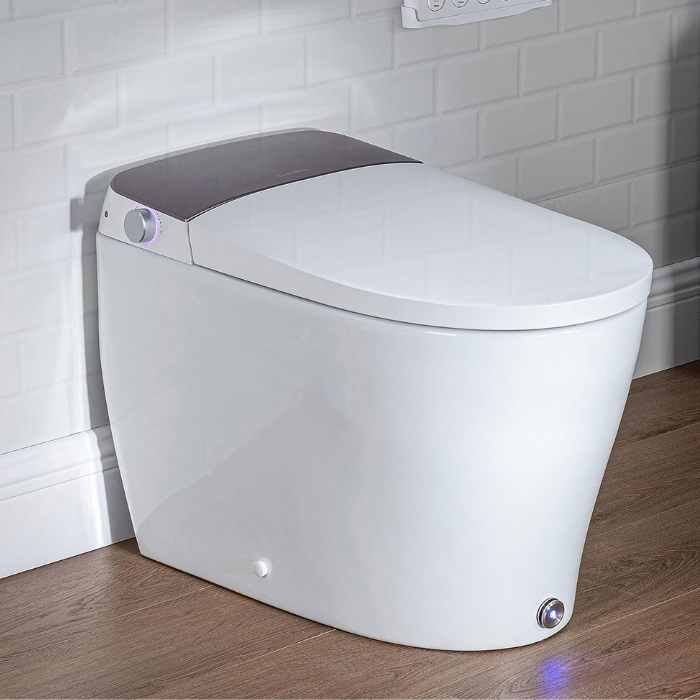 #Budget Friendly
Teekyooly Smart Toilet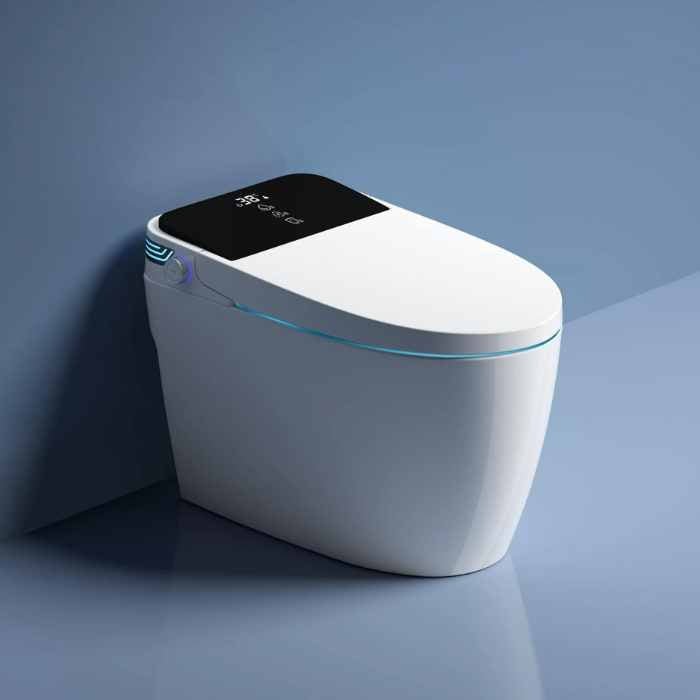 Comparison Table
| Features | DMXINM Smart Toilet | Casta Diva Smart Toilet | WOODBRIDGE B-0960S | UKEEP Smart Toilet | Teekyooly Smart Toilet |
| --- | --- | --- | --- | --- | --- |
| Price | $699.00 | $999.99 | $915.13 | $629.99 | $599.99 |
| Built-in Bidet Seat | Yes | Yes | Yes | Yes | Yes |
| Auto Open/Close Lid | Yes | Yes | Yes | Yes | Yes |
| Automatic Flushing | Yes | Yes | Yes | Yes | Yes |
| Heated Seat | Yes | Yes | Yes | Yes | Yes |
| LED Night Light | Yes | Yes | Yes | Yes | Yes |
| Adjustable Water Pressure/Temperature | Yes | Yes | Yes | Yes | Yes |
| Air Purification | No | Yes | Yes | Yes | Yes |
| Power Backup for Flush | No | Yes | Yes | Yes | No |
| Remote Control | Yes | Yes | Yes | Yes | Yes |
| Warranty | 2 Years | Limited warranty | Limited warranty | Limited warranty | Residential: 2 Years |
| | | on mechanical parts | on mechanical | on residential | Commercial: 1 Year |
| | | and bidet seat | parts and bidet | and commercial | |
| | | | seat | application | |
| Certifications | N/A | N/A | UL1431, CSA C22, | N/A | IAPMO EGS&CUPC |
| | | | IPC, UPC, NPC, | | |
| | | | IAPMO-EGS | | |
| Dimensions (LxWxH) | 26.4″ x 16.2″ x 19.7″ | 26.9″ x 15.5″ x 18.7″ | 32 x 19 x 26 inches | 26.77 x 15.74 x 22.04 Inches | 33.00 x 22.00 x 24.80 Inches |
| Material | Ceramic | Porcelain | Porcelain | ceramic | N/A |
| Installation Type | Floor Mounted | Floor Mounted | Floor Mounted | N/A | N/A |
Check Out The Detailed Review of Each Smart Toilet
1. DMXINM TGP083 Smart Toilet with Built-in Bidet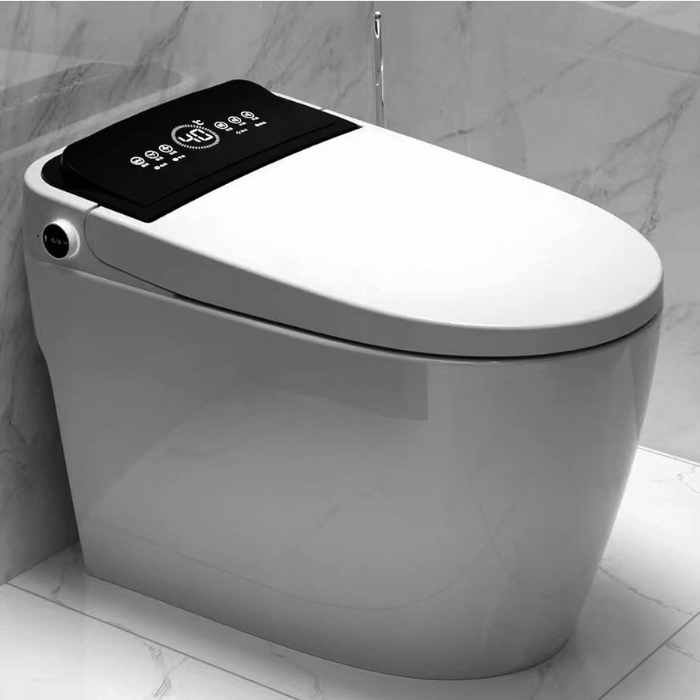 The DMXINM TGP083 Smart Toilet has a Built-in Bidet, which will greatly improve your bathroom experience. This tankless smart toilet sets a new standard for ease of use with its stylish design and plush seating. It has a heated seat, soft-close mechanism, night light, fast hot water, warm dryer, and an easy-to-read LED display for automatic flushing, among other features.
Forgetful moments are a thing of the past thanks to the toilet's automated flushing and lid opening/closing. The bowl may be used at night thanks to the LED night light, which emits a soft glow.
You may customize your washing experience by adjusting the water's pressure, temperature, and pulsation. The DMXINM TGP083 Smart Toilet is the pinnacle of contemporary lavatory comfort and comes with a two-year warranty.
Pros
Cons
Minimalist style with modern design
High initial cost
Heated seat for enhanced comfort
Requires access to electrical outlet
Soft-close mechanism for gentle lid closing
Installation complexity
LED night light for convenient nighttime use
Potential maintenance expenses
A soft-close mechanism for gentle lid closing
Limited color option (White only)
Auto flushing and lid opening/closing
Reliance on electronic components
Adjustable water pressure, temperature, and more
User-friendly LED display for easy operation
Two-year warranty for quality assurance
Personalized cleansing with various wash settings
Also See: 10 Essential Bathroom Hacks for a Safer and Cozier Experience
2. Casta Diva Tankless Smart Toilet
The Casta Diva Tankless Smart Toilet will transform your bathroom into a palace. This high-end one-piece toilet has numerous high-tech features, such as an automatic lid that opens and closes, an automatic flush, and a blackout flush that is powered by a backup battery in case of an outage.
The bidet seat includes a hygienic, touchless spray wand made of stainless steel that can be adjusted for both water pressure and temperature. Rear and front wash settings, an oscillating massage spray, and a foot kick button allow for a high degree of customization.
The ETL and CUPC certifications guarantee quality, while the comfort height design improves your experience. Casta Diva values its customers so much that it provides round-the-clock support for any questions or problems they may have.
Pros
Cons
Premium bidet features for enhanced hygiene
High initial cost
Auto open/close lid and auto flush for convenience
Requires access to power supply
Backup battery ensures flush operation during outages
Installation complexity
Multiple cleansing modes for personalized comfort
Limited color option (Tankless)
Adjustable water pressure and temperature settings
Reliance on electronic components
Foot kick operation for hands-free convenience
Maintenance of electronic components
Comfort height design for improved sitting experience
Limited warranty on certain parts
ETL and CUPC certifications for quality assurance
Rapid customer support and free replacements
3. WOODBRIDGE B-0960S Smart Toilet
The WOODBRIDGE B-0960S Smart Toilet is the pinnacle of luxury and convenience in the bathroom. This wheelchair-accessible toilet has a chair-height design, making it easier and more comfortable to use. The smart bidet seat has a number of settings for cleaning yourself, including a pressure regulator for the water and an ionized carbon filter to clean the air around you.
This high-tech lavatory eliminates the need for manual flushing, opening, and closing. The heated seat and warm air dryer bring instant comfort, while the powerful and silent flushing system guarantees effective performance.
WOODBRIDGE provides great customer service and is certified to multiple standards. Customers have given it an average rating of 4.3 stars, indicating that they find it to be a high-quality, useful product.
Pros
Cons
Auto-open and close lid for hands-free operation
Relatively high initial cost
Multiple hygienic wash modes with adjustable water pressure
Requires access to power supply
Automatic flushing and self-cleaning bidet/spray wand
Installation complexity
Air purification with an ionized carbon filter for odor removal
Reliance on electronic components
Auto-open and close the lid for hands-free operation
Limited warranty on certain parts
Efficient and quiet 1.28 GPF flushing system
ADA-compliant chair-height design for enhanced comfort
Contoured heated seat and warm air dryer for added comfort
Certified to various standards for quality assurance
Positive customer reviews and ratings for reliability
4. UKEEP Smart Toilet
The UKEEP Smart Toilet is the pinnacle of bathroom elegance in the modern world. This high-tech, all-in-one bidet toilet has numerous convenient amenities for maximum ease and cleanliness. This is the most convenient toilet ever, with a heated bidet seat, a foot sensor to flush, and automated flushing.
You can adjust the water pressure, water temperature, dryer temperature, and seat heating all from the LED screen. Benefit from automatic energy-saving features and germ-free air filtration without lifting a finger.
The radio-locator and foot sensor are both operable with the dual-mode flip. This toilet was built with your convenience in mind, so it can remember your preferred settings and adapt itself accordingly for each use.
Pros
Cons
Wide range of advanced features for enhanced comfort and hygiene
Complex installation process
Warm water cleansing and adjustable water pressure
Reliance on electronic components
Automatic flushing and hands-free operation
High initial cost
Heated bidet seat and warm air drying
Requires access to power supply
Air purification for a sanitized atmosphere
Limited color options
Adjustable settings for water and dryer temperature
Potential maintenance of electronic parts
Dual-mode flip for convenience and customization
Energy-saving system for reduced water and electricity usage
Memory function for personalized settings
5. TEEKYOOLY Smart Toilet
The TEEKYOOLY Smart Toilet is a marvel of contemporary plumbing technology. This high-tech, all-in-one bidet toilet bowl is a game-changer in terms of aesthetics and convenience. It combines the ease of personal hygiene with a daring, minimalist aesthetic in its smooth, well-balanced contours.
Hands-free use is possible because of the automated 1.28gpf flushing, multi-function foot sensor, and motorized seat and lid. With a tankless water heater, hot water is always ready, and the LED nightlight and backlit side control knob are classy extras.
Personal hygiene has reached new heights with features like variable spray settings, oscillation, and warm air drying. The TEEKYOOLY Smart Toilet combines high-end comfort with cutting-edge technology and unmatched craftsmanship to earn the coveted IAPMO EGS&CUPC seal of approval for safety. We guarantee your complete pleasure or your money back.
Pros
Cons
Sleek and minimalist design with exceptional functionality
Relatively high initial cost
Motorized seat and lid, auto flush, and multi-function foot sensor
Requires access to power supply
Tankless heating system for continuous warm water
Installation complexity
LED nightlight and backlit control knob for added elegance
Limited color options
Adjustable spray settings, oscillation, and warm air drying
Reliance on electronic components
Hands-free operation with automatic flushing and remote control
Maintenance of electronic components
Energy-saving ECO mode and adjustable temperature settings
IAPMO EGS&CUPC certified for safety and product stability
Generous residential and commercial warranties
Things to Consider While Buying Smart Toilet
Features and Functions: Features like bidets, automated flushing, heated seats, temperature control, air drying, LED lighting, and more are available in modern toilets. Choose the options that best suit your needs and tastes.
Bidet Functions: If bidet functionality is a primary consideration, look for features like adjustable water pressure, different wash modes (posterior, feminine, oscillating), adjustable nozzle positions, and nozzle self-cleaning.
Flushing System: Think about the smart toilet's flushing system. It can be a siphon jet, a pressure-assisted jet, or something else entirely. Make sure the plumbing system is working properly.
Heated Seat and Air Drying: Find out if there is a heated seat and a way to dry off with warm air. Having one of these might help you feel cozier, particularly in the winter.
Installation: Installing a smart toilet may be more difficult than installing a standard toilet. See if the bathroom bidet needs to be connected to a water supply and power source. If you aren't familiar with plumbing, it may be best to hire a professional to do the installation.
Size and Dimensions: Check the smart toilet's measurements to make sure they'll fit comfortably in your bathroom. Take accurate measurements of the space you have to work with.
Compatibility: Make sure the smart toilet's remote or app is simple to use and suits your needs before purchasing.
Certifications: If you want to make sure that the product you're buying is safe and up to par in terms of quality, look for certifications from organizations like UL, CSA, IAPMO, and others.
Warranty: Determine the scope and length of the warranty. In the event of problems, having a solid guarantee in place can provide you peace of mind.
Customer Reviews: Reading reviews written by actual users is a great way to learn more about what it's like to work with the product. Seek out repeat compliments and resolve frequent complaints.
Price: There is a wide range of prices for high-tech bathrooms. Establish a price range and look for a model that has the features you require while staying within it.
Maintenance: Think about the smart toilet's upkeep needs, such as cleaning and possible electronic component upkeep.
Power Source: There are certain high-tech commodes that need to be plugged in. Check that the wiring in your bathroom is adequate to power the toilet.
Design and Style: Think about the aesthetics of the connected toilet. Pick one that fits well with the style of your bathroom and enhances the existing furnishings.
After-Sales Support: Look for companies that quickly respond to questions and concerns from customers.
What are the Best Brands for Smart Toilets
TOTO: TOTO is an established name in the market for plumbing fixtures for bathrooms. A variety of high-tech toilets with bidets, automatic flushing, heated seats, and other amenities are available from this company.
Kohler: Kohler is another well-known manufacturer that provides numerous options for high-tech commodes. The use of a bidet, adjustable controls, and modern aesthetics are commonplace in their wares.
BioBidet: BioBidet focuses mostly on bidets, but it also sell a variety of high-tech commodes with convenient extras like bidet sprays, heated seats, and remote controls.
American Standard: In addition to other bathroom accessories, American Standard also makes high-tech toilets. Bidets, heated chairs, and automated flushing are commonplace among their wares.
Brondell: Bidet seats and bidet toilets are Brondell's specialty. You can adjust various settings and use special features to improve your level of convenience and personal cleanliness.
Duravit: Duravit is a popular European manufacturer of high-quality bathroom products, such as high-tech, futuristically designed toilets.
Inax: The Japanese company Inax manufactures high-tech toilets with convenient extras like bidets, heated seats, and air purifiers.
DXV: DXV, a brand of American Standard, provides high-end plumbing products like smart toilets that are both aesthetically pleasing and highly functional.
Geberit: The Swiss company Geberit is well-known for its high-quality sanitaryware. They provide high-tech, water-saving toilets with cutting-edge features.
Frequently Ask Questions (FAQ's)
What is a smart toilet, and how does it differ from a regular toilet?
A smart toilet is a high-tech toilet with extra functionalities. It usually has bidets, heated seats, automatic flushing, adjustable water pressure, air drying, and more.
How does the bidet function work in a smart toilet?
A smart toilet's bidet sprays water for post-use washing. Users can tailor cleaning by controlling water pressure, nozzle location, and temperature. This function improves hygiene and lowers toilet paper use.
Do smart toilets require a power source?
Many smart toilets need an electrical outlet to power their advanced features like heated seats, air drying, LED lighting, and automatic flushing. During toilet installation, make sure your bathroom's electrical system can handle the power.
Can I retrofit a regular toilet into a smart toilet with bidet features?
Add a bidet seat to a normal toilet to make it smart. Bidet chairs suit most toilet bowls and have adjustable water pressure, heated seats, and air drying. This is a cheap approach to get some smart toilet benefits without changing the whole thing.
Are smart toilets difficult to install?
Due to electrical and plumbing requirements, smart toilet installation is more complicated than ordinary toilet installation. For correct connections, wiring, and setup, hire a plumber. DIYers may be able to do it.