1. DiamondBack Plumbing Phoenix
Diamondback Plumbing is a full-service plumbing and mechanical contractor in Phoenix that provides high-quality services to residential and business customers. All parts of plumbing work are taught to their Phoenix plumbing professionals. All of their work is completed to the greatest standards of quality and customer service.
Diamondback Plumbing professionalism has established a household name among its many customers in the residential, retail, restaurant, and corporate sectors. Diamondback Plumbing should always be your first choice when it comes to speedy, dependable, and inexpensive Phoenix plumbers!
Call them at (602) 674-3255 if you need a competent plumbers in Phoenix or the nearby areas. Furthermore, they complete all work to the greatest artistic standards at constant and reasonable costs. So, what do you have to lose? Get in touch with their Phoenix plumbers right away.
Website: https://www.diamondbackplumbing.com/
Phone: (602) 674-3255
Address: 17423 N 25th Ave, Phoenix, AZ 85023 (Get Direction)
Working Hours: 24 Hours
Reviews
We had a leak in our main water line. The technician Matt was extremely knowledgeable and friendly. There was a lot of digging involved. Matt completed the repair and put the yard back together exactly as he found it. We were very pleased with the quality of work and the professionalism.
Cade showed up on time and did a great job replacing a water heater. The job took a little extra effort and patience but he absolutely rocked it. The whole experience, from the initial call to the completed job was outstanding. Will definitely use Diamondback again.
Mike M came out on time to fix an ongoing plumbing issue. Mike was polite and professional and seemed to have more knowledge and understanding than the multiple other plumbers I've had out over the years. Thank you Mike for beg honest and forthcoming about the costs and the problem. You are much appreciated!
2. George Brazil Plumbing & Electrical
Since 1955 George Brazil Plumbing & Electrical has been a family-owned and operated company committed to being the best, and that drive has never wavered. That's why they're offering: Prompt 24-hour, 7 days a week (24/7) service, along with a 100% satisfaction guarantee to Phoenix and nearby communities.
At George Brazil, they endeavour to give you the greatest and most thorough customer service experience possible. One of the ways they do this is by going over their agenda card with you. Before a plumber begins any work, they will inform you of what you may expect from them. This way, both of you know what will happen.
They'll undertake a thorough evaluation of your electrical or plumbing system after they've looked at and discussed your reason for bringing them out. This is a comprehensive visual assessment of your electrical or Plumbing systems to ensure no additional problems contribute to your primary worry.
Website: https://georgebrazilplumbingelectrical.com/
Phone: (602) 529-3749
Address: 3830 S 38th St, Phoenix, AZ 85040 (Get Direction)
Working Hours: 24 Hours
Reviews
Our power went out in the middle of the night.. Called George Brazil after the 1st place I called, never responded to us. Marcus called me within 5 minutes and was at out door step in 30. I have to say he was the nicest tech I have ever worked with. He fixed our breaker and power was restored in 30 minutes. They Definitely have my service in the future!!!!
Discovered a leak near a shower. Source unknown to our inspection. Contacted George Brazil plumbing. Sent plumber within the hour. Diligently found leak after thorough search. Source was a small leak at pipe junction in attic. Repaired on the spot. Our plumber was great at explaining every step of the process. Transparent with anticipated cost.Great job,Brad!! Thanks
The company was very punctual and stayed in contact while I waited for the repair. I loved that they send information and a picture of the person coming. Ernesto was very kind and respectful and upfront with his knowledge about the issue. He fixed my faucet quickly and there were no hidden charges. I will definitely use this company in the future.
3. Maloney Plumbing and Drain Services Phoenix
This is one of the very famous and local family-owned plumbing companies in Phoenix city. They have been providing expert drain clearing, plumbing repair & installation services to the Phoenix area since 1964.
Plumbers of this Phoenix based company understand what Plumbing means to them as a mother and a homeowner. It has nothing to do with pipes and wrenches. It's all about the warmth — lots of hot water when she needs it for their daughter's showers, clean dishes, and new clothes.
Finally, when it's time for her, there'll be enough warm water for her bath escape. It's all about soft water for fluffy towels and sparkling glasses that she is happy to serve their guests. It's all about having clean sinks and drains that work so I can keep their house feeling fresh. It's also about ensuring that their family has access to clean, pure, healthy, and delicious water.
She knows the type of plumbing firm she wants to work with as a businesswoman. For all of their household water demands, they're always there when she needs them. And they're always tidy, polite, capable, and compassionate.
One of the great things about this plumbing company is that it is proud to offer flexible financing options for homeowners in the Phoenix, AZ area through Greensky. She understands the wide variety of financial circumstances, and her company is proud to offer Plumbing, drain, & water heater financing options to keep your home comfortable.
Website: https://www.maloneyplumbing.com/
Phone: (602) 671-3617
Address: 9119 N 7th St #201, Phoenix, AZ 85020 (Get Direction)
Working Hours: 24 Hours
Reviews
When my water heater exploded at 10:30PM, I was very impressed with the service I received from Kitty. Omar was at my house within 45 minutes to stop the flow of water and get it taken care of until he could install the new water heater in the morning. Maloney is one of the best plumbing companies I've used and I will always be calling them for future jobs. Omar was polite, responsive, knowledgeable, and very professional. If I could give more than 5 stars.
Omar was amazing! He quickly located & repaired the problem, cleaned up and gave me good advice. I was so blessed to have him come to the rescue. I would deal with this business anytime & recommend it to all my friends.
We had a new toilet installed this week by Maloney's tech Omar. He was very professional and a pleasure to have working in our home. He arrived on time and was prepared to complete the task. From start to finish our experience with Maloney Plumbing has been a very good experience and we would highly recommend this company for all of your plumbing needs.
4. Deer Valley Plumbing Contractors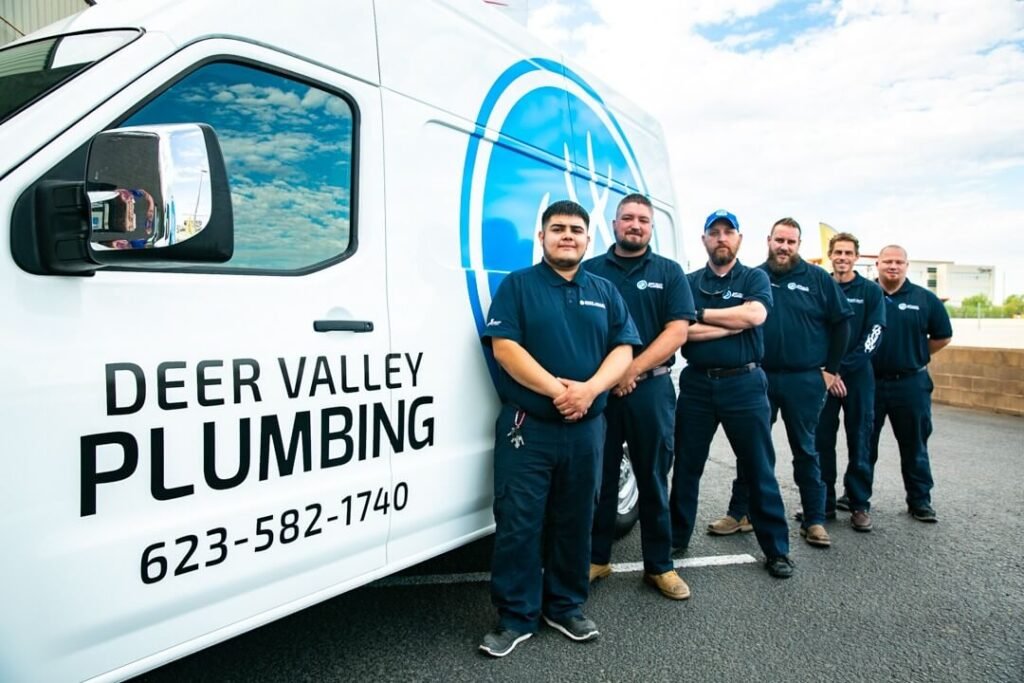 Deer Valley Plumbing Contractors offer 24/7 Emergency plumbing services to serve you better. If you're searching for quality plumbing services in Phoenix, you can contact Deer Valley Plumbing Contractors, Inc. Their skilled and experienced plumbers have almost 30 years of experience in the industry. They understand that emergencies can happen at any time, which is why they offer 24/7 emergency services.
Deer Valley Plumbing Contractors is the top choice for residential, commercial, and construction plumbing services in the local area. For years, our plumbing firm has provided a comprehensive range of high-quality plumbing services to hundreds of clients throughout Maricopa County. We look forward to assisting you with any water treatment needs you may have.
Additionally, they also offer same-day appointments if you need to hire them urgently. They can even provide pricing over the phone, so you know exactly what you're getting before signing them on. So whether you need your water line fixed, a toilet repaired, or other plumbing services, call Deel Valley Plumbing today.
Website: https://www.deervalleyplumbing.com/
Phone: (623) 250-2680
Address: 2411 W Lone Cactus Dr, Phoenix, AZ 85027 (Get Direction)
Working Hours: Mon – Sat (7 am – 10 pm), Sun (Closed)
Reviews
I only use Deer Valley Plumbing. They're very efficient, always on time, and their service techs always do a good job. David was my service tech today, he was really nice and polite and did the work quickly. I just wish plumbers👨‍🔧 weren't so expensive!🤷‍♀️
David was our tech and he was outstanding. He was courteous, professional, and the end repair was great from a quality standpoint. He was meticulous and thoughtful in his craft as well, wearing booties in the house, tarp down on the bathroom floor, disinfected the work area before the repair and cleaned up after, all while being friendly. He had a polite demeanor and even spoke highly of his management. For sure would recommend.
Deer Valley plumbing is amazing. Their booking process is so simple, directly from google and a follow up call from the scheduling staff and my appointment was booked. My technician was Jared and he did such a great job of installing our new water heater. He was professional, kind, and very communicative about what needed to be done and for how much. Next time I need anything done I'm asking for Jared again! Quality service for sure 🙂
5. Anthony's Plumbing Phoenix
Anthony's Plumbing has been providing the highest-quality traditional service since 2001 at the fairest prices for Phoenix and nearby communities. Their experts and experienced plumber deliver plumbing solutions to all of your needs: from leaks and clogs to repair and replacement. This Plumbing company has Arizona's best-trained technicians and the plumbing industry's most advanced technology on call.
Anthony's Plumbing is a well-known and popular company that provides plumbing services to Phoenix house owners. They've spent a lot of money recruiting and training the top Customer Service Representatives and Service Technicians. Why? Because they want you to have the greatest possible experience with Anthony's Plumbing.
Each technician is drug-tested and through a thorough background check to ensure your safety. When you contact, one of their Customer Service Representatives will be happy to assist you. They'll take the time to listen to your problems and set up an appointment that fits into your hectic schedule. So if you're looking for plumbers in Phoenix, TX, then Anthony's Plumbing might be a great option for you.
Website: https://www.go2plumber.com/
Phone: (602) 806-7419
Address: 1201 N 54th Ave #127, Phoenix, AZ 85043 (Get Direction)
Working Hours: Mon – Fri (7 am – 5 pm), Sat (7 am – 1 pm), Sun (Closed)
Reviews
By far the best service I have ever received from a plumber, Anthony was extremely helpful and patient in answering all of my questions. Anthonys Plumbing will definitely will be the plumber I call from now on. If you are thinking about using them for plumbing services, stop thinking about it and just have them come out. They will not disappoint.
Anthony's Plumbing provided me with one of the best home repair experiences I've ever had. They scheduled and came out to fix my plumbing needs in an extremely timely manner. The care and communication they used to diagnose and fix the problems was exceptional.
We hired Anthony's Plumbing to completely remove and replace our old 1940s cast iron sewer lines under our concrete slab. Lupe was here every morning on time and was very communicative on what work was being done. They scheduled city inspections to make sure everything was done correctly and to code as well. We really appreciate how quickly everything was replaced and will be using Anthony's Plumbing in the future if anything else arises.
6. Bumble Bee Plumbing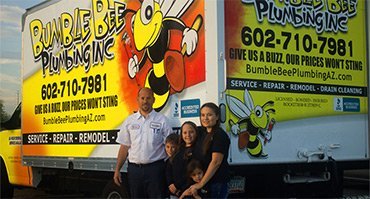 Bumble Bee Plumbing, Inc. is another one of the very popular family-owned companies in Glendale, Arizona. The owner of Bumble Bee Plumbing, Mike Krpata, comes from a very strong plumbing background having over 22 years of professional plumbing experience. His vision for the company is to establish Bumble Bee's reputation as one of the best plumbing contractors in the Phoenix area and the best in customer satisfaction.
Their customers consider them the best plumbers in Glendale and Phoenix because they consistently provide prompt, courteous service and high-quality plumbing solutions. Have you heard about the rumour? Bumble Bee Plumbing, Inc. is an Arizona-based plumbing company that is completely licenced, bonded, and insured.
They serve clients in and around Glendale and Phoenix with both residential and commercial plumbing services. Their track record of providing excellent plumbing service has earned us an A+ rating from the Better Business Bureau, as well as numerous positive client testimonials.
Website: https://www.bumblebeeplumbingaz.com/
Phone: (602) 710-7981
Address: 4410 W Union Hills Dr Suite 7-141, Glendale, AZ 85308 (Get Direction)
Working Hours: Mon – Fri (7 am – 6:30 pm), Sat (7 am – 5 pm), Sun (Closed)
Reviews
These guys are great! I had a leak in the wall today- Saturday of a holiday weekend of all days. I called and they came out in an hour! Chance Burke was a perfect professional. He diagnosed the problem, and fixed it super fast! I could never ask for better service than I got from Bumblebee and Chance Burke! I would absolutely use them again. Thank you all so much!
We contacted Bumble Bee Plumbing to have a plumber stop by so we could ask questions about a whole house water filter system. When Mike, who was our plumber, came by, he was very professional and knowledgeable about the system we were inquiring about, and provided recommendations based on his expertise. We were satisfied with his help and installation. We would definitely recommend Bumble Bee Plumbing and Mike for your plumbing needs!
David O'Connor came out on 9.13 to repair an issue with our toilet. During the fix he noticed our main was leaking and was ready to fix it for us. He did an awesome job and was very nice! I would recommend bumble bee and David to anyone that needed plumbing services.
7. Ben Franklin Plumbing AZ
Ben Franklin Plumbing is another popular full-service residential plumbing service, repair and maintenance company in Phoenix city. Their unique commitment to you is that they respect your time. They have trademarked and offer a promise that "If There's Any Delay, It's You We Pay". That means that for every minute they're late, they'll pay you $5.00 – up to $300. You also CAN'T LOSE when doing business with Ben Franklin Plumbing as they offer a 100% satisfaction guarantee.
To assure your safety, our skilled plumbers in Phoenix are drug tested, and background checked. Our high-tech plumbing goods, such as the Triton Max liquid leak and drain unclogging equipment, will take you to the next level. We will also provide you with the most up-to-date plumbing equipment, such as cutting-edge floor drain and sewer lines, line traps, electric traps, gas traps, and hydro jetting rooter systems.
Website: https://www.benfranklinplumbingaz.com/
Phone: (602) 282-5007
Address: 1911 W Parkside Ln, Phoenix, AZ 85027 (Get Direction)
Working Hours: 24 Hours
Reviews
The representative came early and evaluated the water damage. He immediately called the emergency water removal company. Their representative came over within the hour, brought fans to begin the drying process, and will return in the morning. So far, I'm pleased with both Ben Franklin and RMR.
A big thanks to Ben Franklin for setting up our repair in such a timely manner. I have to thank Donald and Ben for being very professional, thorough, and efficient in their replacement of our hot water heater. Don informed me of every step and we are happy to have a six year warranty to assure our heater is maintained annually and serviced if needed. Thank you to all!
Cisco does a very good job servicing our Rinnai hot water system each year. We are very happy with Ben Franklin Plumbing. Very professional employees and service. Thank you!
8. Robins Plumbing, Inc
Stephanie is the President & Owner of Robins Plumbing, Inc. Stephanie and her husband Brian founded Robins Plumbing in 2004 because dishonest Plumbing could no longer be tolerated. Stephanie and her husband's mission is to lead the plumbing profession by bringing honesty, integrity, and craftsmanship.
Robins Plumbing, Inc. mission is to be the plumbing company you can trust to provide a higher level of service. Their family-like plumbers will treat you with respect and honesty. You can depend on their teamwork to solve your plumbing issue and communicate with you through the entire process while appreciating and valuing your time.
Robins Plumbing, Inc is on the lookout for the top plumbers in the Phoenix area. Experienced service plumbers, plumbing apprentices, labourers, customer service representatives, dispatchers, and more are all welcome to apply! They believe in hiring high-calibre employees who are looking for long-term employment.
Website: https://www.robinsplumbing.com/
Phone: (623) 486-4657
Address: 2802 N 37th Ave, Phoenix, AZ 85009 (Get Direction)
Working Hours: 24 Hours
Reviews
The plumber, Eddy, was on time, worked very efficiently to determine the source of the water leak in our slab, organized the best repair option, and was able to come back in two days to complete the repair for a reasonable cost. Eddy was professional, polite, and knowledgeable. We have had Robins at our house 3 times and have always been pleased with their work. I would recommend them to friends and family.
This was my first time doing business with Robins Plumbing, and I am very happy. The technician, Eddy, was really nice and professional. I thought the issue was one thing, but I was wrong. Eddy told me what the actual problem was, and then explained why it was that.
Robins plumbing was great! They were professional and able to get a plumber out right away to unclog my kitchen sink. We did have another plumbing company come out prior to Robin's but the sink clogged back up within a week. I'm happy to report that was not the case after Robin's plumbing came out!
9. Wyman Plumbing & Mechanical LLC
Wyman Plumbing & Mechanical LLC is situated in Phoenix, Arizona, and their plumbers proudly service the North Phoenix Valley's residential and commercial customers. They are a plumbing service company that is state-licensed, bonded, and insured. From their office staff to their service specialists, they all reside in the same neighbourhood and are motivated to provide excellent service to their neighbours.
All the plumbers or technicians are detailed, courteous and knowledgeable. They are equipped with all the tools needed to get your task done efficiently, quickly and neatly. Their experienced plumbers will show up in service vehicles fully equipped with the latest technology in plumbing repair.
Wyman plumbing expertise includes the installation and repair of water heaters, water softeners, Reverse Osmosis (R.O.), garbage disposals, gas lines (BBQ, Dryer, Fire Pit, Range, etc.), faucet, toilet, and pressure-reducing valves (PRV). They offer other plumbing expertise such as fixing drain issues, drain cleans, toilet problems, main water repairs, broken pipes, septic/sewer lines, leak detection, re-pipes, plumbing camera inspection, router services, and more commercial or residential plumbing services.
Website: https://www.wyman-services.com/
Phone: (623) 551-6688
Address: 2103 W Parkside Ln Ste 101, Phoenix, AZ 85027 (Get Direction)
Working Hours: Mon – Thu (7:30 am – 7 pm), Fri (7:30 am – 5 pm), Sat & Sun (Closed)
Reviews
On a holiday weekend, the owner offered our family peace of mind installing our water heater. From my initial phone call with Nickie to the install, it was a pleasure offering Wyman Plumbing our business. I was offered maintenance instruction, an honest approach to pricing, and truly excellent customer service. Good to know this business is local. I highly recommend calling Wyman Plumbing. Don't hesitate.
The Technician that came to help us was wonderful! Not only did he find the problem, but fixed it on the spot! The issue was in my 100 year old mom's room and he was so patient and wonderful with her! letting her hold his hand and telling her that he made sure she wouldn't have the issue again! Thank you!!!
Water heater was leaking. Contacted several companies for estimate. Wyman was very responsive and provided the best quote. They came out the next day and replaced old water heater. Prompt scheduling, great communication and quality workmanship. Would definitely use them again.