We researched over 100 locksmith services in Chicago, and out of these, we've listed the 3 best and most popular locksmith service provider below. We also added 7 additional locksmith service providers in Chicago that aren't shortlist undet Top 3. But we definately recommend these locksmith company if you're not interested in the above option.
Also See: Find Best Locksmith Near Me (Search By Zip Code)
1. Chicago Locksmiths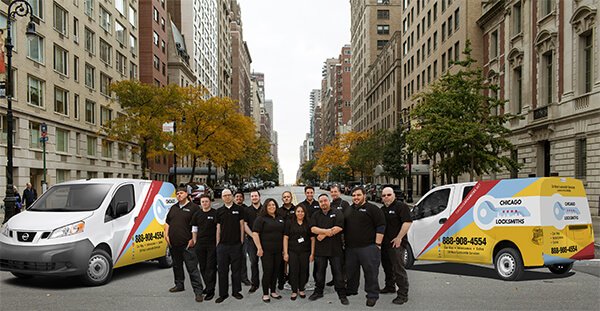 If you are searching for the best locksmith services in Chicago City or nearby areas around Chicagoland then your first choice should be Chicago Locksmiths. Chicago Locksmiths is Chicagoland's most trusted locksmiths. This popular locksmith company is rated 5 star by more than 8k people. They are a local locksmith company that provides services for the city of Chicago and all close suburbs.
Professionals of this company can handle all of your locksmith and security needs. They offer a large variety of locksmith services such as the installation of locks for homes, cars and businesses. They also provide high security solutions which include high security locks, access control, safes, door repairs and installation, video surveillance systems and intercom systems.
Their trained locksmith techs pass training constantly so they can be updated with the current locks in the market. They also provide 24/7 emergency lockout services. Their main goal is to provide its customers 100% satisfaction from their services.
Locksmith Service Price List
Average Cost for Hiring 24/7
Chicago Locksmith LLC
$175
Service Call
Day $55
After 8Pm $65
Typical Range
$125-235
Low End
$75
High End
$355
Note that specialty jobs and special locks, could be higher than the average price mentioned in this price guide.
Address: 2048 N Milwaukee Ave, Chicago, IL 60647
Phone: (312) 878-2715
Open Hours: 24 Hours
Website: https://www.chicagolocksmiths.net
2. Quick Key Locksmith
Quick Key Locksmith proudly services the city of Chicago and the whole Chicagoland area. Their professional team is always ready for any scenario, including if you lost the keys to your door, broke your key in a frozen lock, or simply wished to consolidate your keys/locks. Whether dealing with a lockout, lock-in, lock replacement, re-key, access control system setup, or custom hardware installation, their experienced team of locksmiths can help you with all of your security needs.
Their locksmiths and installation professionals provide the best commercial, residential, and automotive locksmith services throughout the Chicagoland area. Specializing in all types of locks, from high-security to antique hardware, their friendly, fully licensed and bonded team will install, repair, or replace any lock in your home.
Their experts can also recommend the perfect lock to suit your needs, as well as provide a tutorial on how to work keyless locks, such as card sliders and electronic keypads. Let Quick Key Locksmith's fast, reliable, and trustworthy team help ensure the safety of you and your family.
Address: 1451 W Irving Park Rd, Chicago, IL 60613
Phone: (773) 999-9354
Open Hours: Mon – Sun (7 am – 9 pm)
Website: https://quick-key.net/
3. The Professional Locksmith
Not happy with the above two options? Hire a locksmith expert from The Professional Locksmith company. This company is also very popular all around Chicago and nearby areas. The Professional Locksmith was established in 2012 as a family-owned and operated business. They have built a reputation as one of the most trusted Chicago locksmith companies with highly experienced technicians.
Their customers are the top priority no matter the situation. Whether it's an emergency lock out or just a simple lock installation, they put customer service first. With fast response times and the ability to help you feel safe at home, in your car or at the office, their expert team prides itself on increasing your safety.
Their number one goal is to continue providing excellent customer service with high quality products. With their extensive experience, they have a better understanding of your specific needs.
Address: 3400 N Kedzie Ave, Chicago, IL 60618
Phone: (312) 796-0901
Open Hours: Mon – Sat (7 am – 7 pm), Sun (9 am – 5 pm)
Website: https://www.theprolock.com
7 additional locksmith service providers in Chicago
These 7 additional locksmith service providers in Chicago that aren't shortlist undet Top 3. But we definately recommend these locksmith company if you're not interested in the above option.
6. Omega Chicago Locksmith
Address: 4346 W 51st St, Chicago, IL 60632
Phone: (773) 277-5625
Open Hours: Tue – Fri (8 am – 4:30 pm), Sat (9 am – 4 pm), Sun (10 am – 3 pm), Mon )9 am – 3:30 pm)
Website: https://www.omegalocksmith.com