The printed tempered glass mirrors with their asymmetrical and irregular shapes provide striking accent pieces for modern interior design. These mirrors are a great way to add a contemporary flair to your home because of the way they blend asymmetrical and irregular shapes.
Product Images and Pricing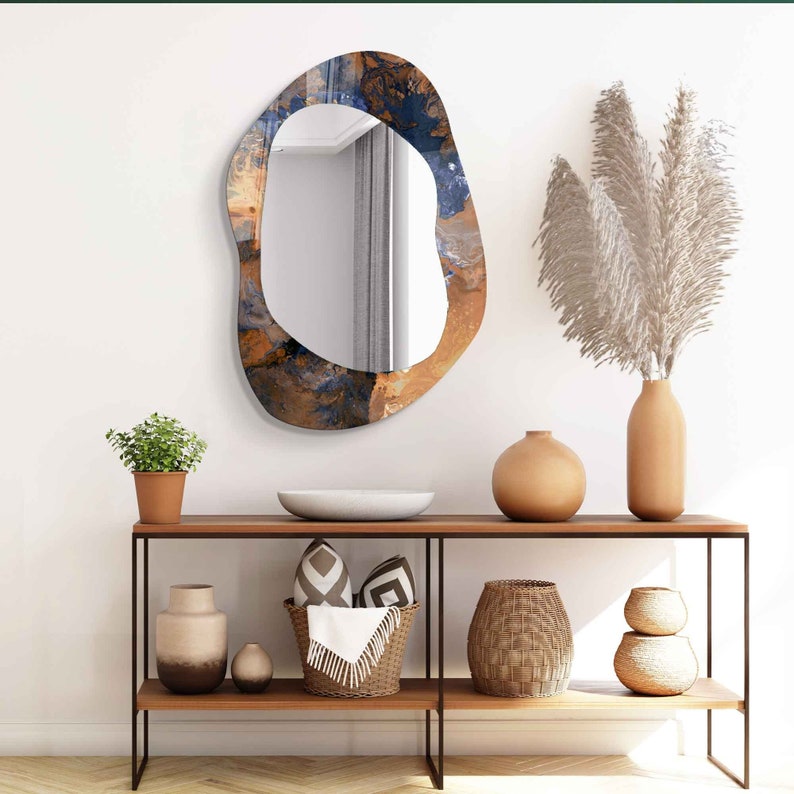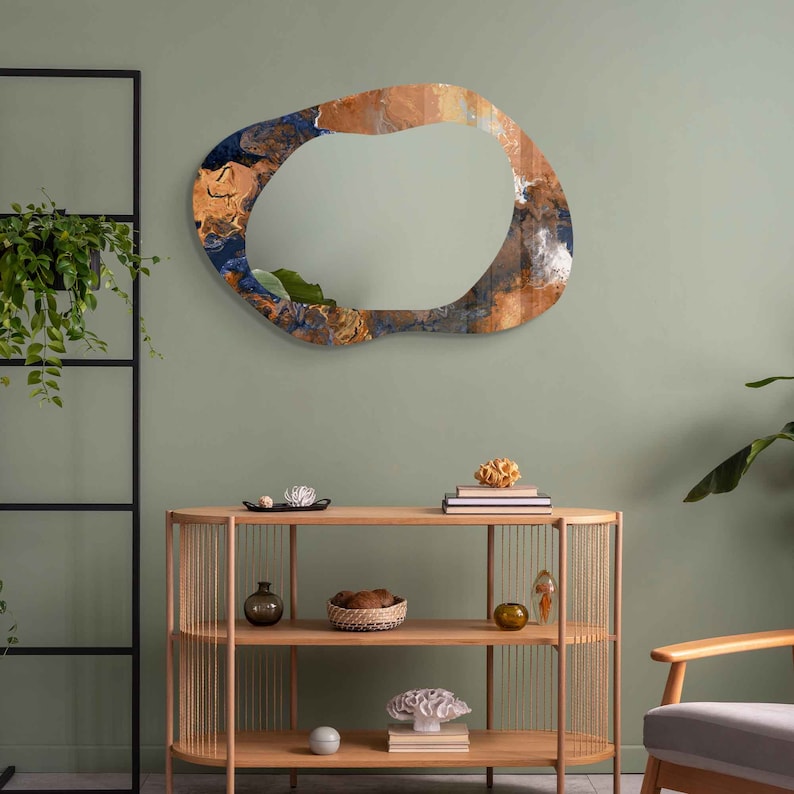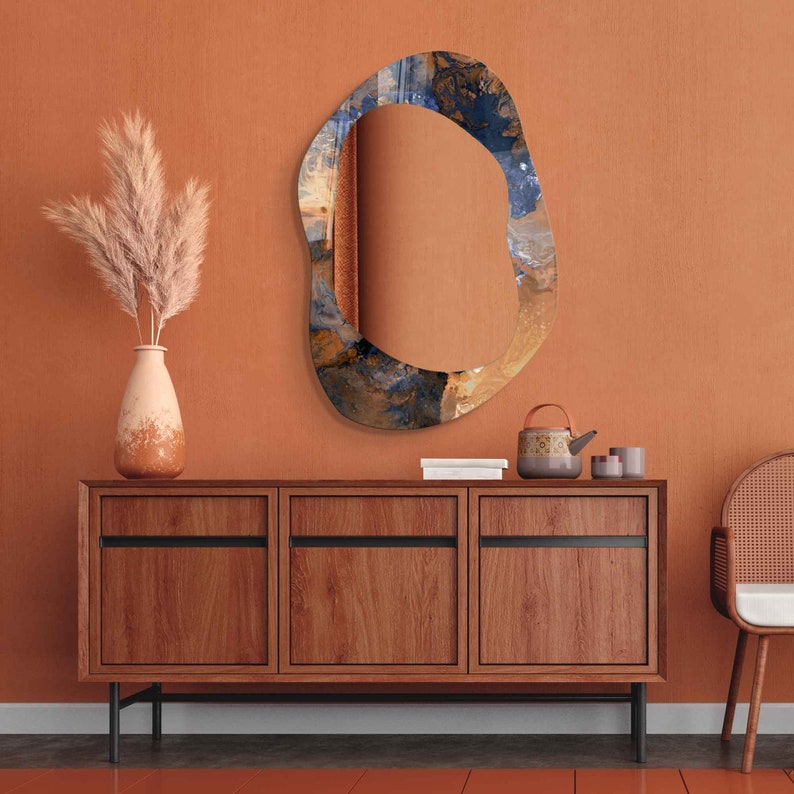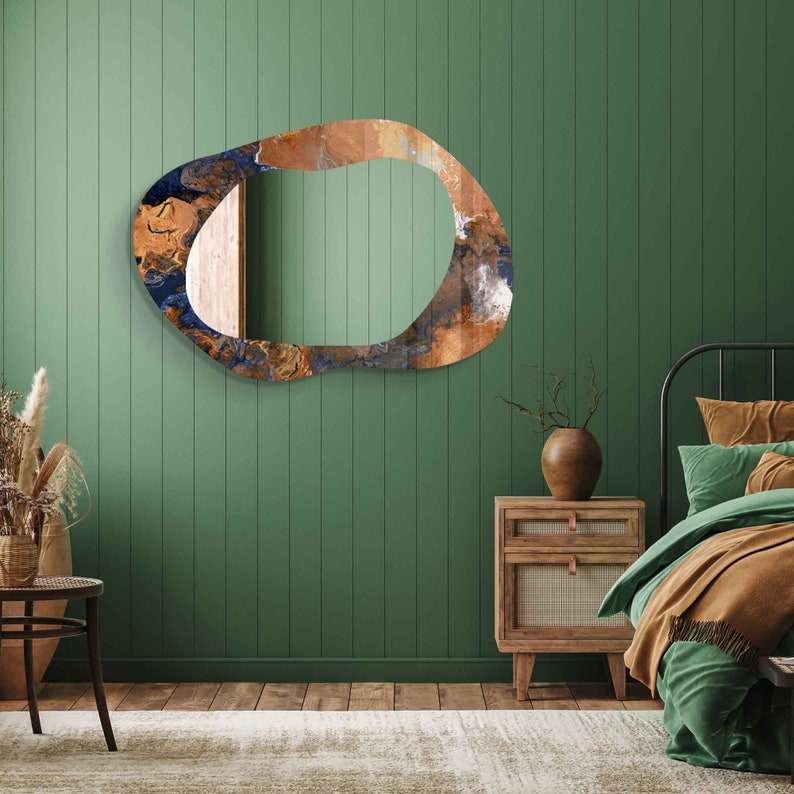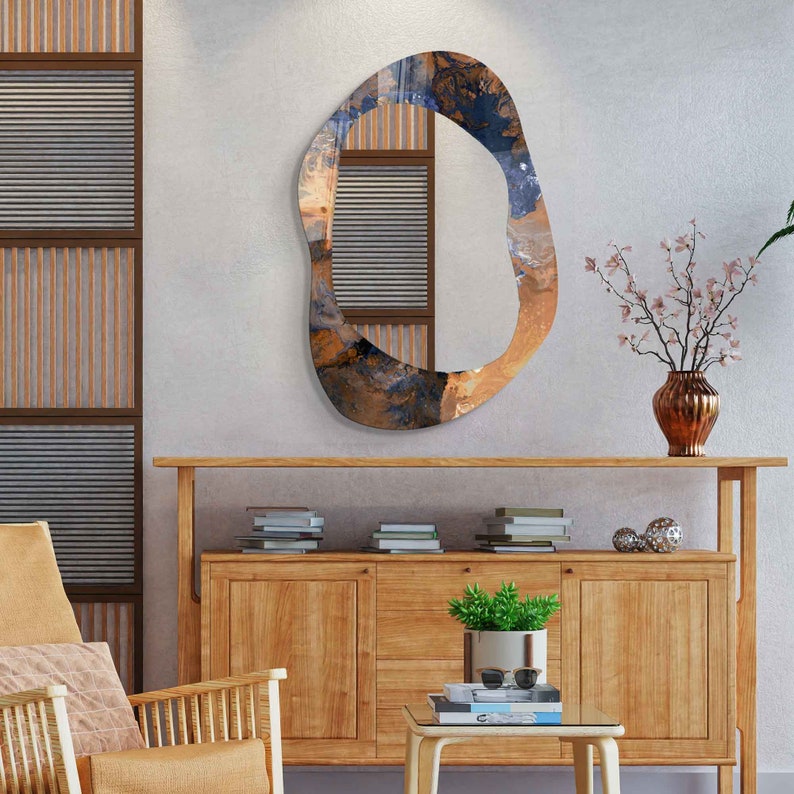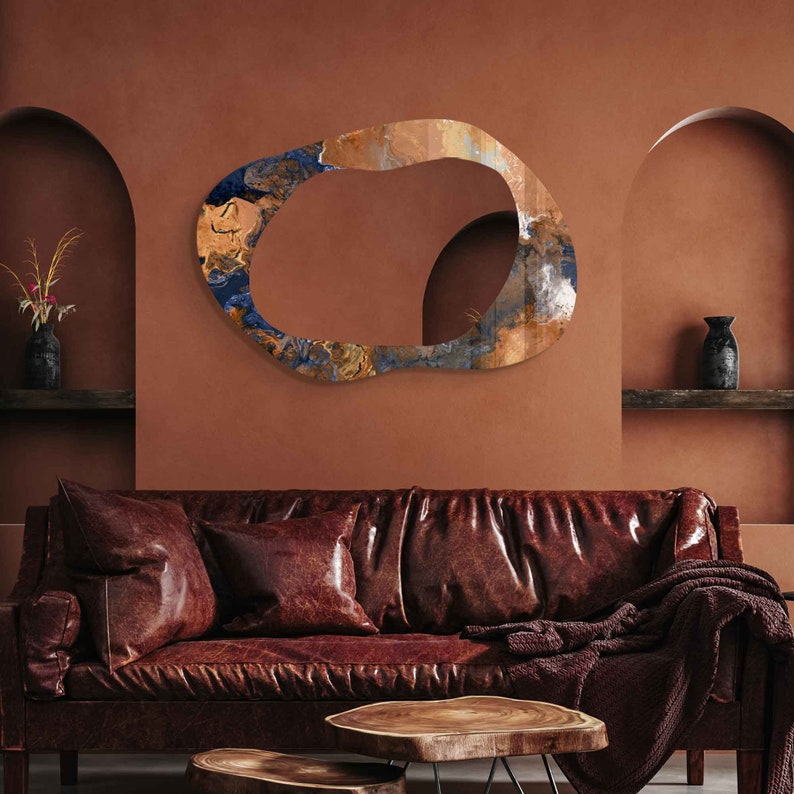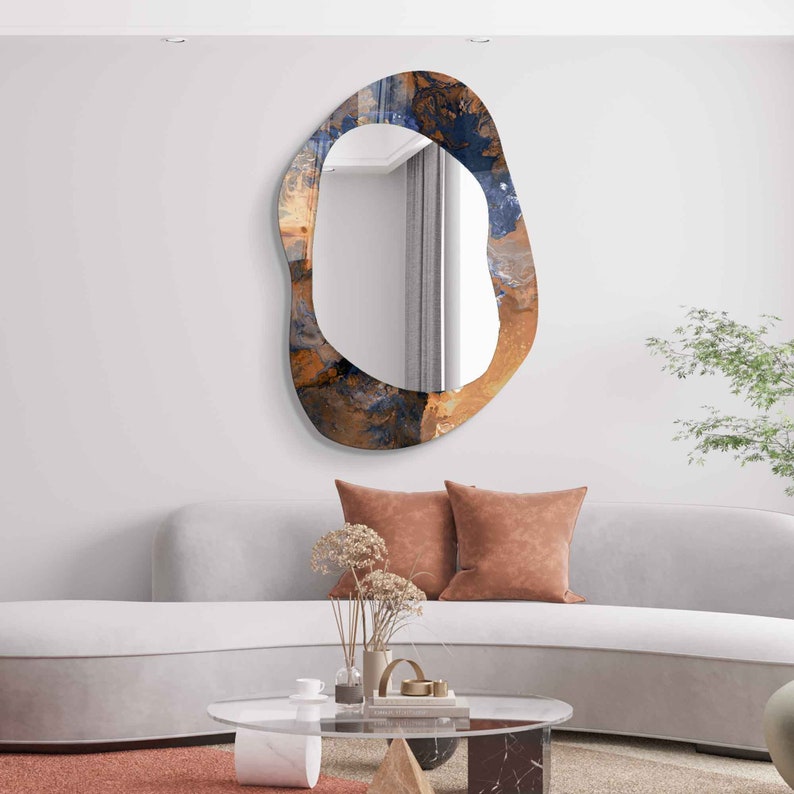 Benefits and Features
1. Aesthetic Sophistication for Every Room
These cutting-edge mirrors were designed to be a stylish addition to any home. Their adaptability is limitless, as they may be used to decorate any space in the house. These mirrors' unique shape adds interest and character to any space while serving as a canvas for elegance.
2. A Delightful Present for New Homeowners
In search of the best housewarming present? Stop right there. You can't go wrong with these mirrors as a token of your admiration for a special someone.
The perfect combination of artistic skill and refined taste, they are sure to be treasured for years to come and will offer an air of refined elegance to any setting.
3. Effortless Installation
The mirrors are linked to specially made hangers on the back, making installation a pleasure. It is now effortless to create a work of art worthy of hanging on your wall. You may hang these mirrors anywhere in your home with the help of the hanger that comes with them.
4. Dimensions for Every Space
There are two sizes available so that you may find the perfect mirror for your needs. The tempered glass in the first size measures 24.5×35 inches, while the mirror itself is 18.5×26 inches in size.
The tempered glass in the second size is 20×29 inches, and the mirror is 15×21.5 inches. Because of their adaptability, these mirrors can be used in a variety of settings without looking out of place.
5. Unbreakable Beauty
These mirrors are expertly crafted using a combination of 4mm float glass and 4mm printed tempered glass. Using tempered glass in such a novel way makes the mirrors indestructible and long-lasting. Its durability is ensured by its surface strength, which is around 10 times that of conventional glass.
6. Exquisite UV Printing
The UV printing on the 4mm tempered glass contributes to the mirrors' fascinating visual appeal. Because of the high quality of UV printing, the colors are vibrant and eye-catching. The mirrors add an air of refined elegance to the room, making it feel more like a museum than a living room.
7. Safety and Packaging
These mirrors are made using tempered glass, sometimes known as "toughened" glass, for your protection. It is an excellent option for any home because of its remarkable surface strength, which provides unparalleled safety and longevity.
These mirrors are carefully wrapped with styrofoam to ensure they arrive undamaged.
8. A Snapshot of Customer Satisfaction
These mirrors have received nothing but acclaim from their 38 satisfied customers, who have given them an average rating of 4.5 stars. Most reviewers have given these mirrors a perfect score of five stars, praising their capacity to make ordinary homes look like luxurious palaces.
Frequently Ask Questions
What is the size range available for these mirrors?
To accommodate a variety of environments, we provide two sizes. The tempered glass in the first size is 24.5 x 35 inches, and the mirror is 18.5 x 26 inches. The second dimension has tempered glass measuring 20×29 inches and a mirror measuring 15×21.5 inches.
How are these mirrors installed?
Hangers are already affixed to the back of each mirror for easy hanging. These hooks make it simple to mount the mirror to any available wall.
What makes these mirrors unbreakable?
The mirrors have a printed tempered glass backdrop and a mirror made of 4mm float glass. The surface strength of tempered glass, sometimes known as "toughened" glass, is roughly 10 times that of standard glass, ensuring its longevity and safety.
Can these mirrors be used in bathrooms?
Absolutely! These mirrors can be utilized in a number of settings, including bathrooms. Their construction from unbreakable tempered glass makes them appropriate for areas where security is a priority.
How are the mirrors packaged for shipping?
Our mirrors are packaged with styrofoam inserts to ensure they arrive in one piece. This way, you can rest assured that they will improve your home upon their arrival in pristine condition.