The practice of growing plants inside has recently gained popularity, and many gardeners are on the lookout for interesting and unusual plants to display in their homes.
Alocasia is one of the most striking statements plants available, adding a touch of exotic beauty and sophistication to any indoor garden.
This article will dive into the allure of Alocasia, examining its extraordinary traits and providing advice on how to best take care of this fascinating plant.
The Allure of Alocasia
The huge, dramatic leaves of an alocasia plant are sometimes compared to the ears of an elephant, thus the plant's common name.
With its colorful, intricately veined, heart- or arrowhead-shaped leaves, Alocasia is a stunning addition to any indoor garden.
Each kind of Alocasia has its own special allure, from the Alocasia amazonica's glossy, deep green leaves to the Alocasia zebrina's contrasting veins.
Creating a Statement with Alocasia
The large, dramatic leaves of an Alocasia plant make it an instant conversation piece. When an Alocasia is placed strategically, its stateliness becomes apparent, drawing the eye and setting the stage for drama.
Whether you choose to display a single Alocasia as a focal point or a collection of them, you will bring a taste of the tropics into your home.
Also Read: 9 Best Plants With Purple and Green Leaves
Care and Maintenance
Although beautiful to look at, Alocasia needs special attention if it is to survive in the house. If you take the time to learn about its needs, you can preserve its attractiveness for years to come. Important factors include:
Light: Alocasia plants thrive in indirect sunlight but may adapt to partial shade. Direct sunlight may damage the leaves, so try to keep them out of it.
Temperature and Humidity: Alocasia does well in sunny locations that are warm and humid. Humidity should be kept between 65 and 85 degrees Fahrenheit (18 and 29 degrees Celsius) by spraying the leaves or using a humidifier.
Watering: While Alocasia likes somewhat damp conditions, overwatering may cause the roots to decay. To promote proper drainage, let the top inch of soil dry out between waterings.
Soil and Fertilizer: Alocasia prefers a porous, well-drained, peat-based potting mix that has been amended with organic matter. Apply a balanced, water-soluble fertilizer on a regular basis throughout the growing season.
Pruning and Maintenance: To keep the plant healthy and looking good, remove any leaves that have turned yellow or are damaged. To maximize photosynthesis, dust the leaves on a regular basis.
Alocasia Varieties for Indoor Gardens
Many different kinds of Alocasia may thrive under greenhouse conditions, and they all have their own quirks. Alocasia amazonica, Alocasia Polly, Alocasia zebrina, Alocasia reginula, and Alocasia Stingray are just a few of the more well-liked options.
To guarantee a successful and aesthetically beautiful display, it is important to conduct your research and pick the proper type that meets your own tastes and the circumstances of your interior setting.
Some popular Alocasia varieties for indoor gardens include:
Alocasia Polly: This variety is known for its large, glossy leaves with white veins.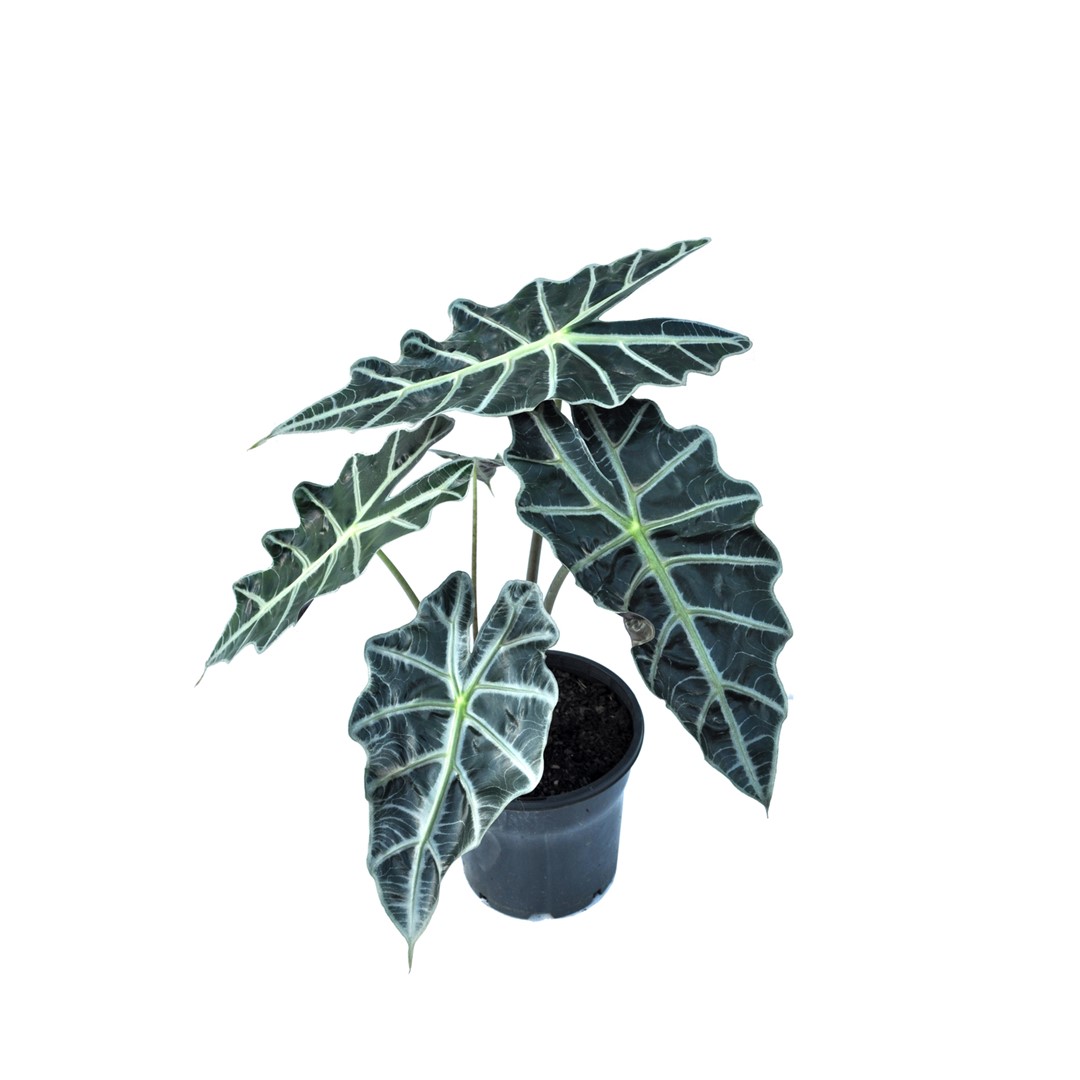 Alocasia Black Velvet: This variety has dark green leaves with a velvety texture.
Related: The Beauty and Benefits of Alocasia Black Velvet for Indoor Spaces
Alocasia Dragon Scale: This variety has large, arrow-shaped leaves with a metallic sheen.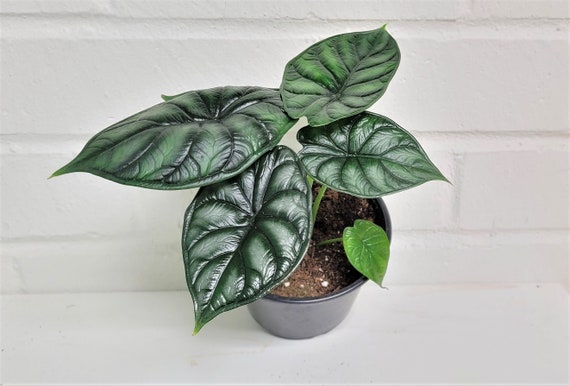 Alocasia Zebrina: This variety has striped leaves with green, yellow, and white coloration.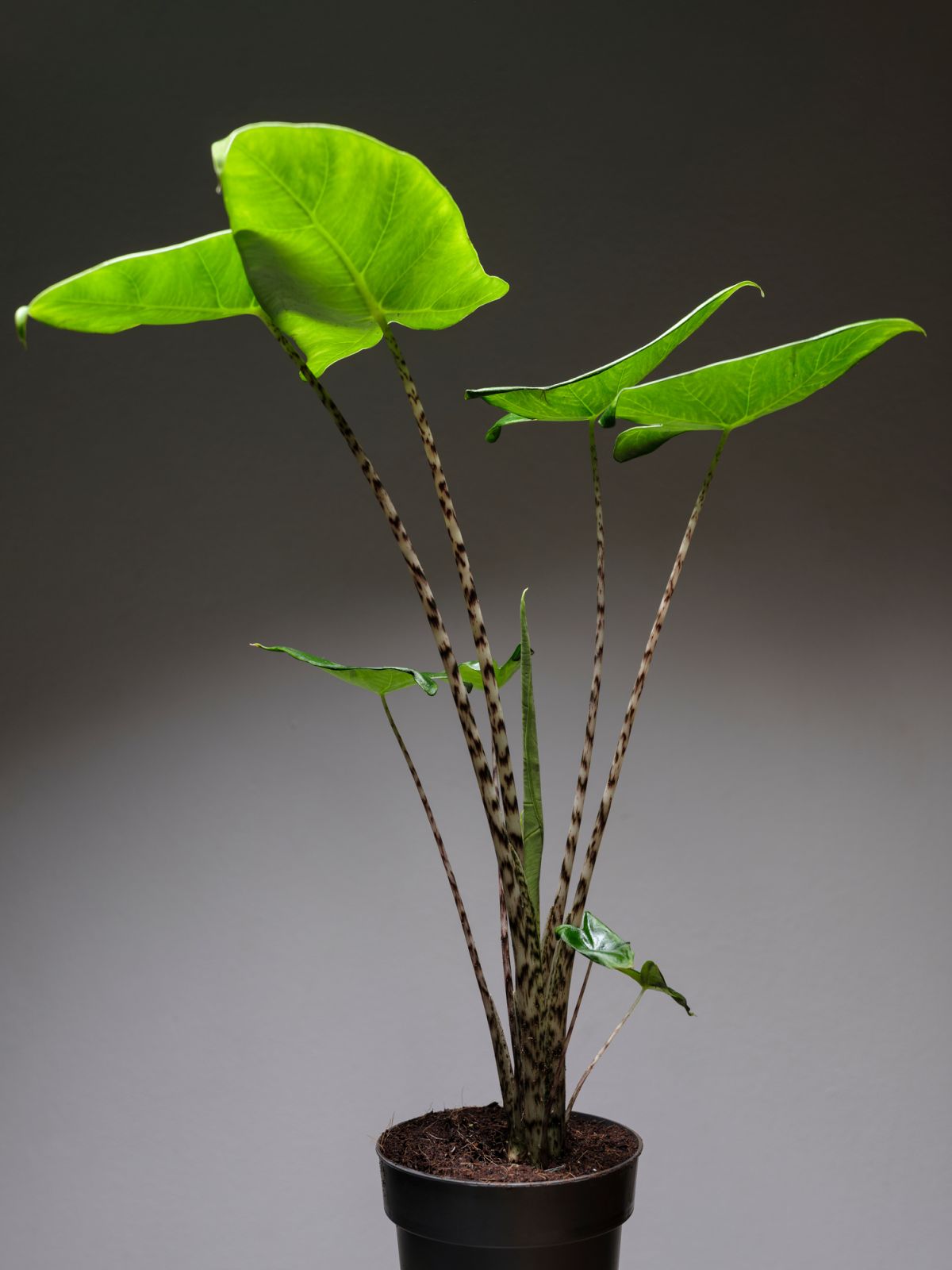 Beyond Aesthetics: Benefits of Alocasia
Alocasia is a beautiful plant, but it also has practical uses for indoor gardeners. Its large leaves act as a natural air filter, reducing pollution and making the environment healthier.
Additionally, tending to an Alocasia plant may be a calming and satisfying activity that aids in stress reduction and relaxation.
Conclusion
Adding a touch of tropical grandeur to any interior environment, Alocasia is certainly the ideal plant for indoor garden statement pieces. Because of its impressive size, interesting leaves, and ability to clean the air, it makes a great centerpiece plant.
Your indoor garden may be transformed into a tropical paradise with the help of Alocasia if you take the time to learn about its needs and choose the proper type.
Frequently Ask Questions